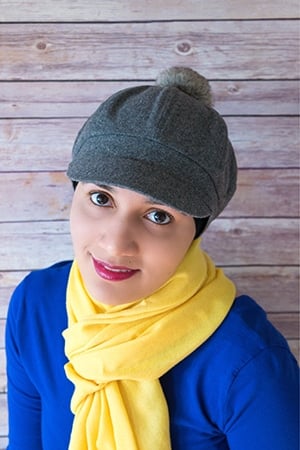 Hey guys!
Welcome to Cakewhiz!
If you are here, I bet you are obsessed with baking and cake decorating as much as me! 😉
ABOUT ME
My name is Abeer and I am a 30 year old gal living in Chicago with my dear hubby and sweet little boy. I grew up in Canada and go back for visits, every chance I get. I also proudly use "Eh" in my conversations 😉
I love sweets!
Baking them!
Eating them!
And especially decorating them!
In 2010, I enrolled in the basic cake decorating course from Wilton, just for fun. Little did I know this would give birth to a NEW hobby!  I was instantly HOOKED! And pretty soon, I was decorating anything and everything from cakes to cupcakes to cookies. I just couldn't stop…
I started off like any other novice cake decorator, making lopsided cakes, covered in crumbs and bumpy fondant torn along the back. lol.
If you don't believe me, check out this post where I share some of my disastrous cakes… YIKES!
But anyways, after spending countless hours reading cake decorating books and practicing, I have overcome many hurdles and my cakes no longer look like a 2-year old made them…haha.
Needless to say, it's been a challenging journey with lots of ups and downs and I learn something new everyday.
RANDOM TIDBITS ABOUT ME
– I love watching trashy reality shows…lol.
– I am not very "girly." I don't care about make-up or clothes or hairstyles! My sister says I should have been a boy…haha.
– I don't like shopping at stores… I prefer online shopping.
– I am a "chocoholic" and eat chocolate every day. But, I can't eat dark chocolate coz it makes me very nauseous.
– My favorite color is blue.
– I like exotic fruits like guavas, sapodilla, star fruit, lychee and get super excited if I see them at the grocery store or Farmer's market!
– I have a Masters in Science (Cellular Biology/Botany)… Quite a shocker! Right?! Lol
– My wedding anniversary is on Halloween and I love it coz my favorite holiday is also Halloween! 😀
– My son was born on April Fool's day!
– I love taking pictures of food but suck at taking pictures of people! Lol
– I don't play sports or even watch sports.I find it extremely boring!
– I love traveling!
– I am obsessed with everything at Ikea and want to buy the whole store!
ABOUT MY BLOG
I started this blog because I wanted to share my triumphs and failures in the vast world of sugar decorations.
I also wanted a place to share all the cake decorating tips and tricks I was picking up along the way and obviously, I wanted to share many of my favorite recipes!
But most importantly, I started this blog with the hope that what I do here inspires you to make pretty treats for your loved ones too 🙂
If you have any questions about my recipes or tutorials, check out my FAQ section first. Here, I answer questions that people ask me through emails and other social medias. If you still need help, feel free to email me at [email protected]
KEEP IN TOUCH
You can stay in touch with me by:
Subscribing via email (This way, you will be the first to know when I publish a new post!)
Following me on Facebook.
Following me on Twitter.
Following me on Instagram.
Following me on Google Plus.
Emailing me at [email protected]
Leaving blog comments (I love reading your comments and replying back!)
Sending you lotsa love from my kitchen,
Abeer