A two tiered yellow rose cake, which is decorated with marshmallow fondant and buttercream icing. Simple cake design for weddings.
This yellow rose cake was my first attempt at making fondant roses and a tiered cake.
I made this cake for my parents… I wanted to show off what I had been learning in my cake decorating classes.
They were so impressed but I think I still have a long way to go…
I won't lie and say this cake was easy coz it was NOT!
It was one struggle after another…sighs 🙁
The bottom tier is round and the top tier is square and in case you don't know, square cakes are sooooo much harder to cover in fondant than compared to round cakes :S
GET 40 OF MY BEST COOKIE RECIPES TODAY!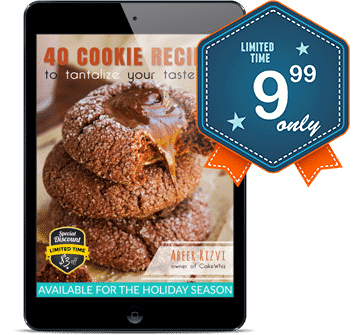 BUY NOW FOR $9.99
I need to keep practicing on my rose making technique as well.

MY OTHER RECIPES
They don't look at real as the ones I have seen by other talented cake decorators.
Here are some more details of this cake:
This was a two tiered vanilla pound cake, filled and frosted in vanilla buttercream icing and covered in white marshmallow fondant.
PS: I loveeeee homemade marshmallow fondant. It tastes sooooo much better than store bought fondant!
The cake picture on the top doesn't have leaves and I thought it was looking so naked. So, I piped green buttercream icing leaves and I think it looks wayyyy better now.
What do you think? Leaves or no leaves?
Which one do you prefer?
I,personally love the cake with leaves… it just completes the overall look.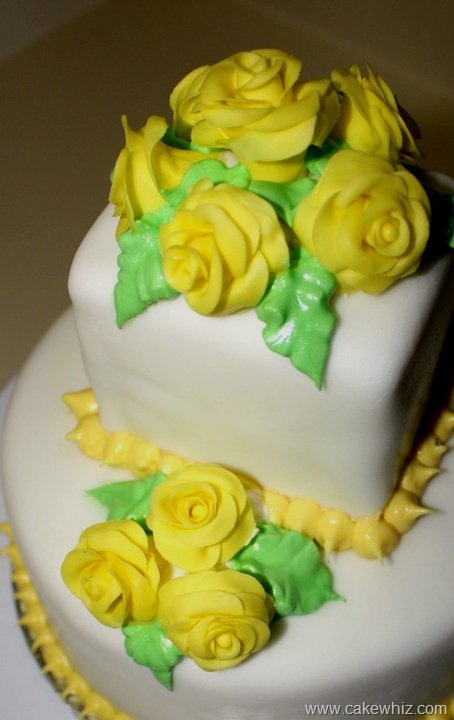 By the way, you can't tell in these pictures but there was a huge rip on the side of the top tier.
I tried to cover it with flowers and leaves…lol. My parents didn't even notice (Bless them! hehe)
Anyways, that's all for today.
Hope you enjoyed reading about my yellow rose cake adventure.
Until next time, tata my lovelies!