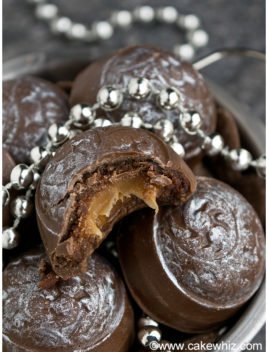 These easy fudgy mocha caramel cookie dough truffles are made with simple ingredients. They are great as a snack or homemade gift for Christmas holidays.
Melt the chocolate in the microwave.

Use a paintbrush to paint a thick coating of chocolate inside the cavities of the candy cold. Place the tray in the freezer for 5 minutes or until the chocolate hardens.

While the chocolate in the mold in chilling, prepare the mocha cookie dough. It will be slightly crumbly coz I like it that way. But if you want it to be smoother, add a little more water (1/2 tsp at a time) until you are satisfied with the consistency.

Roll out small balls of caramel.

Take a small portion of the cookie dough and roll it into a ball. Then, flatten it in the center and place a small ball of caramel here.

Now, wrap the cookie dough around the ball of caramel until it's hidden in the center.

Place a cookie dough ball into each cavity of the candy mold. Push the dough ball gently with your fingers so that it fits into the mold properly. Make sure to leave some space on top of each cavity so as to cover it with melted chocolate.

Use a paintbrush to paint a layer of melted chocolate on top of the cookie dough. Place the tray in the freezer for about 5 minutes and allow the chocolate to harden.

Remove the tray from the freezer and gently turn it over onto a sheet of wax paper. Tap the top of the tray slightly and the truffles will just fall out.

Spray the top of the truffles with edible silver spray.
My family eats raw eggless cookie dough a all the time. I used raw mocha cookie dough in these truffles and omitted the egg whites to make it eggless. This way, it can be eaten safely. But, I know that some people are still against eating cookie dough, even if it is eggless. If so, you can substitute my mocha cookie dough recipe with your own raw mocha cookie dough recipe (made with oat flour or coconut flour e.t.c) or use whatever cookie dough recipe you like.
Don't make the dough too wet or else rolling it into little balls will become very difficult.
Store these truffles in a plastic container and keep them in the refrigerator. You can eat them cold or let them come down to room temperature and then enjoy them.
Nutrition Facts
Mocha Caramel Cookie Dough Truffles
Amount Per Serving
Calories 142
% Daily Value*
Sodium 197mg 8%
Potassium 47mg 1%
Total Carbohydrates 37g 12%
* Percent Daily Values are based on a 2000 calorie diet.