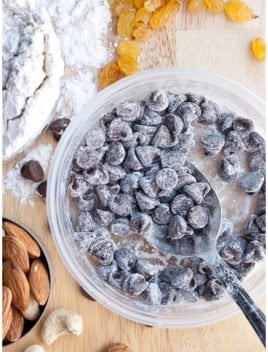 Stop chocolate chips from sinking to the bottom of the cake with this trick and one simple ingredient - flour! This tip applies to nuts, apples & pears too.
Mix with a spoon until the chocolate chips are lightly coated.

Fold these coated chocolate chips into your prepared cake/cupcake batter.

And that's it… no more sinking chocolate chips!
- Coating dry add-ins requires little flour (about 1 tbsp) but coating wet add-ins like fruits requires a little more (about 2 tbsp).
Nutrition Facts
How To Stop Chocolate Chips From Sinking
Amount Per Serving
Calories 27
% Daily Value*
Total Carbohydrates 5g 2%
* Percent Daily Values are based on a 2000 calorie diet.