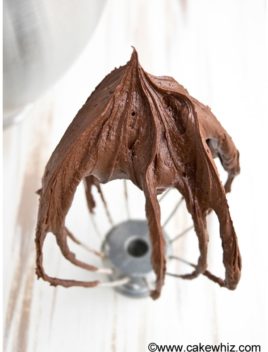 This healthy coconut cream chocolate frosting is so fudgy, rich and creamy. It's perfect for decorating or frosting cakes and cupcakes. Made with only 3 ingredients!
1

cup

Full fat coconut cream

Read notes

1¾

cups

Chocolate chips

Semisweet

¼

cup

Cocoa powder
Chill the can of coconut cream for 24 hours (or at least overnight if you are in a rush).

In a microwavable bowl, add the chocolate chips and melt until you have a smooth mixture. Allow it to cool down but make sure it doesn't harden.

Chill your mixing bowl in the freezer for 15 minutes.

In this chilled mixing bowl, add the coconut cream. Make sure to discard any coconut water that's at the bottom of the can (if there's any!)

Add the melted chocolate and cocoa powder and mix until everything is thoroughly combined. Cover the bowl with saran wrap and chill the frosting for 2-3 hours until it firms up.

Then, remove the bowl of frosting from the fridge and whip it until it becomes fluffy.

And you are done...Start frosting your cupcakes!
You can adjust the sweetness in this frosting by adding some powdered sugar (start with 2 tbsp and then work your way up until you are satisfied).
Frosted cupcakes should be kept in the fridge since they can easily melt in the heat.
Don't even think about buying low-fat coconut cream. You need full-fat coconut cream! I love Trader Joe's coconut cream. It's really thick and truly the BEST brand of coconut cream I have tried so far!
I don't use coconut milk in my recipe because different brands yield different results and some are total disasters! It's also a hassle to separate the cream from the milk.
If you are using coconut milk instead of coconut cream, this is what you need to do => Refrigerate your can of coconut milk for at least 24 hours. When you are ready, take the can out of the fridge and immediately open it. You will notice that the thick coconut cream would have separated to the top and the coconut water will be at the bottom of the can. Use a spoon to scoop out the thick creamy portion into your mixing bowl only. You can use the coconut water in something else like smoothies (Yum!). You need 1 full cup of coconut cream for this recipe but based on different brands of coconut milk, you may end up with only ½ cup of coconut cream from each can. So, you will have to use a few cans of coconut milk to get the proper amount needed to make this healthy coconut cream chocolate frosting.
Nutrition Facts
Healthy Coconut Cream Chocolate Frosting
Amount Per Serving
Calories 2422
Calories from Fat 1431
% Daily Value*
Total Fat 159g 245%
Cholesterol 47mg 16%
Sodium 228mg 10%
Potassium 1107mg 32%
Total Carbohydrates 243g 81%
Protein 27g 54%
* Percent Daily Values are based on a 2000 calorie diet.