Learn how to make this vegetable stamp cake using local produce like celery, okra and apples. Easy cake decorating technique for beginners.
*Thanks Craftsy for sponsoring this post. As always, all opinions and photographs are 100% my own.*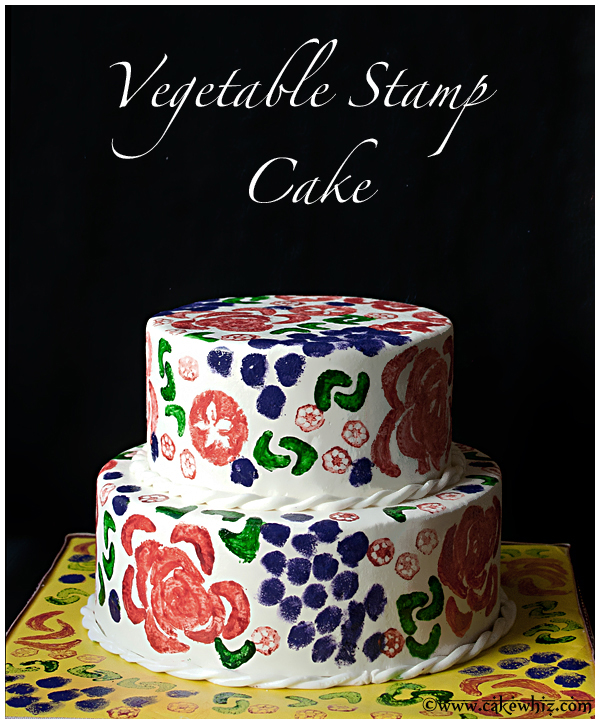 Have you guys heard of Craftsy?!
If not, I highly URGE you to check it out! It's a great site which offers video tutorials for all types of crafts including my favorite craft, CAKE DECORATING!!!! 😀
And these are NOT your basic 5 minute video tutorials! These are ELABORATE and very complete tutorials being taught by successful and professional cake decorators.
These classes are online and available 24 hours. There is no scheduled class time. So, you can watch these videos whenever you want and as many times as you want.
I recently watched "Simply stunning: Hand stamped cakes with Erin Gardner" and all I have to say is WOW!
She opened my eyes to new cake design possibilities… I used one of her techniques to make this STUNNING vegetable stamp cake…

MY OTHER RECIPES
Isn't it just gorgeous?!
I LOVE IT!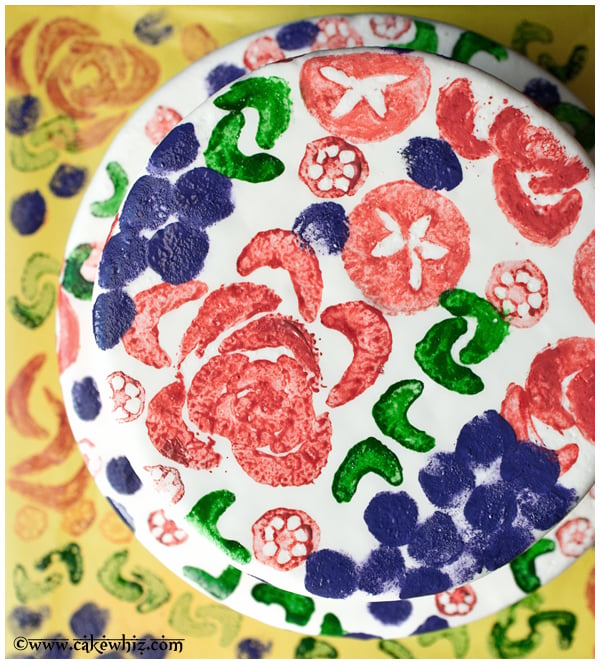 Using Erin's simple technique, I used fruits and veggies to make this cake.
It may look complicated but it's WAYYYY easier than it looks!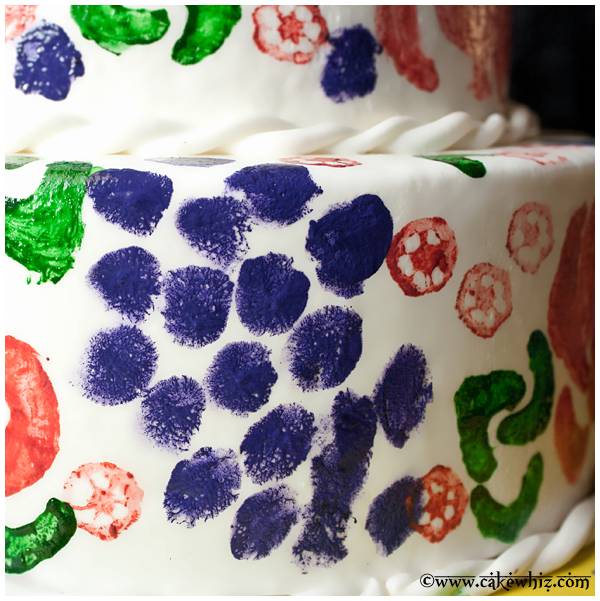 It almost looks like I hand painted this cake…Right?! 😉
You, too, can learn to make this vegetable stamp cake as well as other beautiful cakes by watching her video tutorial.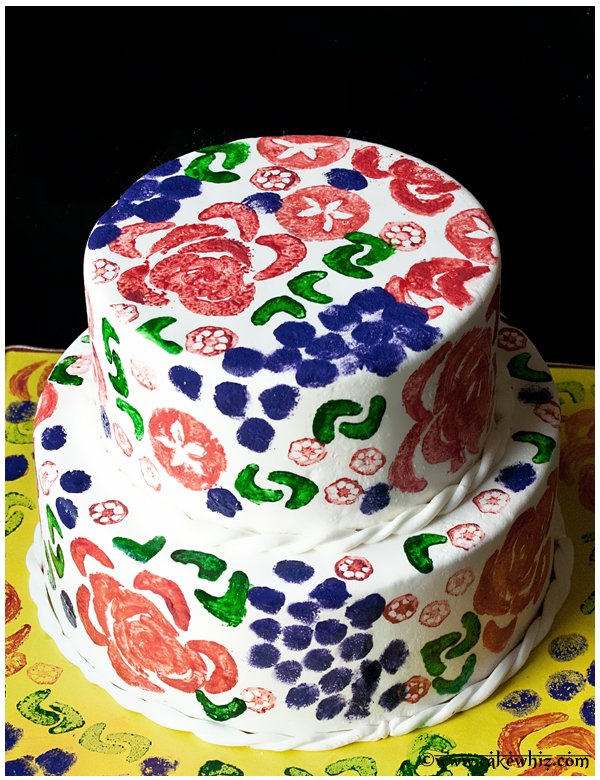 To recap, Erin's video tutorial was about 1.5 hours long and it was very easy to follow.
She showed how cake stamping can be done through fruits, vegetables and other stuff we already have in our pantries.
She also explained how to take basic store-bought stamps to a whole new level by adding simple details.
Best of all, she taught me how to make my own stamps VERY easily, using food-safe foam or modeling chocolate or even gum paste and cutters! 😀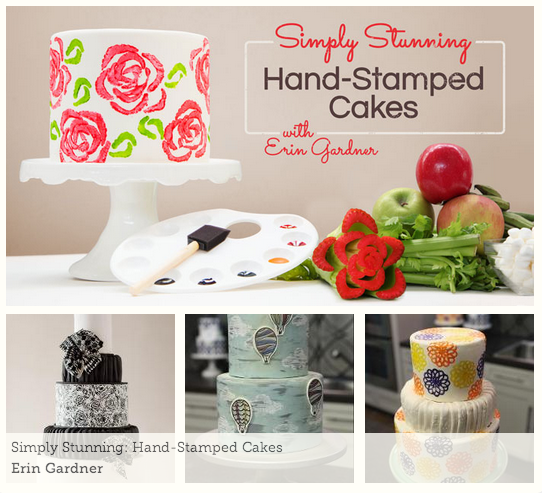 After watching this video, I can now make my own customized stamps for any occasion. This is a big money saver because I don't have to buy expensive stamps any more. And it also gives me a chance to make unique cake designs that I thought were previously impossible.
As for Erin Gardner, she is a great teacher. She explained everything thoroughly. She spoke very clearly and didn't rush. Everything progressed very smoothly. She started with the easiest stamping technique (using fruits and veggies) and then gradually worked her way up to the more challenging cake stamping techniques. This prevented me from freaking out and getting overwhelmed 🙂
As for the Craftsy video quality, it was impressive. I could see the cakes clearly and see exactly what Erin was doing. Nothing was blurry or out of focus. There were no abrupt interruptions or buffering.
I could pause the video whenever I wanted and also go back 30 seconds, if I missed something.
I could also easily do other simple things like adjust the volume, maximize/minimize the screen and so on…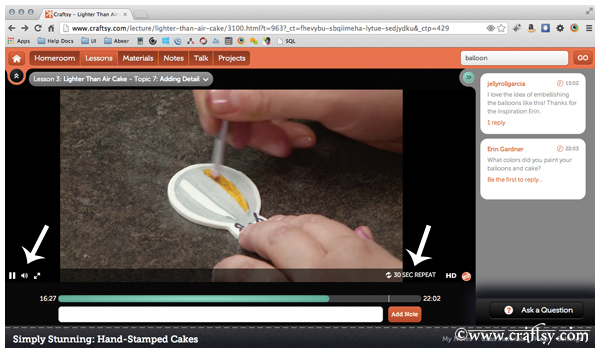 There was even a cool option for making notes while watching the video and I could print these at the end.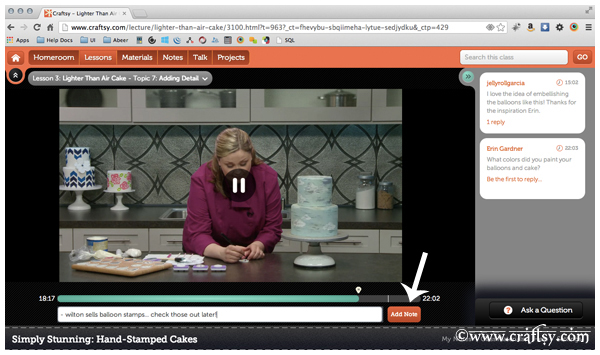 One feature that I found myself using a lot was the "Lessons" section.
As soon as you click on it, a very organized menu drops down and you can chose what section of the video you want to watch.
I found this very useful when I was reviewing her chocolate stamp technique. I must have watched that section of the video 5 times just so I fully understand Erin's method and don't mess up…hehehe 😉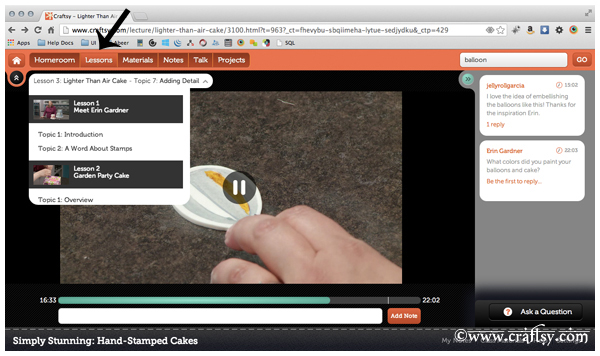 Craftsy videos also makes you feel like you are a part of a community with other people who share the same interest as you.
You can especially feel that when you can ask your instructor and other fellow member any questions you have.
People are very nice and responsive 🙂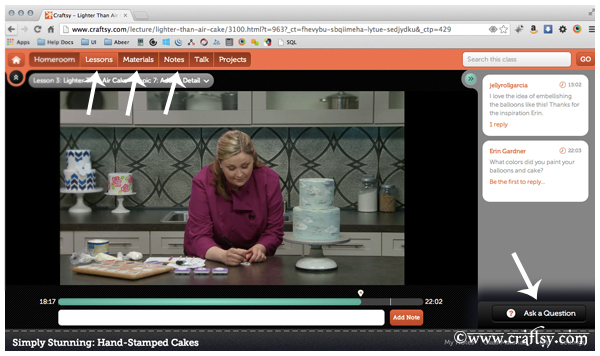 Even though this was a video tutorial, it almost felt like Erin was teaching me in person 😀
I have taken cake decorating classes in person before with other instructors and I used to think that's the way to go.
But, after watching Craftsy videos, I think I am more comfortable with this method of learning because rather than asking the instructor to repeat the technique 10 times coz I am not getting it through my head,  I can simply rewind and watch that section of the video as many times as I want. This way, I won't feel ashamed of bugging the instructor and driving him/her crazy! lol.
I also liked how the Craftsy instructors are available "virtually" to answer our questions as well as other community members.
That's usually not the case in real-life classes. Once your class is over, everyone just goes their own way and there is no way to get any answers to any questions you might have.
That being said, I highly recommend Craftsy courses and you guys know I am fussy and don't recommend anything that easily…lol.
But, this was a great learning experience and I am looking forward to checking out even more videos 🙂
Well, that's all for today.
Until next time, tata my lovelies 🙂