How to Decorate Cake Pops- Beginners
Learn how to decorate cake pops easily, using simple ingredients like nuts, sprinkles, candies and much more. Easy enough for beginners!
Today, I am showing you easy ways on how to decorate cake pops that anyone can make without any prior experience. 
Do you know who I consider to be a "PRO" at making cake pops?!
Bakerella, of course! She is the QUEEN of cake pops and all her creations are mind blowing.
However, I admit that some of her cake pop creations take quite a bit of TIME to make. 
There are days when we are short on time and making extravagant cake pops is out of the question.
So, I thought I would share some EASY ways to decorate cake pops.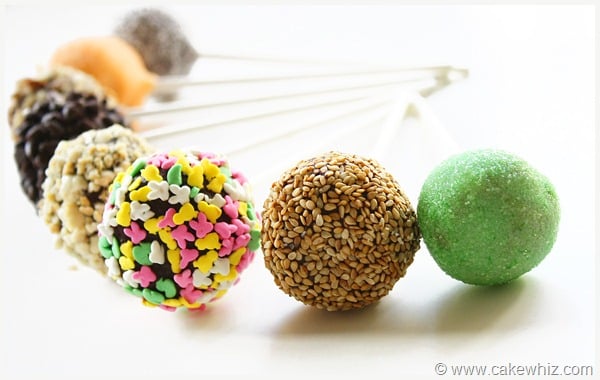 Nothing fancy with special cutters or fondant but the end result is still TASTY and CUTE!
I bet you have these INGREDIENTS in your kitchen already:
Mini chocolate chips
Sesame seeds
Almonds
Peanuts
Shredded coconut
Colored sugar or sanding sugar
Sprinkles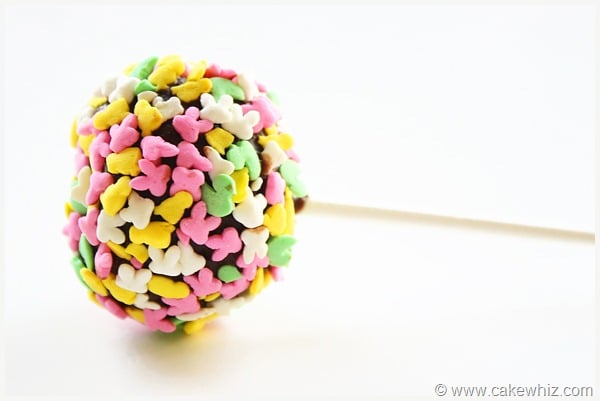 These toasted sesame seed cake pops were my FAVORITE!
I think TOASTING the sesame seeds was a good call…It gave these pops a very distinct flavor and aroma!
The soft cake- like center, the creamy chocolate and the crunchy sesame seeds …I swear it was like a PARTY in my mouth! lol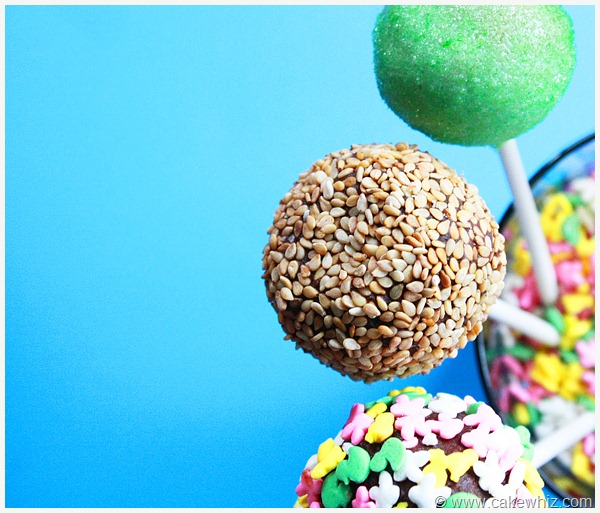 These coconut cake pops were darn GOOD too!
Yummmmm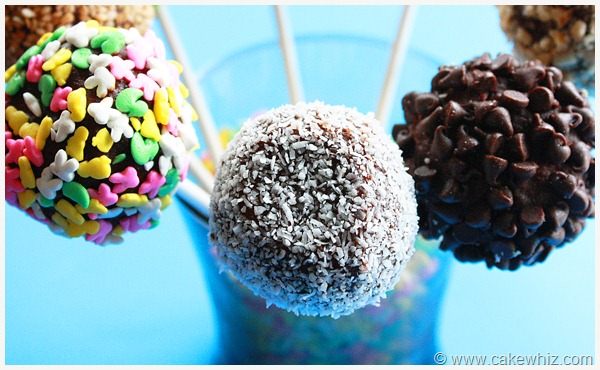 To learn how to decorate cake pops, you will need the following INGREDIENTS:

Shredded coconut
Sprinkles
Mini chocolate chips
Sesame seeds
Various nuts (almond, walnuts, pecans, peanuts et.c.)

Here are the INSTRUCTIONS:
Step 1:
Start off by following this easy tutorial to make cake pops. 
Step 2:
Then, toast 1 cup each of peanuts, almonds and sesame seeds separately. Roughly chop the almonds and peanuts.
I placed everything (mini chocolate chips, colorful sprinkles, crushed almonds, crushed peanuts, colored sugar, sesame seeds and shredded coconut) on a single plate but it's better to put all these ingredients in separate containers. That way, it's easier to cover cake pops in them.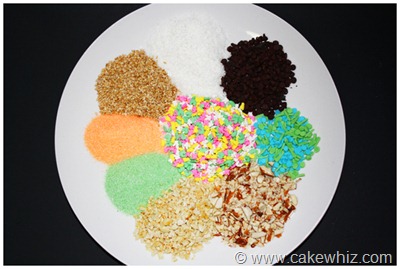 Step 3:
Melt chocolate and use a spoon to pour it over the cake pop…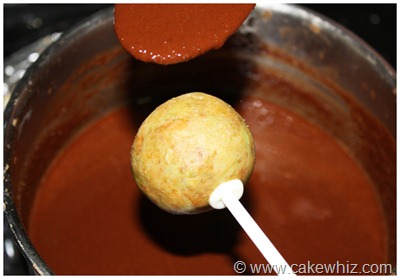 Until the cake pop is fully covered in chocolate.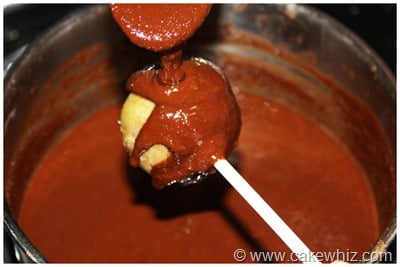 Step 4:
Before this chocolate hardens, sprinkle almonds or any other topping of your choice over the pop.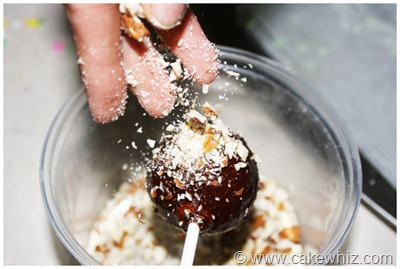 Push the cake pops into a styrofoam block until the chocolate sets and enjoy!

Well, that's all for today.
I hope you found this tutorial on how to decorate cake pops useful.
Until next time, tata my lovelies!