Sausage Stuffed Mushrooms
Quick and easy sausage stuffed mushrooms recipe, made with simple ingredients and ready in 30 minutes. They are creamy, cheesy bite-sized appetizers.
*Thank you Heluva Good! for sponsoring today's post so that I can share this sausage stuffed
mushrooms recipe with all of you.  As always, all opinions are mine.*
If you are fond of my Jalapeno Popper Stuffed Mushrooms and Portobello Mushroom Pizza ,you are going to love these sausage stuffed mushrooms. They are very flavorful and you simply can't stop eating them!
Inspired by Oktoberfest and Heluva Good! Dip Remixed campaign, I gave these mushrooms a creative spin by using Heluva Good! French Onion Dip, brats and beer in this recipe. They are seriously mind-blowing!
These sausage and cream cheese stuffed mushrooms are an easy appetizer!
They are great for serving at dinner parties since they are so small, mess-free and easy to eat. I think they are also an awesome game day food, especially during football season.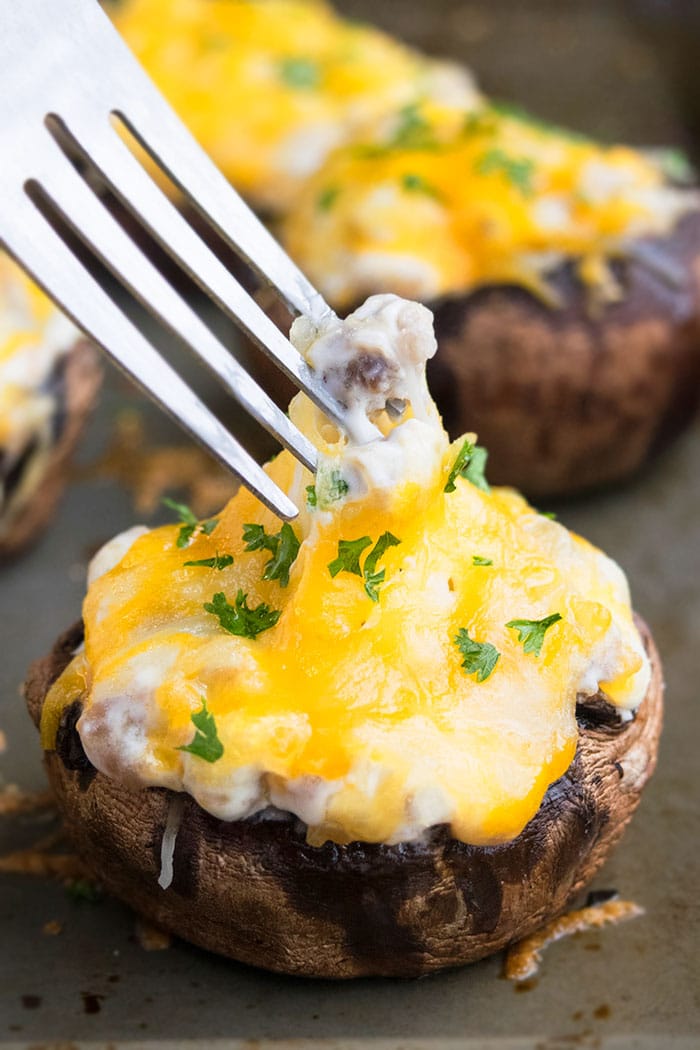 How to make sausage stuffed mushrooms? How to cook sausage stuffed mushrooms?
Heat oil in a pan and saute the onions, ginger and garlic until softened.
Add the crumbled sausage and cook until brown and drain fat.
In a mixing bowl, prepare the cheese filling by combining together cream cheese, Heluva Good! French Onion Dip, mozzarella cheese, cheddar cheese and cooked sausage.
Stuff each mushroom with this filling and sprinkle more cheese on top.
Bake and you are done.
What mushrooms do you use for stuffed mushrooms?
Typically, they are small bite-sized mushrooms like button mushrooms or other small white mushrooms like baby bella mushrooms.
What temperature do you bake stuffed mushrooms?
Bake at 375 degrees for 15 minutes. If you like softer mushrooms, you can bake for 17-18 minutes.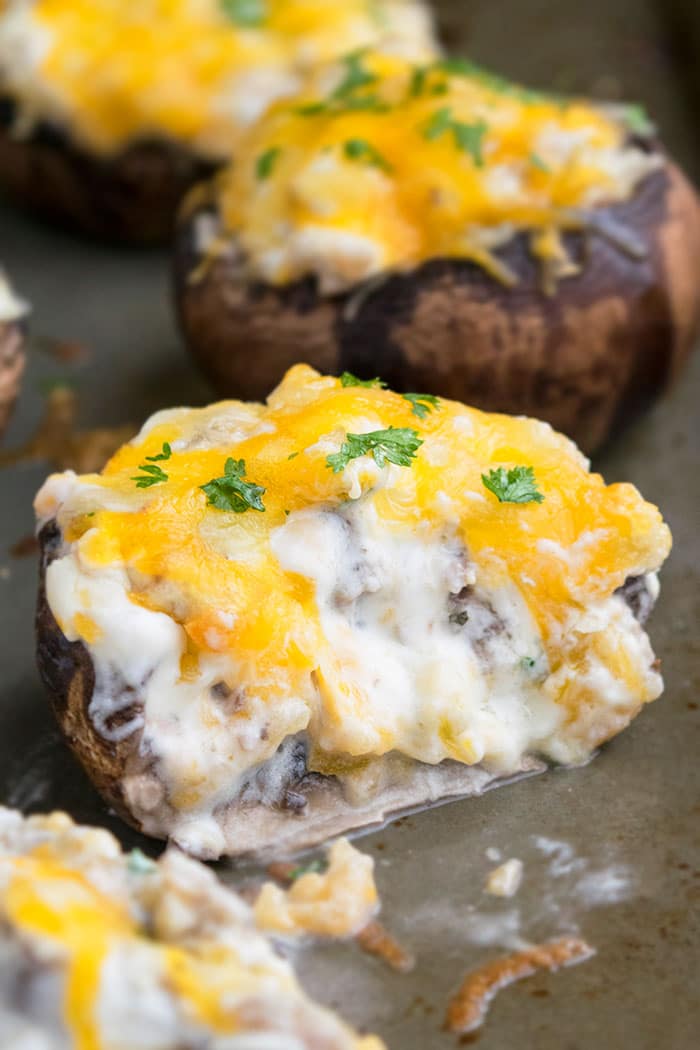 How long do you cook raw sausage stuffed mushrooms?
I really don't recommend this method because it's not as creamy, cheesy or flavorful. However, if you want to do this, omit the cream cheese mixture. Just stuff the mushrooms with raw crumbled brats sausage and bake at 375 degrees for 30 minutes.
How do you grill sausage stuffed mushrooms?
If you are grilling, I highly recommend using portobello mushrooms instead of smaller mushrooms because they are bigger and there is less chance of them breaking apart on the grill. They do cook faster on grill and are ready in about 10 minutes.

Italian sausage stuffed mushrooms
Replace brats with your favorite Italian sausage.
Sausage stuffed portobello mushrooms/ Portobella mushrooms
Instead of bite-sized mushrooms (which are more suitable as an appetizer), you can use portobello mushrooms and enjoy them as dinner. The cheese mixture in the recipe below is enough for filling 4 large mushrooms.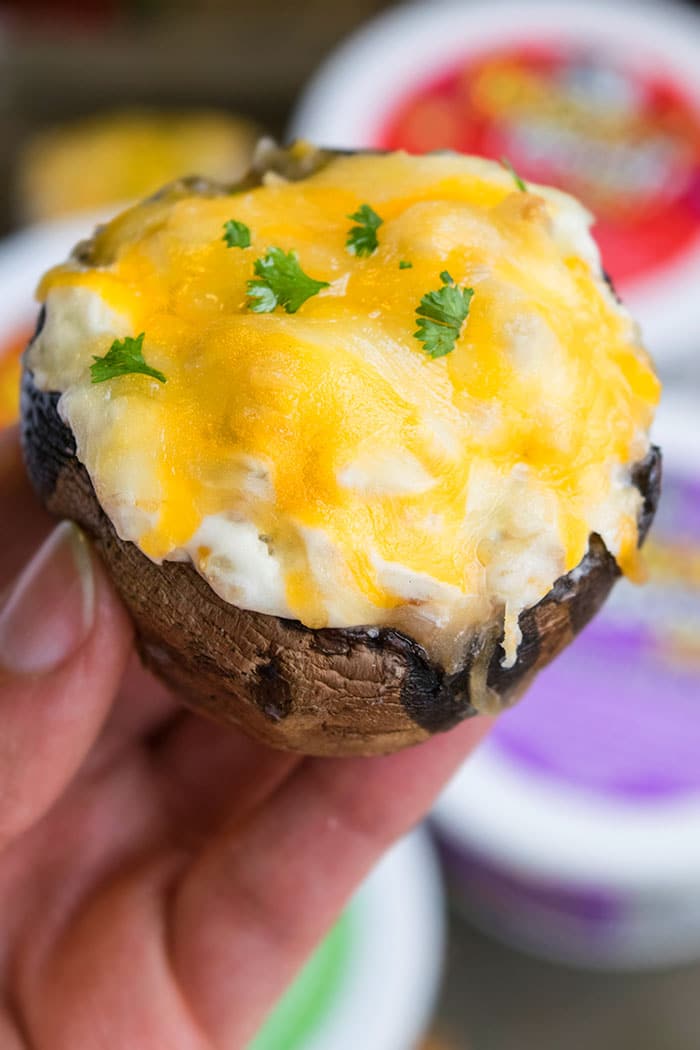 Typically, I would only use cream cheese for the filling and season it with numerous herbs and spices to get the perfect flavor. This time, I used Heluva Good! French Onion Dip and honestly, no additional herbs and spices are needed. Plus, it makes the mixture silky smooth and so creamy.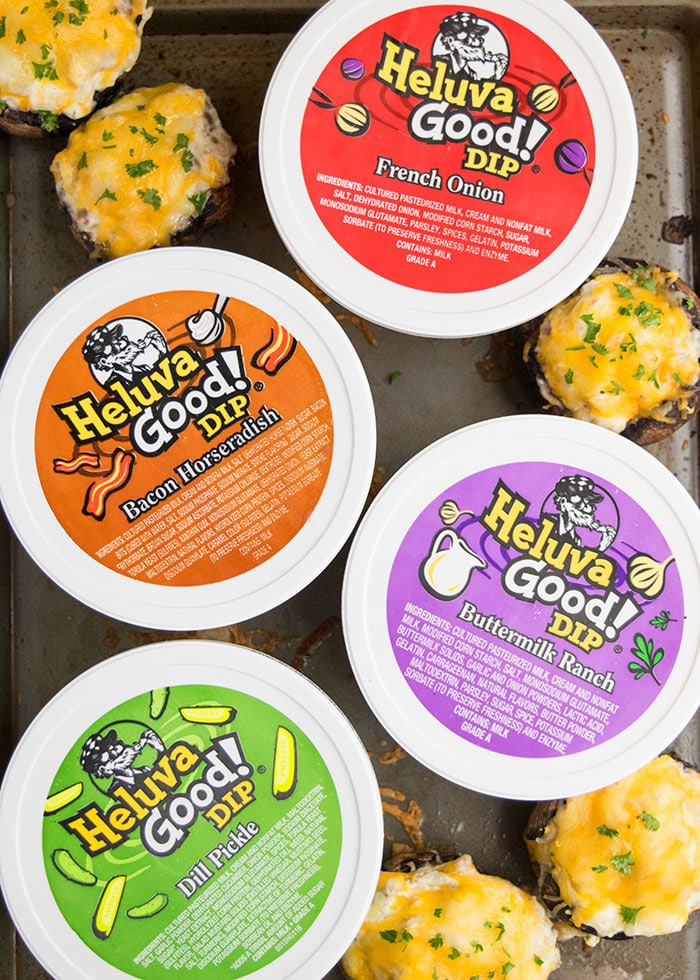 Heluva Good! has  7 amazing flavors to choose from, to suit your preference. They are all really good but my personal favorites were French Onion and Buttermilk Ranch. You can find them in the dairy aisle of your local grocery store!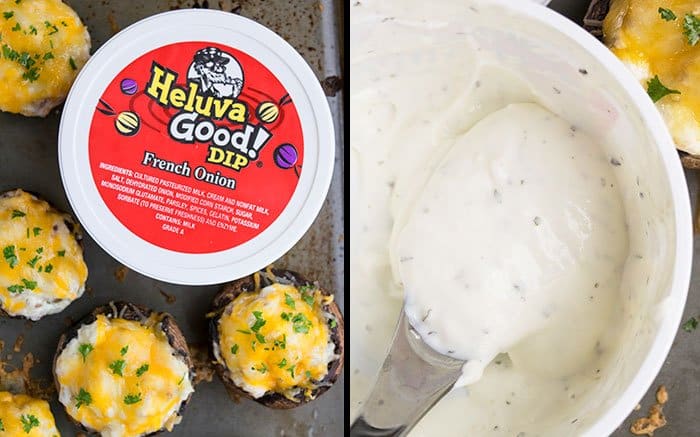 Tips for easy sausage stuffed mushrooms recipe
Any type of sausage can be used in this recipe. I used Bratwurst to celebrate Oktoberfest.
Make sure to remove casings from the sausage before cooking because you want crumbled sausage for the filling.
Do not wash your mushrooms because they will absorb a lot of much water, which will all release while baking, making a big watery mess. Only remove the gills and stems of mushrooms and wipe them clean with a paper towel.
Don't over-bake the mushrooms because the mushrooms will become very soft and taste very soggy.
Beer is optional and can be omitted without any drastic change to the flavor.
Any type of cheese blend can be used. Use whatever your family likes best!
Since there are many flavors of Heluva Good! dips to choose from, use whichever one you like best.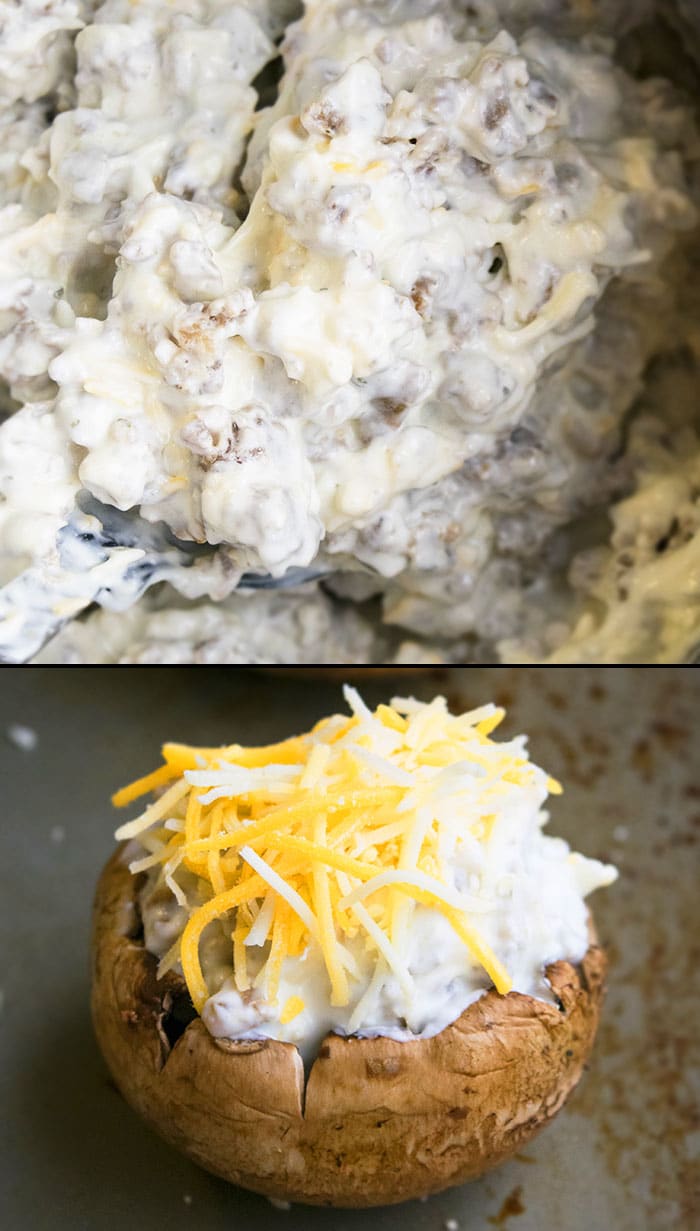 Other Easy Appetizers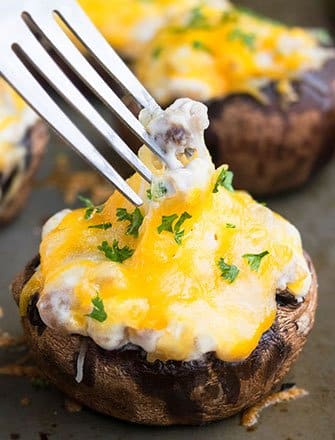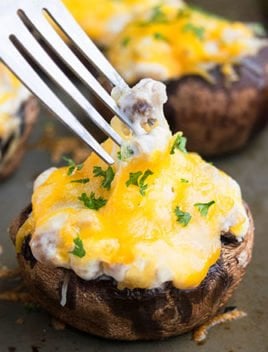 Easy Sausage Stuffed Mushrooms
Quick and easy sausage stuffed mushrooms recipe, made with simple ingredients and ready in 30 minutes. They are creamy, cheesy bite-sized appetizers.
Yield: Mushrooms
Ingredients
1 tbsp Oil
1/2 cup Onion, Finely chopped
2 tsp Ginger, Finely minced
2 cloves Garlic, Finely minced
4 Bratswurst sausages, Casing removed
4 tbsp Beer, Optional
Salt, To taste
Pepper, To taste
1/4 tsp Red chili flakes, Optional
24 Button mushrooms
1 cup Cream cheese, Full fat
1/2 cup Heluva Good! French Onion Dip
1/4 cup Cheddar cheese, Shredded
1/4 cup Mozzarella cheese, Shredded
1 cup Mozzarella and cheddar cheese blend, For topping, Shredded
Instructions
Remove stems and gills from mushrooms and wipe them clean with a damp paper towel. Keep aside.

Add onion and cook until translucent.

Add ginger and garlic and saute until fragrant (usually 1-2 minutes).

Add crumbled sausage and beer and cook until meat is brown and no longer pink. Drain fat.

Season with salt, pepper and red chili flakes.

Remove from heat and let this cool down.

In a mixing bowl, mix together cream cheese, French onion dip, cheddar cheese, mozzarella cheese.

Mix in cooked sausage.

Stuff each mushroom with this cheese mixture.

Top off each mushroom with mozzarella/cheddar cheese blend.

Bake at 375 degrees for about 15 minutes or until cheese on top is fully melted and bubbly.

Garnish with fresh parsley and enjoy!
Notes
Read all my tips above.
Tastes best when served fresh but leftovers can be stored in a sealed container in the fridge for up to 1 day. For best results, it should be reheated in the oven again.

 
Nutrition
Calories: 77kcal, Carbohydrates: 2g, Protein: 3g, Fat: 6g, Saturated Fat: 2g, Cholesterol: 16mg, Sodium: 127mg, Potassium: 94mg, Sugar: 1g, Vitamin A: 195IU, Vitamin C: 0.7mg, Calcium: 77mg, Iron: 0.2mg
Until next time, tata my lovelies!