Pistachio Cake Recipe
Easy pistachio cake recipe that's soft and moist. It starts off with a yellow cake mix and has pistachio pudding and it's topped off with whipped cream.
I am sure every family out there makes this SIMPLE pistachio cake recipe because it's such a CLASSIC and every vintage cook book has this delicious recipe. If you are fond of pistachios, you must also try my pistachio carrot cupcakes.
Due to its GREEN color, it's also perfect for St.Patrick's Day. It's made with a FEW simple ingredients that you already have in your pantry.
With regards to liquid used in this cake, I have seen recipes for pistachio cake with:
It looks like everyone has their own preference. My family uses milk and we LOVE it.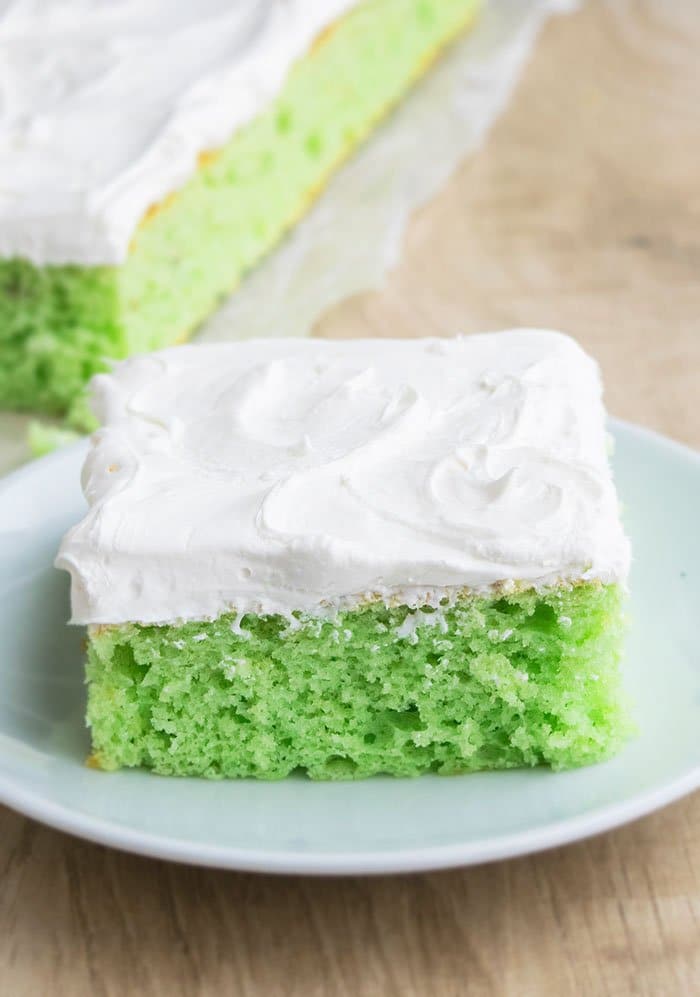 What is pistachio cake?
It's a very soft and moist green cake that has nutty flavors of pistachios.
What is a watergate cake?
It's a vintage pistachio bundt cake with pistachio frosting.
Can you add pudding to cake mix?
Yes, you can add it and it gives the cake a new flavor and also adds moisture.
How to make pistachio cake from scratch?
Make a vanilla cake from scratch with flour, butter, sugar, eggs. Stir in chopped roasted pistachios and make sure to use pistachio extract.
What does pistachio cake taste like?
It's sweet with a subtle nutty flavor. It's also has a really soft and moist texture.
What frosting goes with pistachio cake?
I like to keep pistachio cake frosting very simple so that the flavor of the cake shines through. It's a simple whipped cream. You can use homemade or store-bought whipped cream like Cool Whip.  If you are fond of buttercream, you can use my American buttercream frosting recipe or this cream cheese frosting.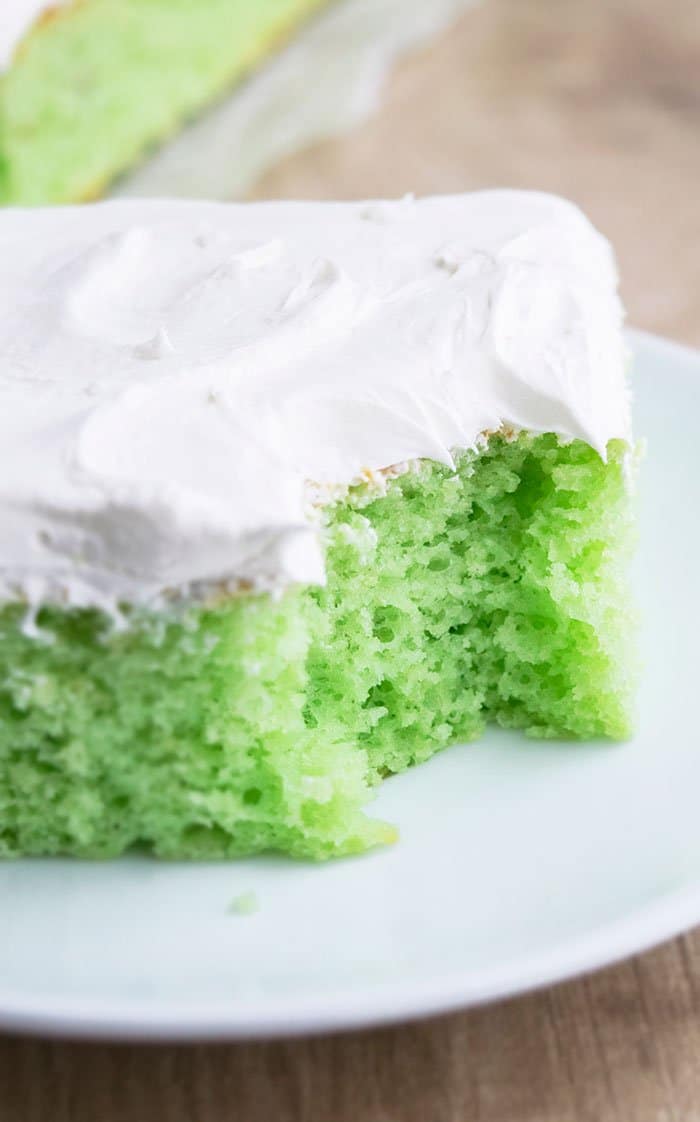 Tips for the best pistachio cake recipe
DON'T use butter instead of oil since that makes the cake very heavy and dense.
DON'T use fat free milk because that doesn't add any moisture or flavor to this cake.
You can make pistachio cake with white cake mix or yellow cake mix but I prefer the YELLOW cake mix since it has a better flavor.
DON'T over mix the cake because that makes a tough cake.
Make sure to COOL the cake completely before frosting it or else the frosting will melt.
To make pistachio cake with sour cream, replace milk with 1 cup sour cream and reduce oil to 1/2 cup. This makes a firm cake.
Instead of using frosting, you can also make pistachio cake with glaze. Just pour the simple sugar glaze on top of the cake. You can add some zest or flavorings to it too.

Some flavor variations you can try:
To make chocolate pistachio cake, prepare chocolate cake first. Then, poke holes and pour pistachio pudding. Chill and top with buttercream and chopped pistachios.
To make lemon and pistachio cake, add 1 tbsp lemon zest and 1 tsp lemon extract.
To make pistachio cannoli cake, top off the cake with cannoli frosting.
To make rose pistachio cake, add 2 tsp good quality rose extract and you can also decorate the top with rose petals.
To make orange pistachio cake, add 1 tbsp orange zest and 1 tsp orange extract.
For pistachio poke cake, prepare the cake as explained below. Then, make holes all over the cake with a bubble tea straw. Prepare the pistachio pudding mixture and pour it all over the cake. Chill for 1 hour. Then, spread frosting on top of the cake and enjoy!
To make pistachio bundt cake, add an extra egg and use bundt cake pan and bake for 45-50 minutes.  The texture is very similar to a pistachio pound cake recipe. So, you can make it in a loaf pan too.
You can use make multiple round cakes with this recipe and use it to make a pistachio layer cake with shipped cream and chopped pistachios between each layer.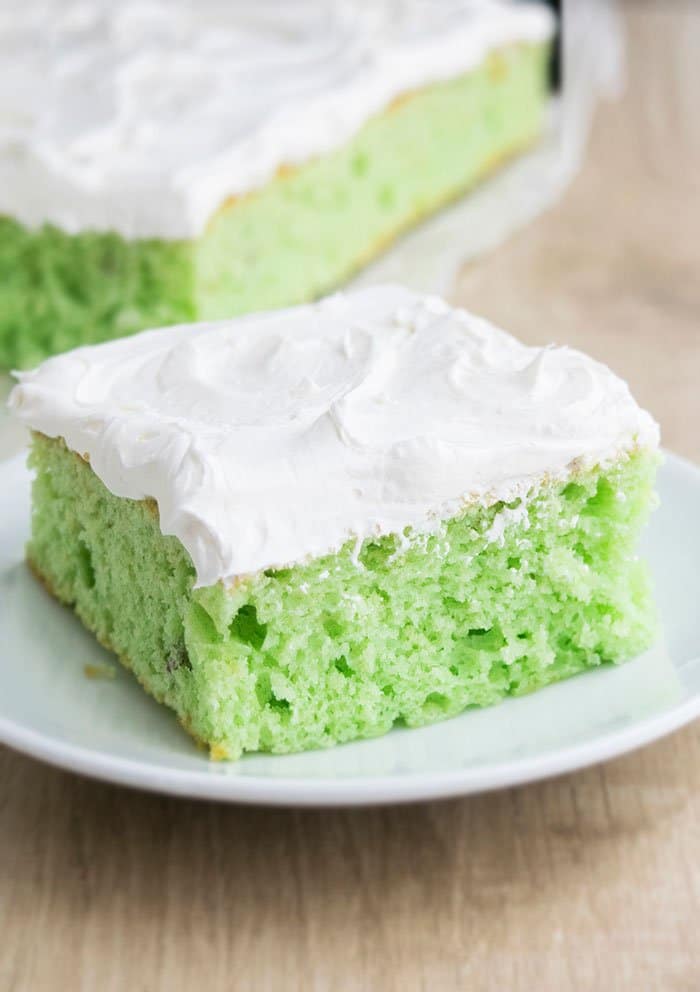 Other doctored cake mix recipes: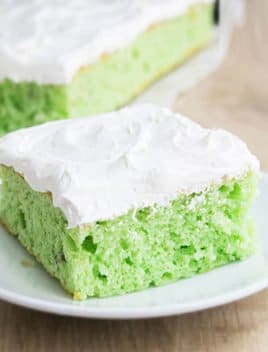 Pistachio Cake Recipe
Easy pistachio cake recipe that's soft and moist. It starts off with a yellow cake mix and has pistachio pudding and it's topped off with whipped cream.
Servings: 12 Slices
Course: Cake, Dessert
Cuisine: American
Calories: 336 kcal
Ingredients
3 Eggs Large
3/4 cup Oil
1 cup Milk 2% or Whole
1 box Yellow cake mix
1 box Instant Pistachio pudding Dry powder, 3.4 oz
Green food coloring
2 cups Whipped cream
Instructions
In a mixing bowl, add eggs, oil, milk and mix until smooth.

Add cake mix powder, instant pistachio pudding powder, green food coloring and mix until just combined.

Pour batter into a greased/floured rectangle cake pan (Dimensions: 9x13).

Bake at 350 degrees for about 25-30 minutes OR until an inserted toothpick in the center comes out clean.

Allow the cake to cool down completely and spread whipped cream on top.

Decorate with maraschino cherries or chopped pistachios and enjoy!
Recipe Notes
Read all my tips above.
Leftovers can be stored in a sealed container in the fridge for up to 3 days. 
Nutrition Facts
Pistachio Cake Recipe
Amount per Serving
% Daily Value*
* Percent Daily Values are based on a 2000 calorie diet.
Until next time, tata my lovelies!