Use these instructions to make easy mini cakes with jelly candy flowers. Fun to make with kids at birthday parties or even during Summer time.
Most of the cakes I make are decorated with fondant but today, I am sharing these mini cakes with with jelly candy flowers.
There are so many varieties of candies these days but the jelly ones are really cool to work with, since you can "squish" them and "cut" them up easily.
Making these jelly candy flowers is simple, easy and fun, especially for kids.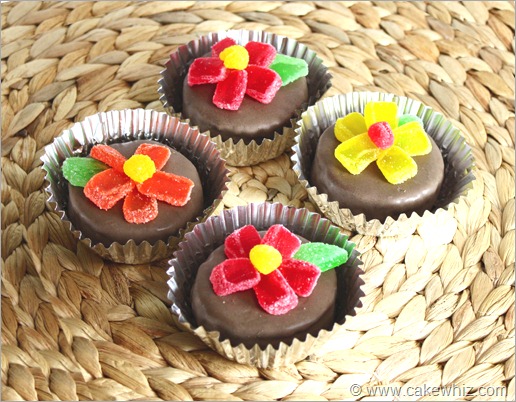 Don't you just love all the colors?
They are so bright and make me feel all happy and cheery inside.
You can decorate your cupcakes or even bigger cakes with these jelly candy flowers.
This is probably one of the most easiest cake decorating techniques ever and even if you have never decorated a cake or cupcake in your life, you can make these jelly candy flowers.

MY OTHER RECIPES
Also, If you are fond of decorating cakes with candies, check out this easy rainbow twizzler cake and Halloween candy cake and Kit Kat cake.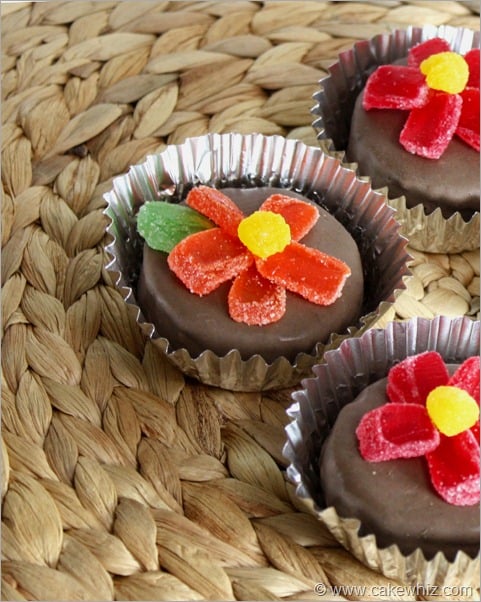 To make these mini cakes with jelly candy flowers, you will need the following ingredients and supplies:
Jelly candies
Chocolate cake
Melted chocolate
Scissors
Circle cutters
Wax paper
Small cookie rack
And here are the steps:
Step 1:
Use scissors to cut jelly candies into rectangular shapes for the flower petals.
Step 2:
Roll a few jelly candy pieces into a small ball for the flower center.
Step 3:
Cut a few triangle shaped green jelly candies for the leaf.
Step 4:
Arrange these pieces on top of your mini cakes and press gently and they will stick to the surface.
And you are done!
They taste just as good as they look!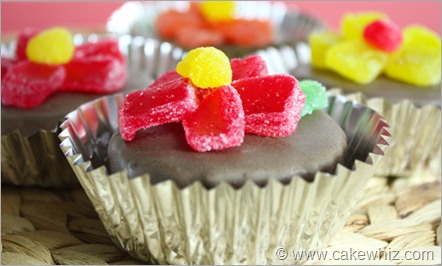 Well, that's all for today.
Until next time, tata my lovelies!