Use this step by step tutorial to make beautiful leaf print cupcakes for Fall. Easy cake decorating technique using only fondant and gel colorings.
I seem to be OBSESSED with leaf prints lately…
But then again, I am a botanist (I don't work as one now but I have a Masters in Botany 😉
So naturally, I am DRAWN to all the intricate details of a plant, especially leaves!
Their colors, shapes and textures are all so IMPRESSIVE!
You must be thinking I am totally crazy…lol.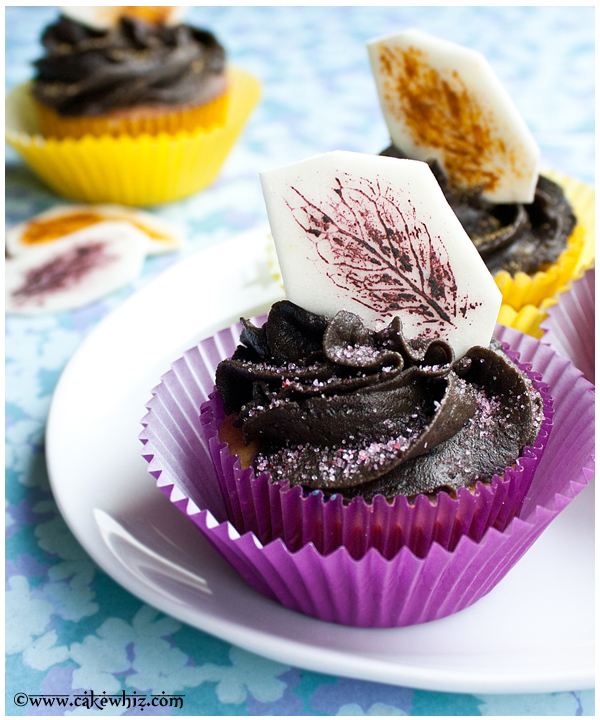 But anyways, for my regular followers, these leaf print toppers may be familiar.
I used them to decorate a very cool leaf print cake a few years ago. 

MY OTHER RECIPES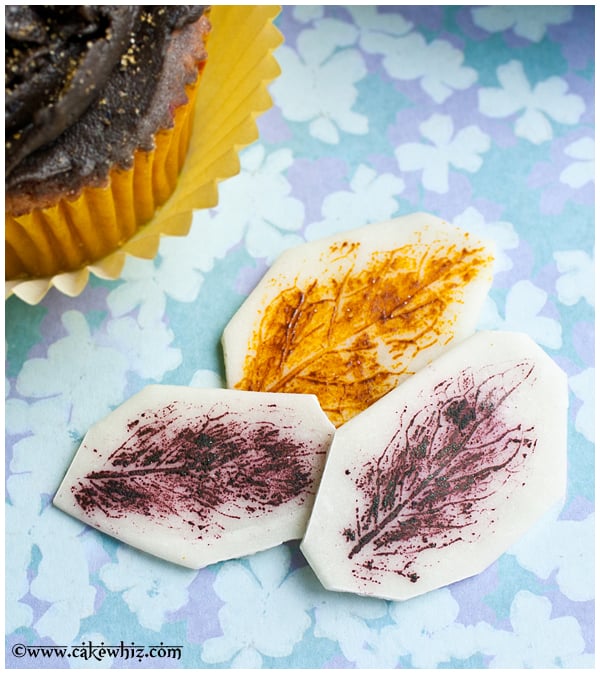 But a couple of days ago, I started wondering how those leaf prints would work as cupcake toppers…
And I just had to find out.
So, I got to work and made these pretty leaf print cupcakes.
I must ADMIT that these leaf print pieces look even BETTER on a cupcake than a cake!
Don't you agree? 
And the best part is that you can make leaf prints in any color of your choice and even match them to the color theme of your party!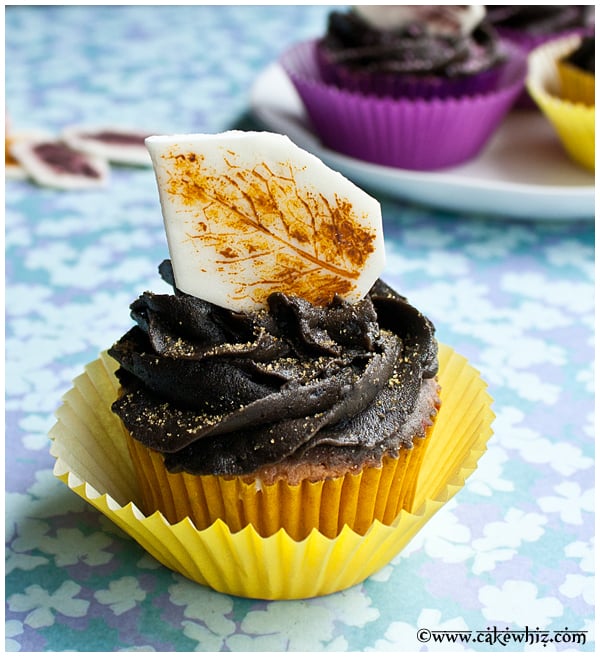 To make these leaf print cupcakes, you will need the following supplies:
Vegan chocolate cupcakes
Coconut cream chocolate frosting
Mint leaves
Wilton or Americolor gel colors.
Paintbrush
Fondant (use 50/50 or gumpaste if you want these toppers to dry quickly)
Scissors or Knife 
And here are the steps:
Step 1: 
Dip your paintbrush in some gel color (I used Wilton's gel colors… they are very concentrated and work nicely). 
Now, brush this paint onto your mint leaf.
Note 1: You will need to use different mint leaves for each color that you use.
Note 2: Also, make sure you have a few mint leaves handy coz after brushing paint on them multiple times, they get very limp and tear easily.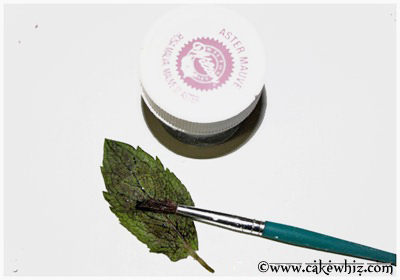 Step 2: 
Roll out some white fondant. I use my own marshmallow fondant.
Make sure you don't roll it too thin. I kept it quite thick.
Press the painted leaf onto this fondant gently.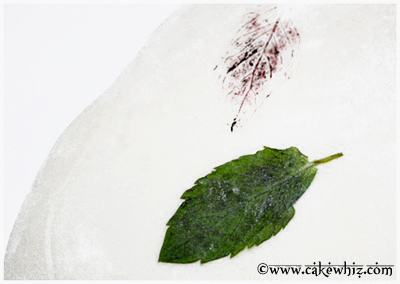 Step 3:
Now, carefully peel the mint leaf away from the fondant and you will see a leaf print. YAY! 😀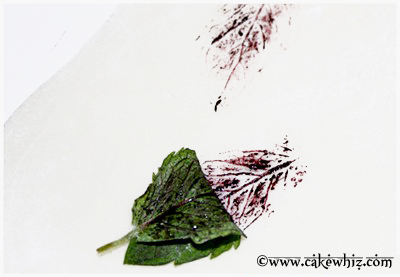 Step 4:
Do this as many times as you need, and in different colors.
Then, use a pair of scissors or a sharp knife and cut around each leaf print roughly. No need for accurate cutting… it looks better slightly jagged.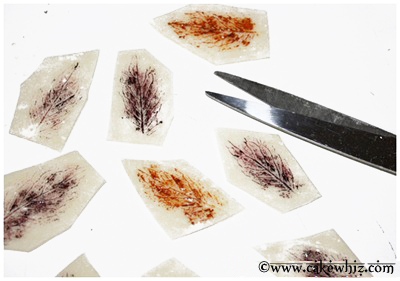 Let these pieces dry and harden at room temperature. And you are done!
If you used gumpaste or 50/50, your pieces will dry faster (within 6-12 hours) but if you used fondant, these pieces can take 3-5 days to harden.
Once they are dry, you can use them immediately on cakes/cupcakes or store them in a plastic container in a cabinet and use when necessary.
DO NOT store them in the fridge!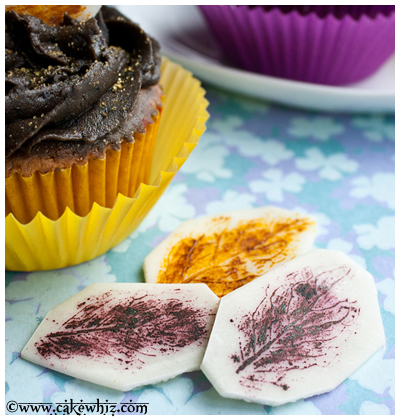 Well, that's all for today. I hope you make these cupcakes for Thanksgiving and WOW your family and friends 😀
Until next time, tata my lovelies 🙂