Cookie Bars Recipe (5 Layers)
Easy cookie bars recipe, composed of 5 layers and made with simple ingredients. These dessert bars are packed with cookies, caramel, chocolate, pecans.
*This cookie bars recipe post is sponsored by Pillsbury, but all thoughts and opinions are my own.*
If you are in the mood for an amazing dessert, you need to try this OOEY GOOEY cookie bars recipe immediately.
Now, I do a lot of baking and I have baked countless cookie bar recipes but these ones are simply PHENOMENAL!
All the flavors and textures come together so well and honestly, it feels like a party in my mouth.
They are RICH and FUDGY!
I made these dessert bars for a party last weekend and there were NO leftovers! None, whatsoever!
Kids and adults, both, LOVED them and everyone was asking for the recipe…hehe.
These EASY cookie bars are composed of 5 layers (starting from the bottom):
Cookie base
 Caramel
Pecans
Buttercream
Cookies and cream chocolate (Melted)
When you look at the recipe below, you might be intimidated by all the ingredients and steps.
However, you need to remember that layer bars generally have A LOT of steps and they do take some time to prepare but all the steps are SIMPLE and straight-forward.
This is actually Sandy Reiter's winning recipe in the category of No-Fuss Desserts for the 48th Pillsbury Bake- Off ® Contest. All contestants had to follow these official rules. Sandy said that she has always loved to bake and never misses a chance to experiment in the kitchen. These "Cookies and Cream Caramel Layer Bars" used to be a bake-sale favorite at her kid's schools. She further added that she has tweaked this recipe many times and made it with different bases, nuts and various flavors of candy, depending on whatever she has on hand.
Be sure to tune in to The Kitchen Saturday 2/24 at 11am ET/10am CT on Food Network to see all of the category winners' recipes and learn the grand prize winner of the 48th  Pillsbury Bake-Off® Contest, or visit BakeOff.com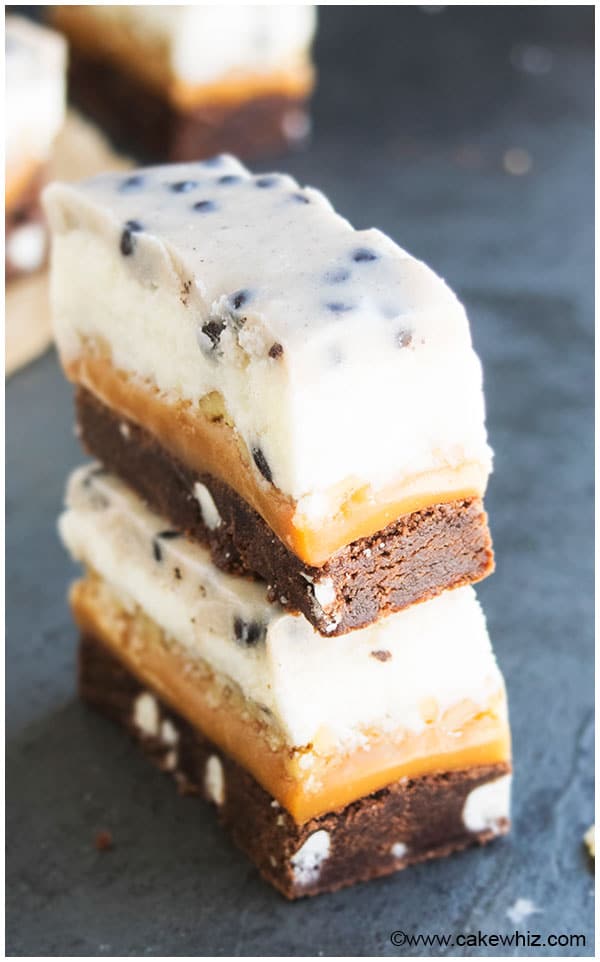 Here are some FLAVOR variations you can try:
To make peanut butter chocolate chip cookie bars, use refrigerated peanut butter cookie dough.
To make sugar cookie bars, use refrigerate sugar cookie dough.
To make oatmeal cookie bars, use refrigerated oatmeal cookie dough.
To make monster cookie bars, top off the bars with various chopped candies.
To make brownie cookie bars, replace cookie base with brownie base.
Here are some TIPS for the best cookie bars recipe:
Use UNSALTED butter otherwise your bars will become very salty.
DON'T replace heavy cream with any other kind of milk because it does not work well at all.
DON'T replace caramel bits with caramel sauce because caramel sauce does not set and you need the caramel layer to set firm.
You must let the bars CHILL completely before slicing them or else all the layers will get muddled together.
I used HERSHEY'S Cookies n' Creme refrigerated cookie dough and it was so easy to use and I highly recommend it.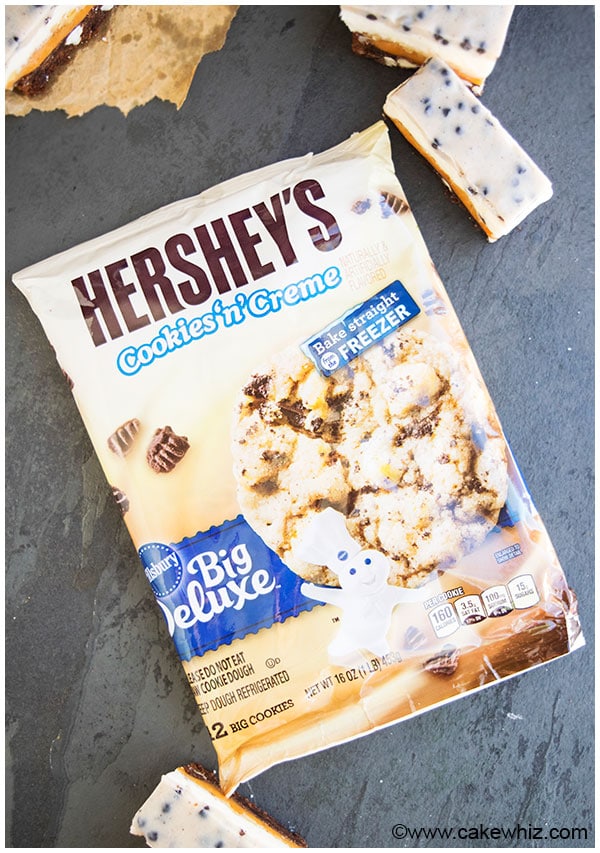 How to cut cookie bars?
If you want to get perfect even slices, chill your baked bars until they are firm. Then, use a sharp knife to cut slices. Clean your knife after each cut so that each bar is neat.
Can you freeze cookie bars?
No, these cookie bars cannot be frozen because they don't thaw well.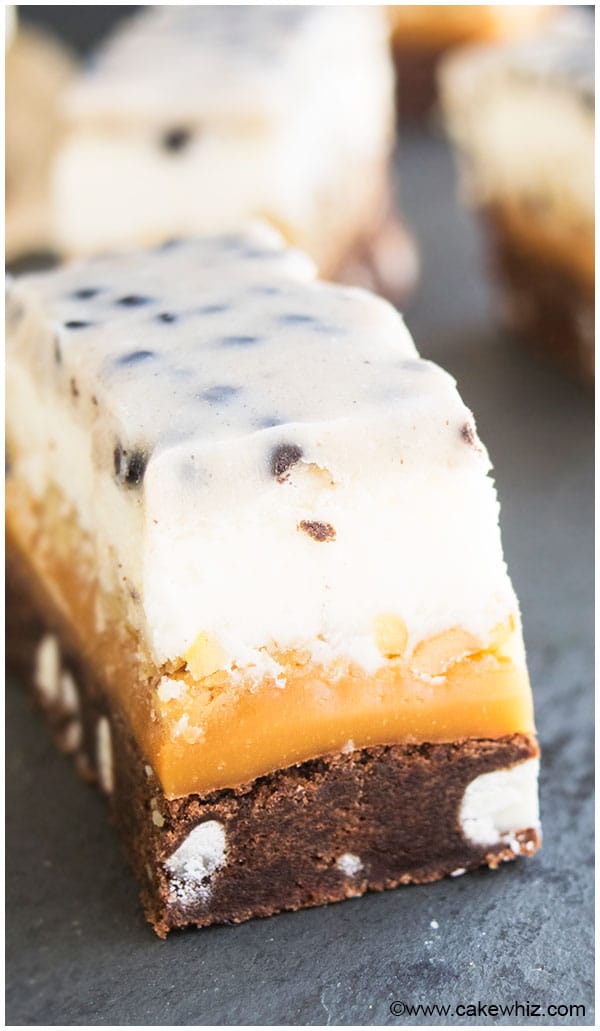 How to make cookie bars?
Start off by baking the cookie base and letting it cool down completely. Pour thick melted caramel on top and toss some pecans. Let it set. Prepare thick frosting and pour that on top. Let it set again. Then pour melted chocolate on top. Chill again until firm. Finally, cut slices and enjoy.
Cookie Bars Recipe
Easy cookie bars recipe, composed of 5 layers and made with simple ingredients. These dessert bars are packed with caramel, chocolate, frosting and pecans.
Yield: Bars
Ingredients
1 package Refrigerated cookies 'n' creme cookie dough, 16 oz, Pillsbury brand
1/4 cup Cocoa powder, Unsweetened
11 oz Caramel bits
8 tbsp Heavy cream
3/4 cup Pecans, Roughly chopped
8 tbsp Butter, Unsalted
3 cups Sugar, Powdered
3 bars HERSHEY'S cookies 'n' creme candy, 1.55 oz each
Instructions
Heat oven to 350°F.

Bake 18 to 20 minutes or until set. Cool 20 minutes.

In a microwavable bowl, add caramel bits and 2 tablespoons of the whipping cream and heat uncovered on High 1 1/2 to 2 1/2 minutes. Be sure to stir every 30 seconds, until smooth.

Pour and spread caramel mixture evenly over cooled bar base.

Sprinkle with pecans. Cool about 20 minutes or until caramel is set.

In a microwavable bowl, microwave 6 tablespoons of the butter uncovered on High 30 to 40 seconds or until melted.

Beat in powdered sugar and remaining 6 tablespoons whipping cream until smooth and creamy.

Pour and spread evenly over pecans. Refrigerate about 1 hour or until set.

In small microwavable bowl, microwave candy bars and remaining 2 tablespoons butter uncovered on Medium (50%) 1 minute to 1 minute 30 seconds, stirring every 30 seconds until smooth.

Spread evenly over bars.

Refrigerate for about 2 hours or until center is firm.

Cut into 8 rows by 4 rows with a sharp knife. Enjoy!
Notes
Read my tips above.
Leftovers can be stored in a sealed container in the fridge for up to 3 days.
You can find this cookies and cream caramel layer bars recipe HERE on Pillsbury's site too.
Nutrition
Calories: 208kcal, Carbohydrates: 33g, Protein: 1g, Fat: 8g, Saturated Fat: 3g, Cholesterol: 14mg, Sodium: 79mg, Potassium: 57mg, Sugar: 28g, Vitamin A: 150IU, Calcium: 20mg, Iron: 0.4mg
Well, that's all for today.
If you liked this easy cookie bar recipe, you may like some of these other bars recipes too:
Homemade Granola Bars Recipe (Peanut Butter Granola Bars)
Until next time, tata my lovelies!