I was having one of "THOSE" days yesterday, where nothing was going right!
I swear… NOTHING!
It was almost as if anything I touched turned into a ginormous MESS! :S
First, I had a heck of a time covering this cake in fondant.
In my defense, I DETEST covering square cakes in fondant BUT yesterday was an all-new hellish experience for me!
The fondant kept tearing OR drying up OR it was too thick OR too thin…AHHHH!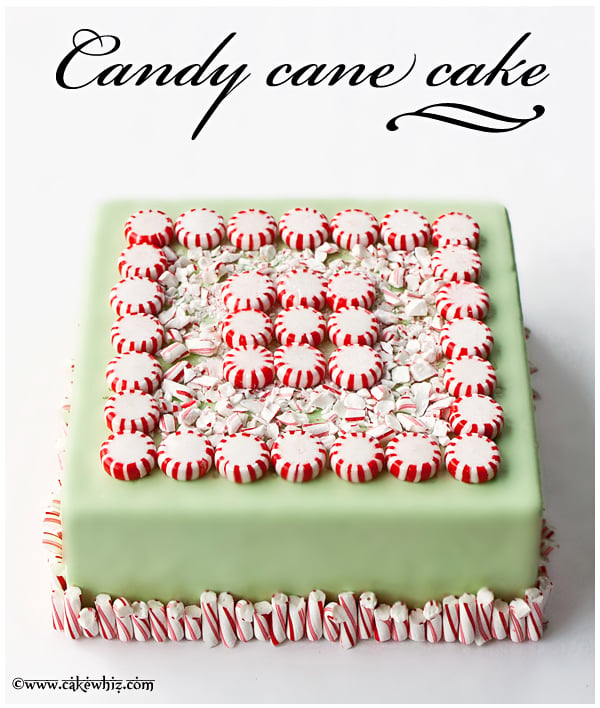 Then, the darn candy canes weren't sticking to the fondant.

MY OTHER RECIPES
I tried corn syrup, water, gumpaste glue and nothing worked!
Finally, I figured out that melted white chocolate and very thick royal icing work best.
I just wish it HADN'T taken me a freakin HOUR to figure that out!
Even photographing this cake was a pain…
But, let's NOT get into that coz I have been venting long enough…hehehe 🙂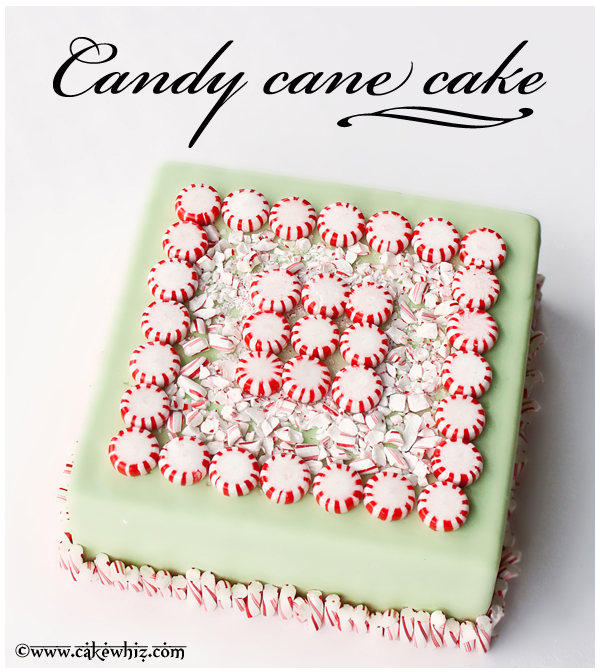 Let me tell you more about this cake…
It's a mouth-watering chocolate Oreo cake, which is SOOO good!
I filled it with candy cane buttercream (I used my basic buttercream icing recipe and mixed in 1/3 cup finely crushed candy cane powder).
Keep in mind that this frosting is NOT very smooth. So, I DON'T recommend using it under fondant but it works GREAT as a cake filling.
The rest of the cake was covered in my regular fluffy buttercream icing.
And finally, I covered the cake in homemade marshmallow fondant.
I swear to God each bite of this cake was PURE BLISS! 😛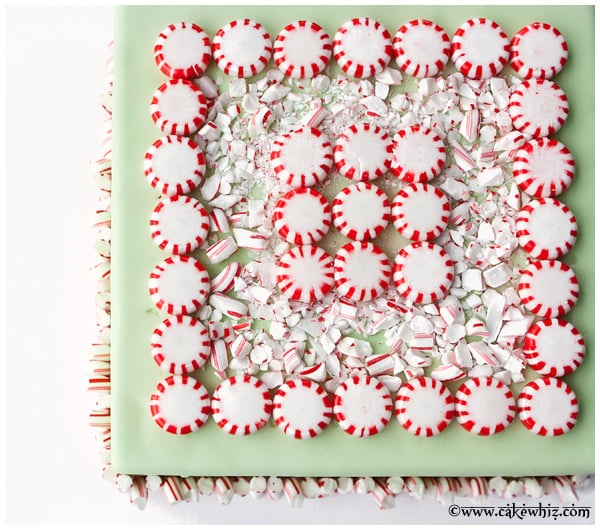 When it came time to decorating, I kept the design fairly simple coz I wanted the focus to be on those pretty candy canes.
I DON'T think pictures do justice to this cake…
The cake looked much BETTER in reality than it does in these pictures…
When light shines on this cake, those crushed candy cane pieces begin to SPARKLE!
It's very PRETTY! 😀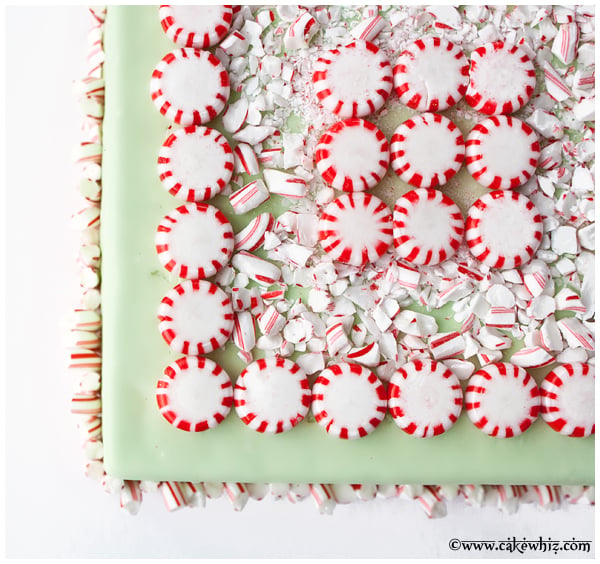 I wasn't planning on making a border around this cake but it was looking NAKED without one…lol.
So, I used broken candy canes to make a SIMPLE border.
Easy peezy!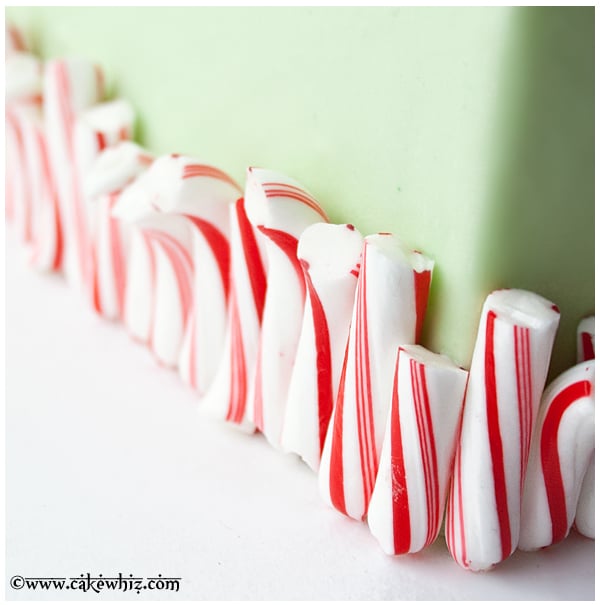 To make this Christmas candy cane cake, you will need the following supplies:
Square cake (I made a chocolate Oreo cake)
Green marshmallow fondant
Melted white chocolate or thick royal icing
Buttercream icing
Paintbrush 
Round peppermint candies
Mini candy canes
Crushed candy canes
And here are the steps:
Step 1: 
Bake a square shaped cake and allow it to cool.
Step 2:
Once it has cooled, fill it with peppermint buttercream (just add 1/3 cup finely crushed candy canes into my regular buttercream icing recipe).
Also, frost your entire cake in regular buttercream icing.
Step 3:
Now, cover your cake in light green marshmallow fondant.
Step 4:
Arrange the round peppermint candies into square shapes on top of the cake.
Stick them into place with some melted white chocolate or thick royal icing.
Fill the space between them by sprinkling some crushed candy canes.
Step 5:
To make the border around your cake, break mini candy canes irregularly.
Brush melted white chocolate or thick royal icing to stick them into place.
And you are done! 
I bet if you make this cake on Christmas, your guests will be blown away by its beauty! 😉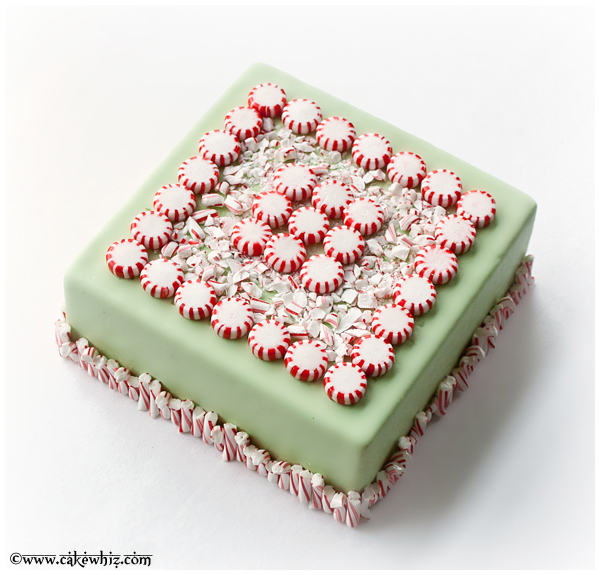 Well, that's all for today.
Until next time, tata my lovelies 🙂