I have been looking forward to today's posting so impatiently!
I was literally counting down the days, waiting for today to arrive! lol
Why? You may ask…
Well, you see… I am guest posting over at Uru's blog.
Uru is one of my sweetest  and funniest blogger friends who makes the most AH-MAZING desserts ever! 
Here are a few that I LOVE…
GET 40 OF MY BEST COOKIE RECIPES TODAY!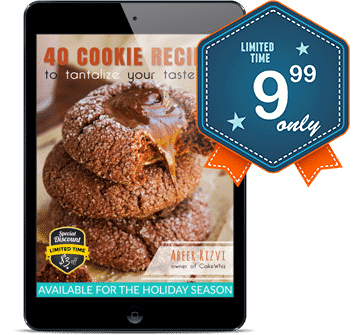 BUY NOW FOR $9.99
Caramel Banana Raisin Cupcakes w/ Vanilla Cream Cheese Frosting

MY OTHER RECIPES
Nutella Toblerone Fudge Biscuits
For my guest post, I am sharing a recipe for a UNIQUELY delicious chocolate spinach cake and I will also show you how to decorate a cake with leaf prints.
My guest post is still available on her site but I am also sharing it here now…
---
Hey guys!
I am Abeer, the face behind a little blog called "Cakewhiz- A Cake Geek's Resource."
I love dressing up my desserts and making them look pretty, especially CAKES!
Call me crazy but this is the way I see it… we eat through our eyes AND our mouth.
Cakes will only end up tasting sweeter when they are "dolled up" and "beautified."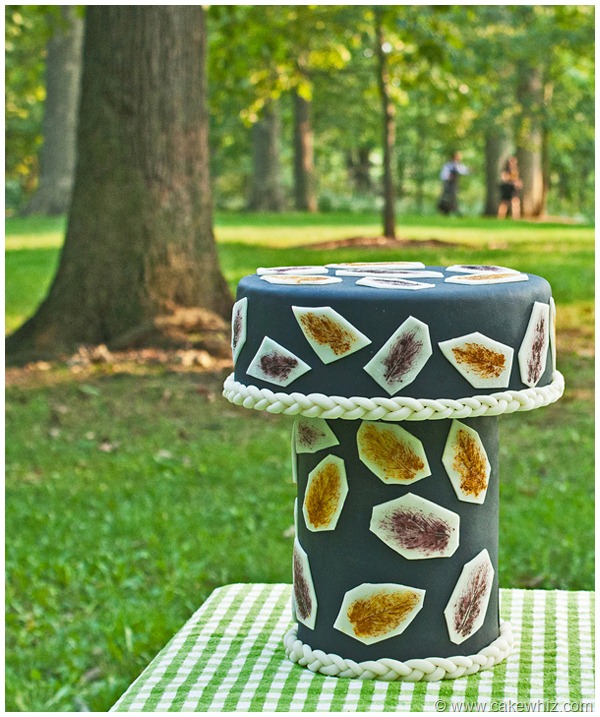 When Uru asked if I could possibly do a guest post for her, I was quite taken back coz her recipes are to die for!
Seriously, I go into a chocolate-induced coma (the good kind) every time I visit her blog.
But, she is such a darling that I had to go an extra mile with the recipe I am sharing today.
I only hope my chocolate spinach cake with leaf prints is just as good as her fantastic recipes!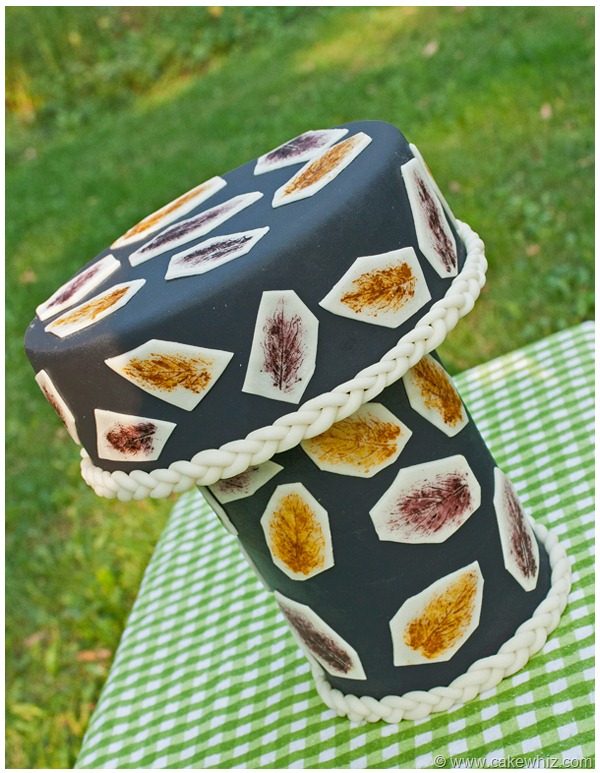 The inspiration for making leaf prints on a cake came quite randomly…
I was preparing dinner and god knows why, I stopped to admire the veins and intricate details on a mint leaf.
I am odd like that … I tend to zone out every once in a while…hehehe.
I do have to admit that making these prints brought back memories from my childhood.
You see…as a kid, I used to enjoy making leaf prints on poster boards and in one unfortunate incident, I even made leaf prints all over the house walls…hahaha.
Needless to say, my parents were pissed… hahahah.
Oh… to be a child again…lol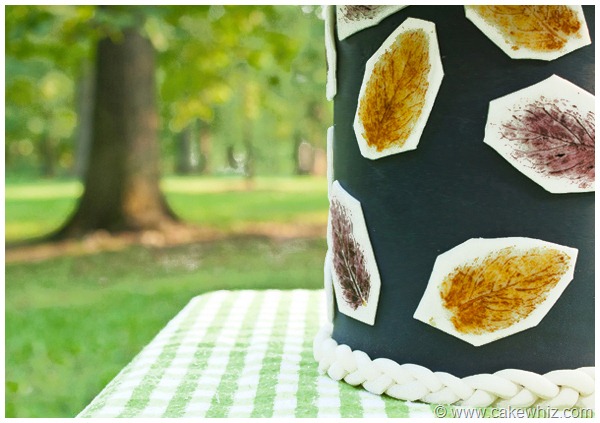 I made this cake for a friend's party and on my way there, there is a beautiful park.
So, I stopped to take photographs.
If I wasn't running late, I would have taken some pictures of this park as well.
The scenery there was just breath-taking.
They even had this old-fashioned water pump or maybe it's a water fountain… it was pretty neat!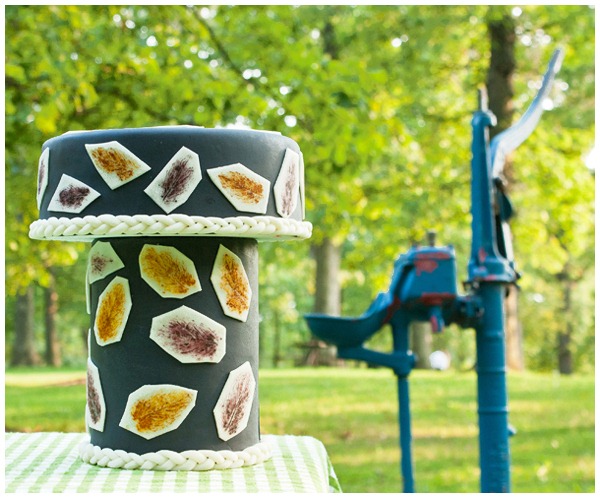 Like I mentioned earlier, underneath all the decorations, you will find a delicious chocolate spinach cake.
You must be thinking I am out of my mind for making such an odd cake.
But honest to goodness, it is unbelievably delicious!
It's very rich with a strong chocolate flavor AND the best part is you can't even taste all that spinach.
It took a few tries to get this cake just right but it was completely worth it since you won't feel TOO guilty indulging in this "awesomeness."
To make it, you will need the following ingredients:
2 cups flour
1 1/2 cup sugar
1/2 cup cocoa powder
1/2 cup olive oil
1/2 cup water
1 1/2 cup hot milk
2 tbsp vanilla extract
2 large eggs
1 cup finely chopped spinach ( no puree…I was scared that would make it bitter)
1 1/2 tsp baking powder
1 1/2 tsp baking soda
And here are the steps:
Step 1:
In a deep bowl, add flour, sugar, cocoa powder, olive oil, water, vanilla extract, eggs, baking powder and baking soda. Mix everything until it's well-blended.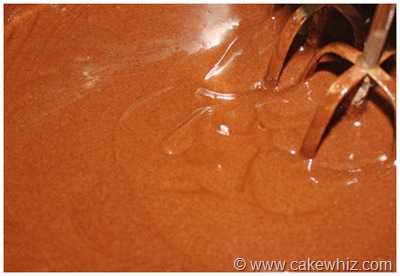 Step 2:
Add finely chopped spinach and hot milk. Mix again.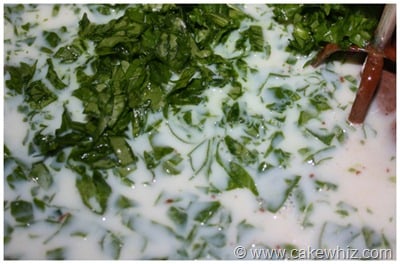 Step 3:
Pour batter into a greased/floured cake pan.
Bake at 350 degrees for 45 minutes or until an inserted toothpick comes out clean.
I used an 8×3 round pan and it was filled about 3/4 of the way… I still had some leftover batter for a few cupcakes.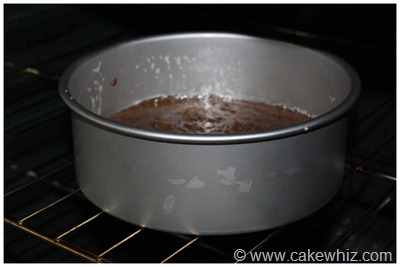 And you are done!
Allow this cake to cool down and then cover it in buttercream icing.
Now, let's do the cool stuff and make leaf prints. 
You will need the following supplies:
Mint leaves
Spft paintbrush
Gel colors
White marshmallow fondant
Scissors or Knife 
And these are the steps:
Step 1:
Dip your paintbrush in some edible color (I used Wilton's fondant colors… they are very concentrated and work nicely).
Now, brush this paint onto your mint leaf.
You will need to use different mint leaves for each color that you use.
Also, make sure you have a few mint leaves handy coz after brushing paint on them multiple times, they get very limp and tear easily.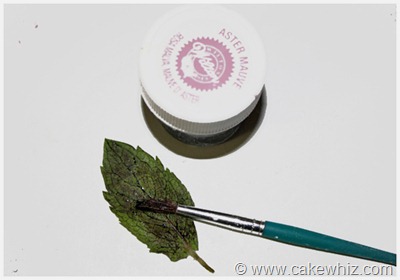 Step 2:
Roll out some white fondant and sprinkle powdered sugar to prevent sticking.
Make sure you don't roll it too thin. I kept it quite thick.
Press the painted leaf onto this fondant gently.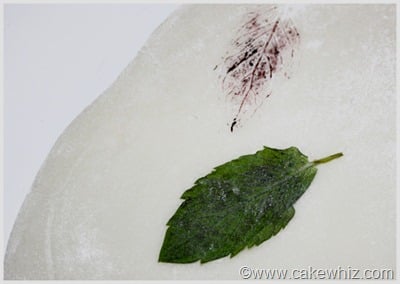 Step 3:
Now, carefully peel the mint leaf away from the fondant and you will see a leaf print.
Step 4:
Do this as many times as you need to and in different colors.
Then, use a pair of scissors or knife and cut around each leaf roughly.
No need for accurate cutting… it looks better slightly jagged.
TIP: After making leaf prints on a sheet of white fondant, let it just sit on the table for an hour or so. The air dries up the fondant a little and cutting it becomes easier.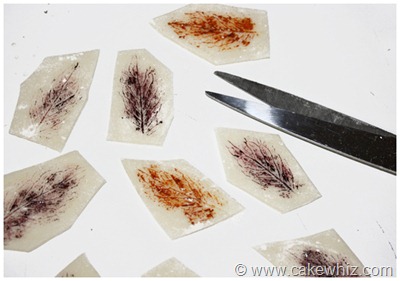 Step 5:
To paste these leaf prints onto your cake, brush some water behind each piece.
Don't brush too much water coz it gets very sticky and sloppy.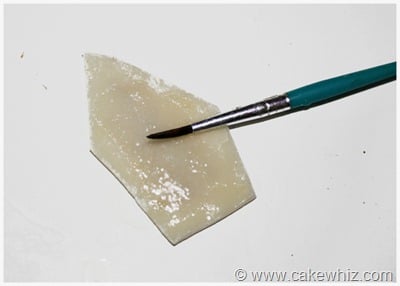 Step 6:
Stick these pieces onto your fondant-covered cake.
I applied them in a random pattern.
You can try different patterns…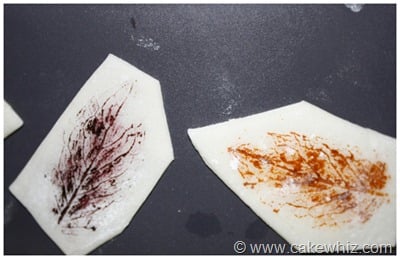 Step 7:
For the border, I rolled out three "snakes" of white fondant and pinched them together at the very top.
Then, I started braiding them just like I braid my hair…hehe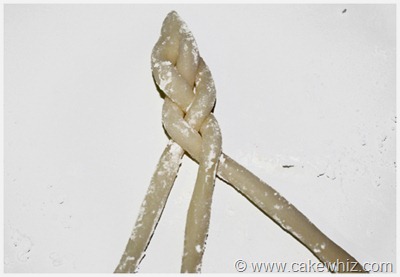 Step 8:
Once again, brush some water behind the braid and stick it around the base of your cakes.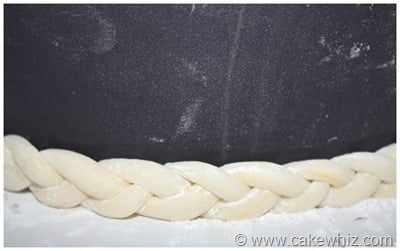 And you are done!
Quite cool…right?
You can even see the delicate leaf veination!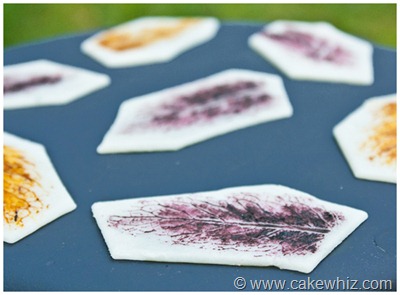 I think this "leafy" cake is perfect way to bid farewell to Summer and welcome Fall. What do you think?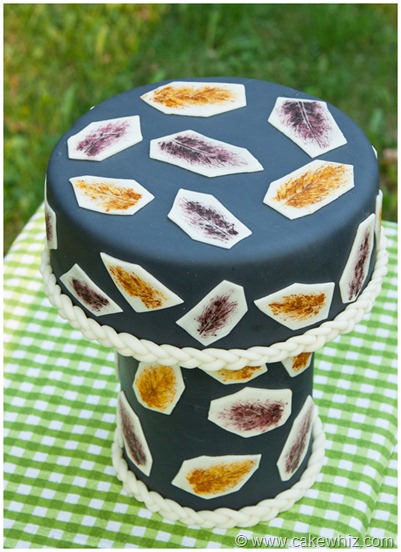 And that's enough yapping from me… I hope all of you liked this cake!
Thanks for having me Uru… doing a guest post here has been a pleasure.