This easy chai tea spice cake with buttercream frosting, caramel sauce and pistachios is the perfect Fall and Thanksgiving dessert. Each bite is so moist!
Since I am a HUGE fan of masala chai tea latte, I knew I would end up making a chai tea spice cake sooner or later. 
Thankfully, it happened sooner rather than later 😉
It took a few attempts to get this cake just right but it was totally WORTH all that work. 
And if you are a big chai tea lover like me, you need to make this easy chai tea cake ASAP!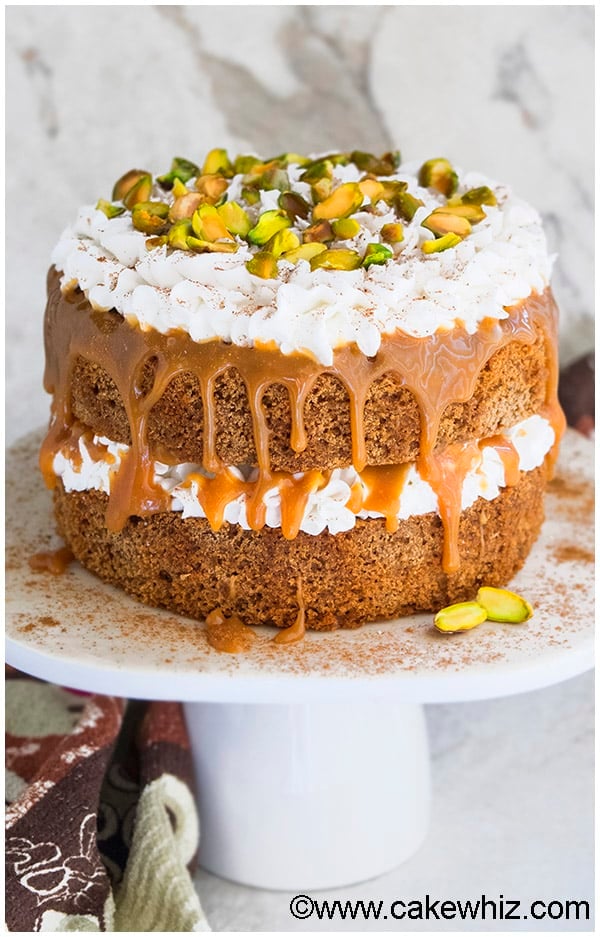 I DIDN'T want the chai flavor of the cake being overpowered by the frosting.
So, I kept it SIMPLE and paired this chai tea cake with classic American buttercream frosting and some spiced caramel sauce.
For decoration, I just garnished with PISTACHIOS, which also ended up adding a subtle NUTTY flavor to this chai tea spice cake.

MY OTHER RECIPES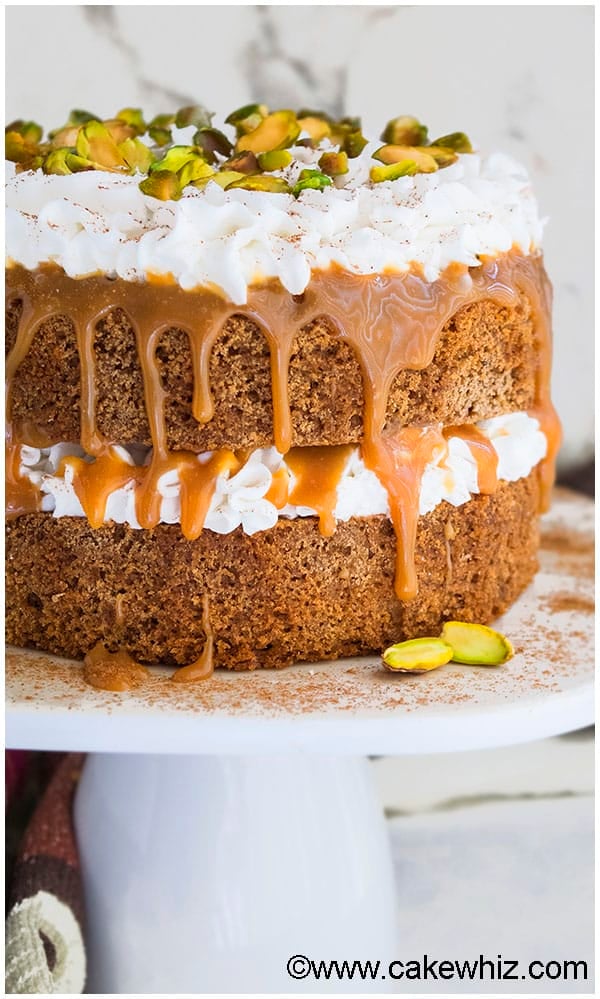 If I had to describe the TEXTURE of this cake, I would have to say it's a CROSS between a dense bundt cake and a light sponge cake.
It's very SOFT and MOIST and simply bursting with spices and chai flavor!
By the way, while this chai tea spice cake is baking, your home will be filled with a SPICY and AROMATIC fragrance that will just make your heart sing…heheh.
It's truly the PERFECT Fall cake and I think it would be a show-topping Thanksgiving dessert too.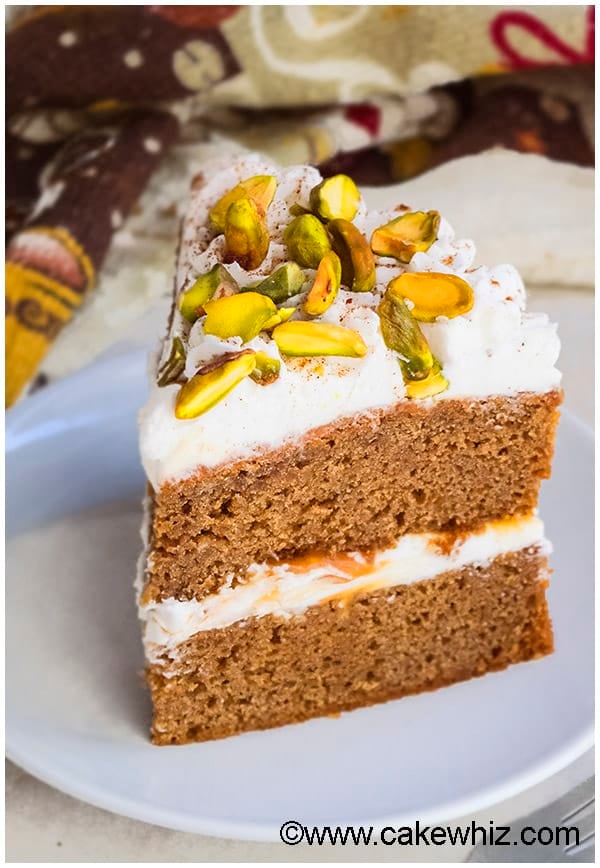 Here are some tips for making the PERFECT chai tea spice cake:
Make sure the butter and eggs are are at room temperature.
Once your cakes have cooled down completely, I highly recommend covering them in saran wrap and refrigerating them overnight. That really seals in the moisture and it's also easier to trim your cakes without a huge mess/crumbs.
Pistachios complimented this cake very well. But, you can use any other type of nuts you like or even omit them if you are not fond of a slight "nutty" texture in cakes.
Don't use tea bags that have been sitting in your shelf for years. Get fresh tea bags PLEASE! They have a stronger  flavor and aroma.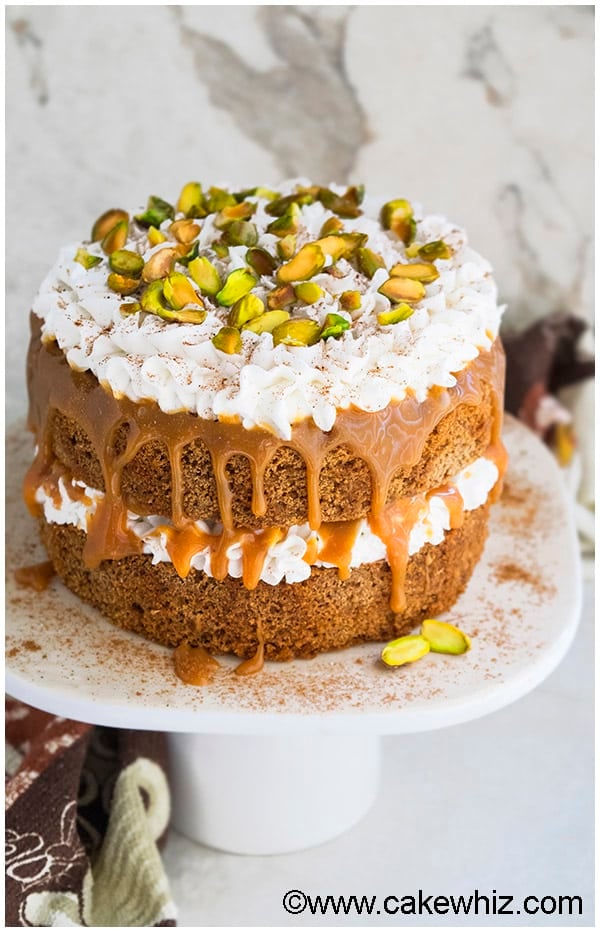 Chai Tea Spice Cake
Prep time:
Cook time:
Total time:
Ingredients
Cake
2 cups all purpose flour
1½ cups sugar
1 cup unsalted butter
4 eggs
8 tea bags vanilla spiced chai tea
1 cup warm milk
2 tsp baking powder
1 tsp baking soda
1½ tsp cinnamon powder
¼ tsp cardamom powder
¼ tsp nutmeg powder
¼ tsp cloves powder
¼ tsp ground ginger
1 tsp vanilla extract
Frosting, Filling and Decoration
1 cup spiced caramel sauce
½ cup pistachios
Instructions
Pour warm milk in a deep bowl and add all the tea bags. Let them sit for about 10 minutes. Then, squeeze out all the milk from the tea bags and discard them. Keep this chai milk aside for now and move on to the next step.
In a mixing bowl, cream butter and sugar together until light and fluffy.
Add eggs, one at a time, while continuing to mix.
Add vanilla extract and ground ginger and mix again.
In another bowl, whisk together the flour, baking powder, baking soda and all the spices.
Dump this dry mixture into the wet mixture. Mix everything together while adding the chai milk until just combined. The batter will be thick and there might be some lumps but don't over mix!
Pour this batter into two 8x2 greased/floured round cake pans.
Bake at 350 degrees for about 40 minutes or until an inserted toothpick comes out clean.
Allow the cakes to cool down completely.
Then, trim the edges and tops of each cake with a sharp knife.
Place one cake on a cake stand and frost the top with buttercream (I used a piping bag with Tip #1M).
Spread some chopped pistachios and drizzle some caramel sauce.
Then, place the other cake on top of this frosting layer.
Pour some caramel sauce around the edges of the cake only.
Finally, frost the top of this cake with buttercream and toss some more pistachios.
And you are done!
Notes
- To make spiced caramel sauce, simply heat your homemade or store-bought caramel sauce in the microwave. Then add 1 tsp cinnamon powder and ¼ tsp allspice powder. Mix with a spoon until everything is properly combined.
- Read my tips in the post above.
Well, that's all for today.
If you liked this post, you may like this Old Fashioned Applesauce Cake too.
Until next time, tata my lovelies!