I love flowers. They are colorful, delicate and oh so pretty! And that was my inspiration for this cake. As for the bumble bee…. it was just too cute so I had to add it into the cake

Innitially, I only decorated the top of the cake with daisies…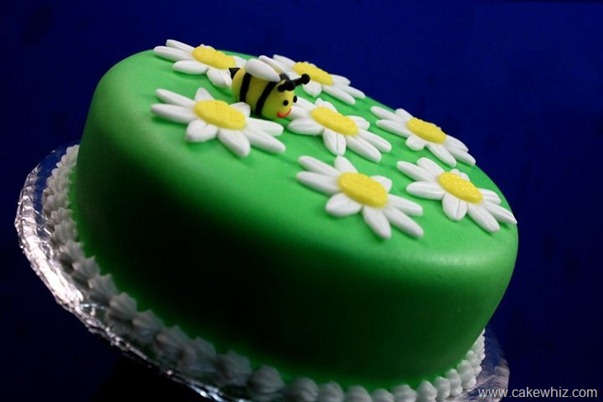 But then, I decided to add more daisies around the cake too. Which one do you like? Cake with more daisies or cake with fewer daisies?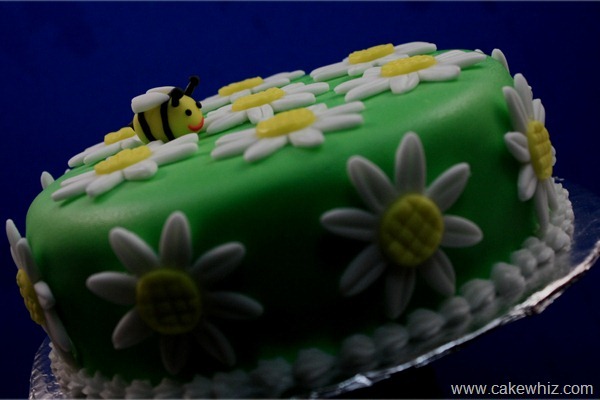 I have already posted a tutorial on making fondant daisies HERE. 
GET 40 OF MY BEST COOKIE RECIPES TODAY!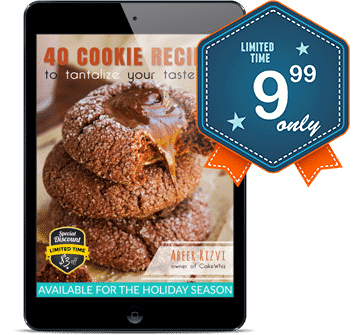 BUY NOW FOR $9.99
And I will now do the tutorial for the bumble bee:

MY OTHER RECIPES
Step 1:
Roll out yellow fondant into somewhat of a cylinder shape. This will be the main body of your bee.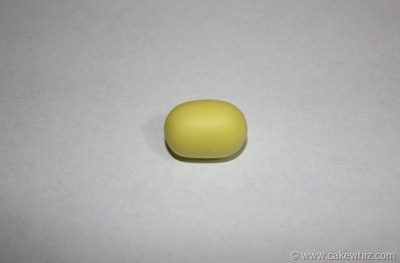 Step 2:
Now, roll out some black fondant into a small ball.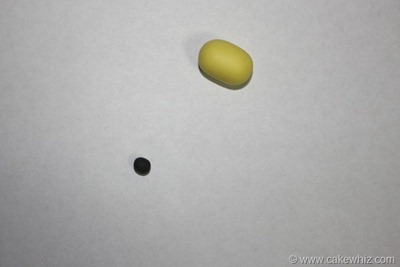 Step 3:
Using your fingers, start rolling it to make it into a thin long "rope."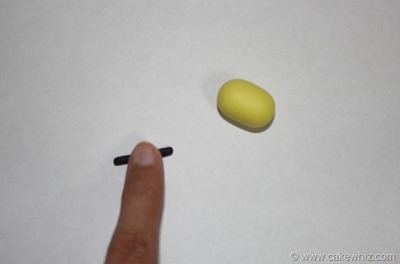 Step 4:
Do this again for another small ball of black fondant. These will be the stripes on your bee's body.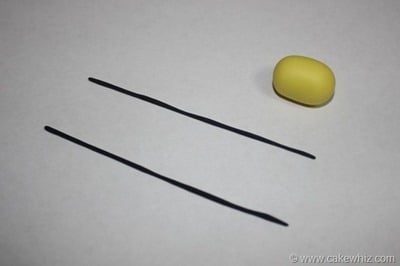 Step 5:
Brush two stripes of water water along the yellow fondant.
Step 6:
Paste those black ropes along the water lines.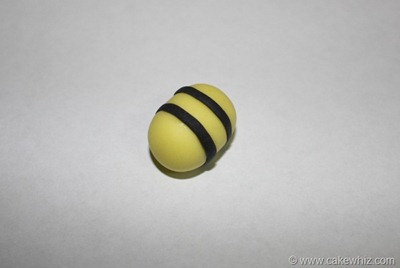 Step 7:
Flatten the black stripes using the end of your brush so that it blends nicely into the body of the bee.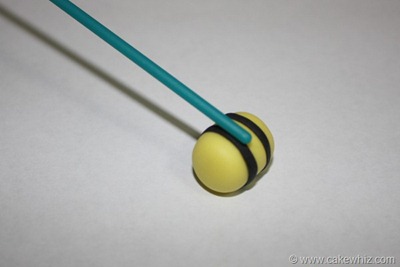 Step 8:
Roll out a small ball of black fondant and shape it into a cone. This will be the bee's stinger.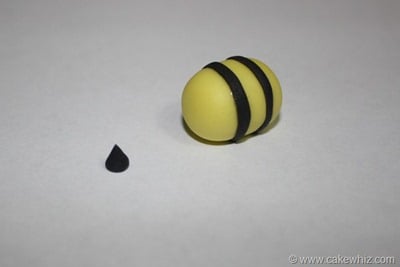 Step 9:
Brush some water at the back of your bee's body.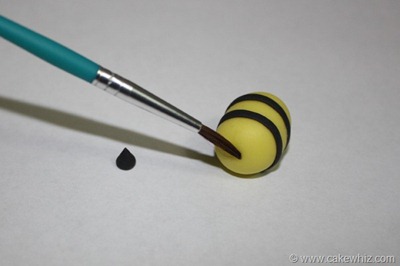 Step 10:
Stick your cone on the water mark and hold in it place for a few seconds so that it does not fall off.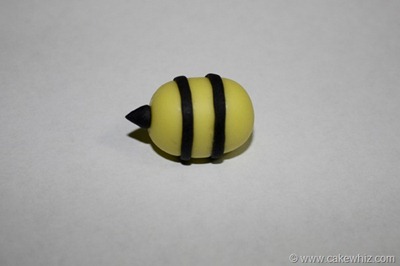 Step 11:
Roll out the two smallest balls of circles you can. These will be the bee's eyes.
NOTE: Instead of using fondant, you can also use edible paint or marker for the eyes and the mouth.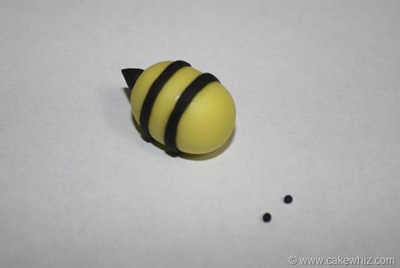 Step 12:
Poke a hole with a toothpick where you want the eyes to be positioned.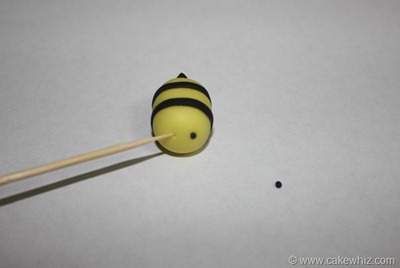 Step 13:
Hold the tiny black ball on the pointy edge of a toothpick and push it into the hole you just made….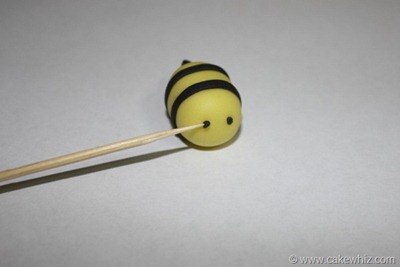 ….and your bee can now see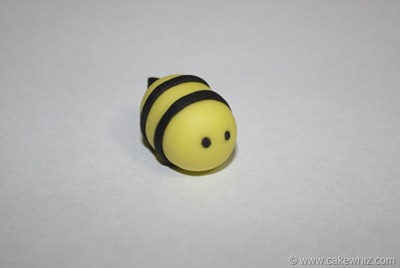 Step 14:
Roll out some red fondant into a "smile" shape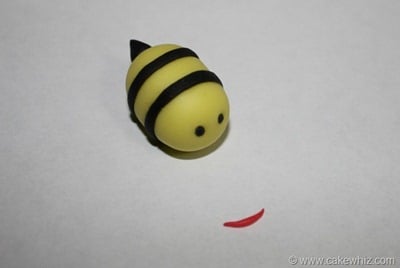 …paste it onto your bee's face and your bee is smiling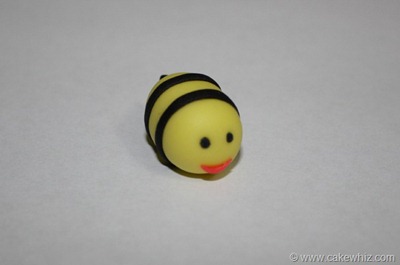 Step 15:
For the wings, roll out two balls of white fondant and using your fingers, flatten them into a petal shape.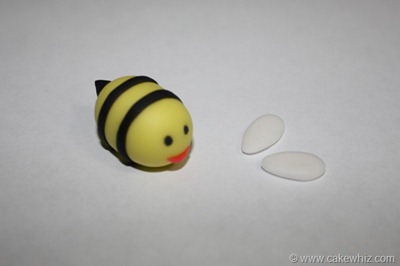 Step 16:
Brush some water on both sides of the bee's body.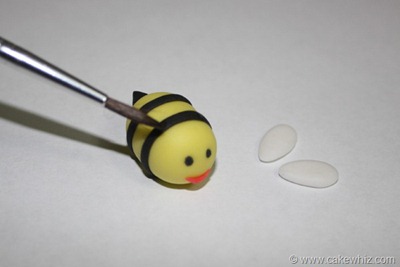 Step 17:
Place your wings on the water marks.
NOTE:  If you do not want your bee to have antennas, you can stop here and you are done. If you want those, keep going for one last addition to your bee…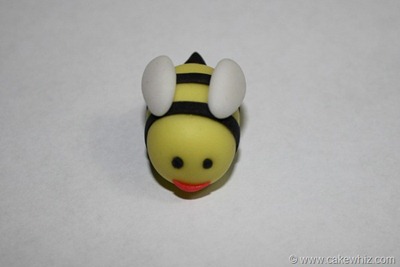 Step 18:
For the antenna, break a toothpick into two small pieces.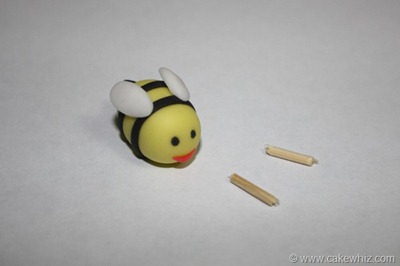 Step 19:
Color them with black edible paint and insert them on the bee's head.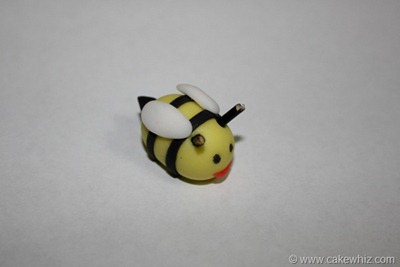 Step 20:
For the final touch, roll out two small black balls of fondant.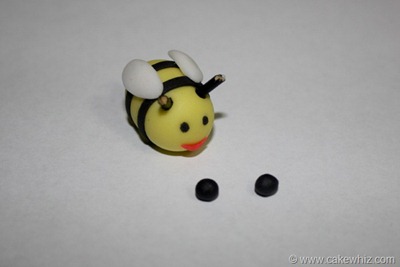 Step 21:
Push them on top of the toothpicks. No water needed.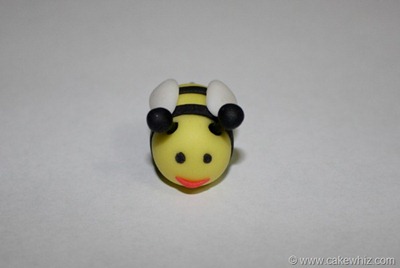 And you are done!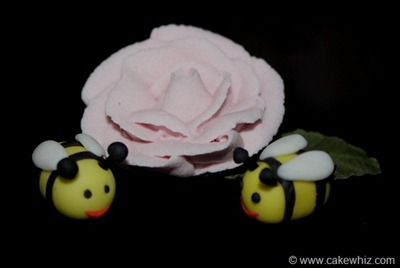 Aren't they the cutest?
Go ahead and make your own little bumblebees