Butter Pecan Cookies
Easy, soft and chewy butter pecan cookies recipe, homemade with simple ingredients. Loaded with toasted pecans and toffee bits. Great for Christmas and Thanksgiving parties!
If you love everything to do with Fall and Thanksgiving, then today's recipe is for you! It combines warm cinnamon flavors with nutty pecans in the most perfect way possible. My family enjoys them just as these Fall Cookies (Leaf Cookies) and Cinnamon Cookies or these Oatmeal Raisin Cookies.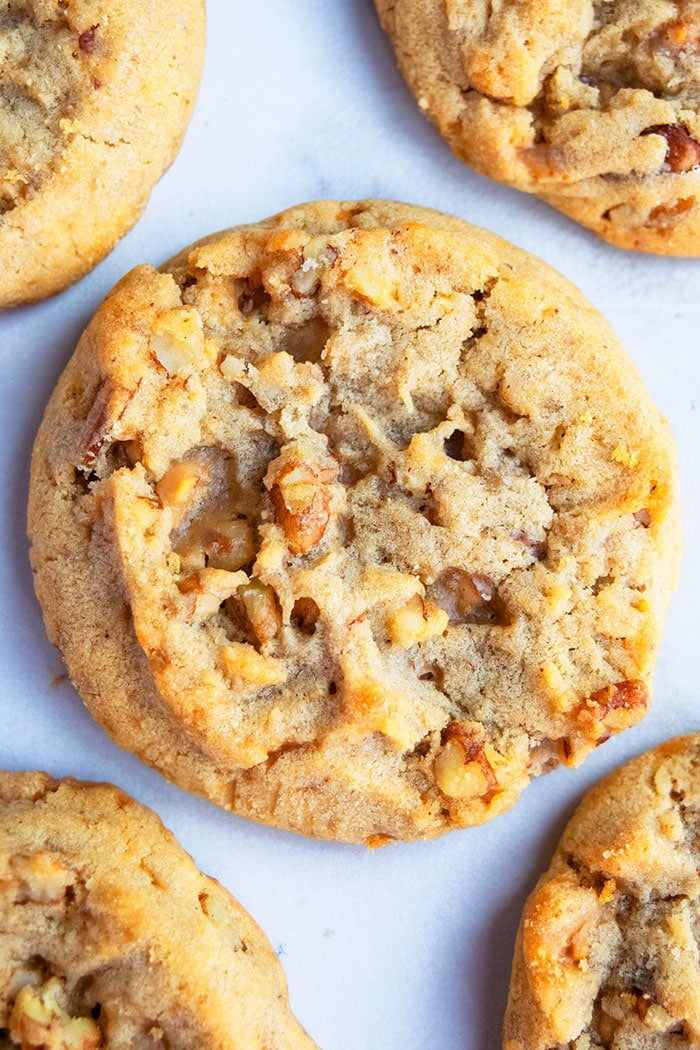 How to make butter pecan cookies recipe from scratch?
Cream butter and sugar– Until light and fluffy.
Add eggs and vanilla– And mix until smooth.
Prepare dry mixture– By mixing together flour, cornstarch, and baking soda.
Mix wet and dry mixture- Until combined.
Add pecans– And mix until evenly distributed.
Chill– For 30-45 minutes.
Make cookie balls– And place them on a cookie tray.
Bake- Until the cookies are golden brown and firm along the edges.
Storage
Room temperature– Store them in a cookie jar for up to 3 days.
Refrigerate– In a sealed container for up to 5 days.
Freeze– Cookie dough can be frozen for up to 1 month and defrosted overnight in the fridge. I don't recommend freezing baked cookies since the nuts lose their crunch when they thaw.
Variations
Pecan shortbread cookies- Incorporate finely chopped pecans into my Best Shortbread Cookies recipe. Please note that the recipe below cannot be modified to a shortbread.
Chocolate chip pecan cookies– Mix in any flavor chocolate chips into the dough such as semi-sweet, dark chocolate or white chocolate chips.
Pecan snowball cookies– Check out my Snowball Cookies recipe and add chopped pecans instead of walnuts. Once again, the recipe below cannot be modified to a shortbread.
Add coconut– Add 1/2 cup shredded coconut to the dough. Toasting it first will enhance the flavor.
Add oatmeal– Reduce the amount of flour by 1/3 cups and replace that with quick cooking oats. This will make the cookies slightly chewy.
Add toffee bits or butterscotch chips– Their flavor compliments very well with pecans.
Use browned butter- If you have the time, brown butter first and let it cool and then use that in this recipe for a lovely nutty flavor and color.
Stuff it with caramel– Stuff the cookies with caramel, prior to baking for an ooey gooey surprise.
Add bourbon– Mix in about 2 tbsp bourbon into the cookie dough.
Cookie bars– Spread the dough in a rectangular pan and bake. Slice them into bars with a very sharp knife, once baked. Let them cool completely before removing from pan.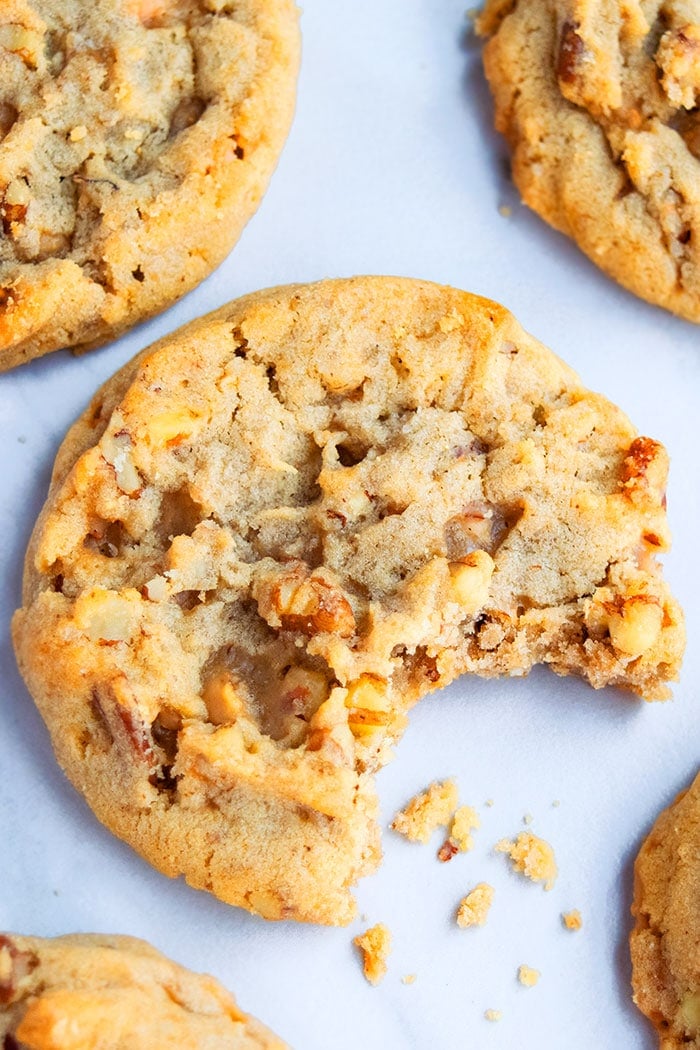 Tips and Techniques
Why add cornstarch? When cornstarch is added with flour, it softens the harsh proteins of the flour, which makes the cookies very soft and tender.
All ingredients must be at room temperature– Because this will allow them to blend together smoothly and evenly.
Why did my cookies spread? This is probably because the dough was not chilled before baking or too much liquid was added to the recipe.
Chilling the cookie dough is very important– Do not skip this step because it allows the cookies to hold their shape while they bake and prevents them from spreading.
Use unsalted butter and unsalted pecans- Because that prevents this treat from becoming too salty.
Use toasted pecans- Because they have an enhanced nutty flavor.
Don't replace butter with oil- Because the texture of the cookies will change entirely.
Use both granulated and brown sugar– Because they create the best flavor profile.
More Pecan Desserts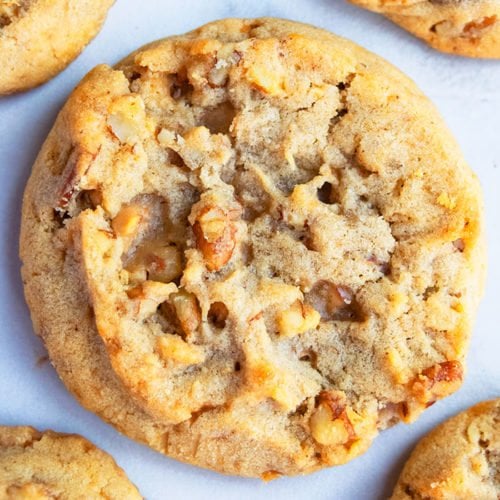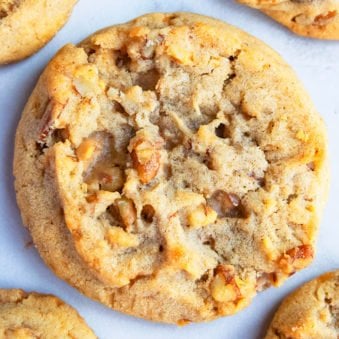 Butter Pecan Cookies
Easy, soft and chewy butter pecan cookies recipe, homemade with simple ingredients. Loaded with toasted pecans. Great for Christmas and Thanksgiving!
Yield: Cookies
Ingredients
1 cup Butter, Unsalted, Melted, Should be cooled so that it's warm and not very hot
1/2 cup Granulated sugar
1 cup Brown sugar
2 Eggs, Large
1.5 tsp Vanilla extract
2.5 cups All-purpose flour
1 tsp Cinnamon powder
1 tsp Cornstarch
1 tsp Baking soda
1/2 tsp Baking powder
1.5 cups Pecans, Roughly chopped, Unsalted, Preferably toasted
1/2 cup Toffee bits, Optional
Instructions
In a large mixing bowl, cream together butter, granulated sugar and brown sugar until light and fluffy.

Add eggs, vanilla extract and mix until smooth.

Add flour, cinnamon powder, cornstarch, baking soda, baking powder and mix until just combined.

Mix in pecans and toffee bits until evenly distributed.

Chill dough for 30-45 minutes to make it easier to handle.

Scoop out small portions of the dough and roll into balls. The chilled dough will seem a bit crumbly but the warmth of your hands will help bring the dough together into small balls.

Optional: Roll each cookie dough ball in a bowl of granulated sugar, if you like. I don't usually do it but my Mom does it.

Place them on a cookie tray, lined with parchment paper.

Bake at 350 degrees F for about 11-14 minutes or until cookies are golden brown and firm along the edges. They will be "poofy" in the center and deflate as they cool. If they don't deflate fully to your liking, you can press down gently with the back of a spoon. Enjoy!
Notes
Read all my tips above.
Leftovers can be stored in a cookie jar at room temperature for up to 3 days. 
Nutrition
Calories: 172kcal, Carbohydrates: 19g, Protein: 2g, Fat: 10g, Saturated Fat: 4g, Cholesterol: 27mg, Sodium: 97mg, Potassium: 47mg, Fiber: 1g, Sugar: 11g, Vitamin A: 208IU, Vitamin C: 1mg, Calcium: 15mg, Iron: 1mg