Use this step by step tutorial to make easy Spring cookies with royal icing or glace icing. Great as a homemade gift or giving away as party favors!
Spring started a few weeks ago although it doesn't seem that way with the dreary weather… So, I made these easy flower spring cookies to get everyone into a more "Springy" mood.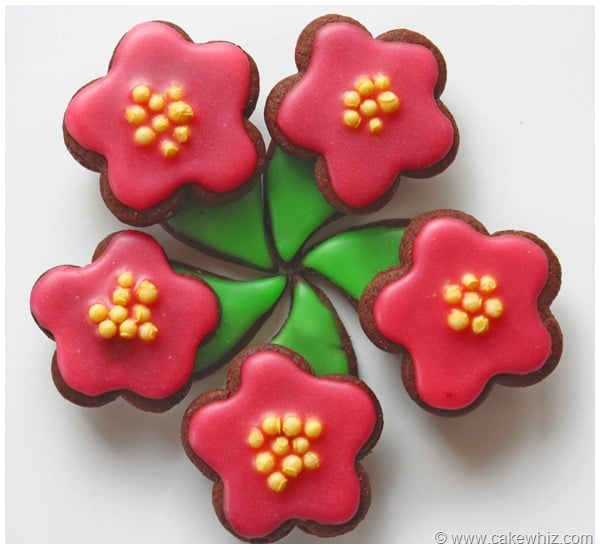 Not only do these cookies look good but they also taste fantastic!
And  now, YOU have the chance to WIN these!
All you have to do is bid on them and other tasty food items in an online bake sale being held on May 2nd, 2011 from 7 AM EST to 9PM at Becky's blog.  I will ship these delicious cookies to the lucky winner.
The money raised from this bake sale will go the American Cancer Society, Relay For Life!
Don't worry if you didn't win!
You can still enjoy these Spring cookies by making them yourself.
UPDATE: The bake sale has now ended! Thanks for all of your support.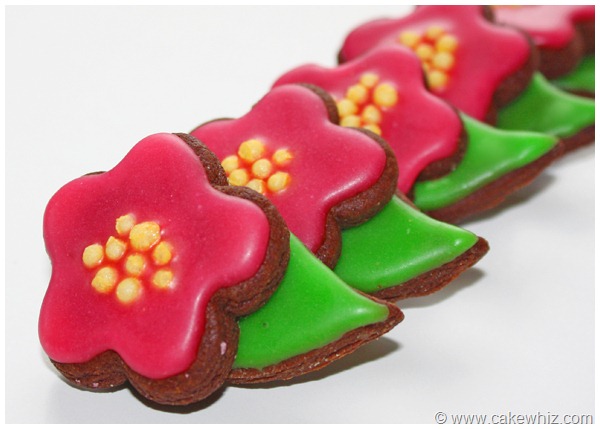 To make these spring cookies, you will need the following ingredients and supplies:
Chocolate sugar cookies
Royal icing or glace icing (pink and green)
Leaf cutter
Flower cutter
Tip # 3
Piping bottles or piping bags
White and yellow edible pearls 
And here are the steps:

Step 1:
Use Wilton's flower cutter and leaf cutters to make flower and leaf shaped cookies.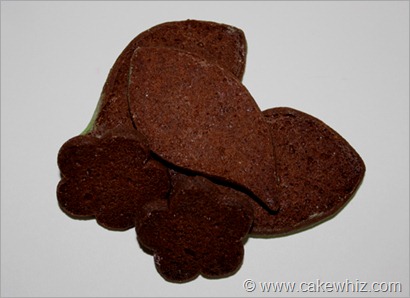 Step 2:
Use gel colors to make green and pink colored icings.
Prepare thick and thin consistencies for both, pink and green royal icings. 
Fill one of your decorating squeeze bottles with "thin" consistency of royal icing and the other with "thick" consistency. 
Only pink icings are shown in this picture. I forgot to take pictures of the green icing bottles :S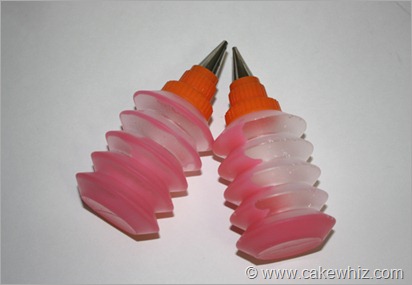 Step 3:
Outline your flower cookie using thick consistency of royal icing.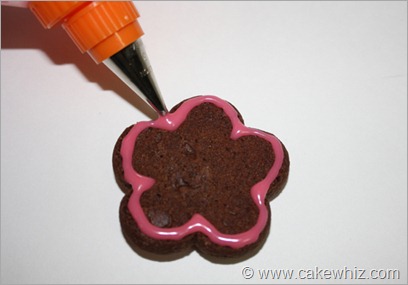 Step 4:
Fill the center of your flower with thin consistency icing.
It should feel more watery compared to  thick icing.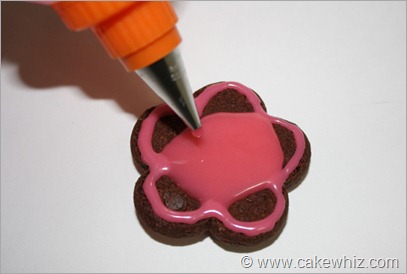 Step 5:
Use a wooden skewer or a toothpick or to spread this icing until the entire cookie is coated.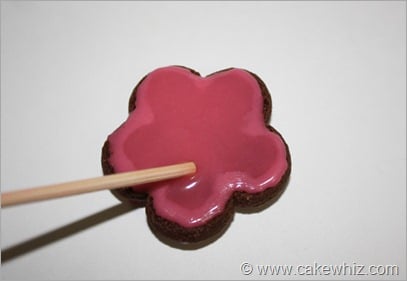 Step 6:
Add some yellow or white edible pearls in the center while this icing is still wet.
Step 7:
Follow the same steps for the leaf cookie but use green icing.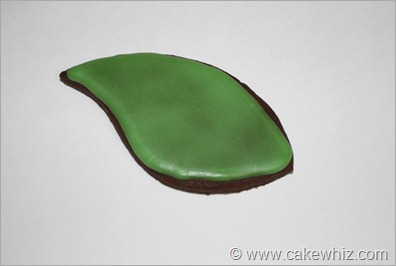 Step 8:
Allow everything to dry for 24 hours and then brush some icing on the edge of the leaf and stick the flower on top.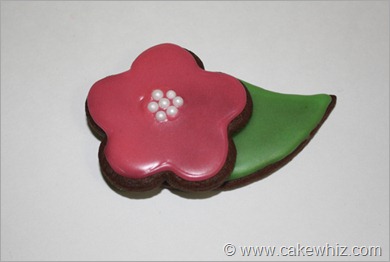 And you are done.
Go ahead and make your own spring cookies 🙂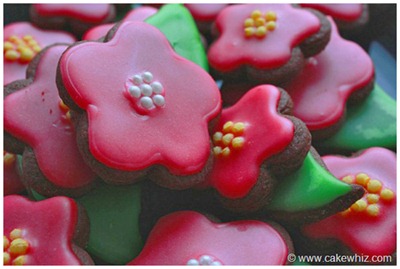 Until next time, tata my lovelies 🙂