I recently found out that in some parts of the world like Australia, Halloween IS NOT celebrated on a big scale.
This was SURPRISING news to me coz Halloween is the best day ever and I can't believe you guys are MISSING out 🙁  !!!!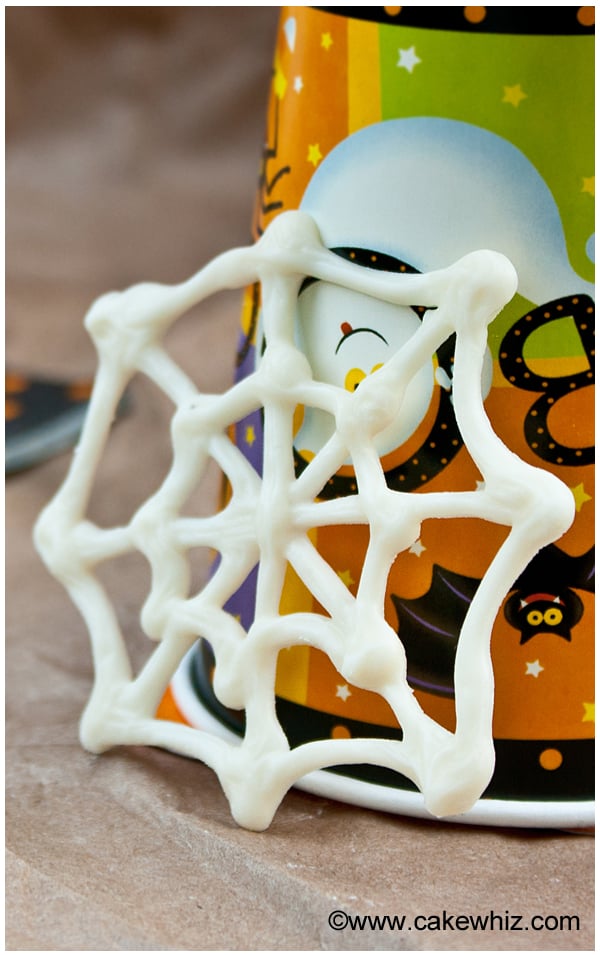 Do you guys have some other day DEDICATED to spookiness and terrors?
Please Please Please say yes coz if not, then you need to fly out to the States so I can throw all of you the ULTIMATE spooky Halloween party! lol. 😀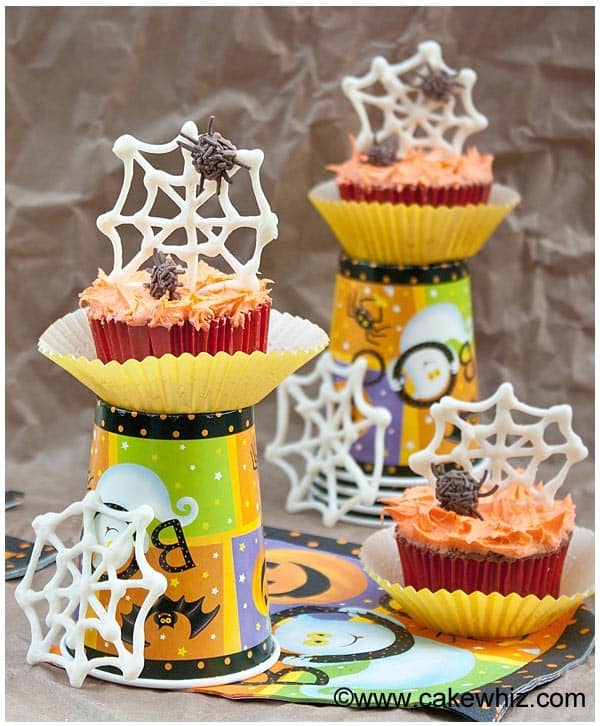 Today, I am sharing a tutorial for chocolate spider webs and chocolate spiders.
I used them as a SPOOKY cupcake decoration for my pumpkin cupcakes.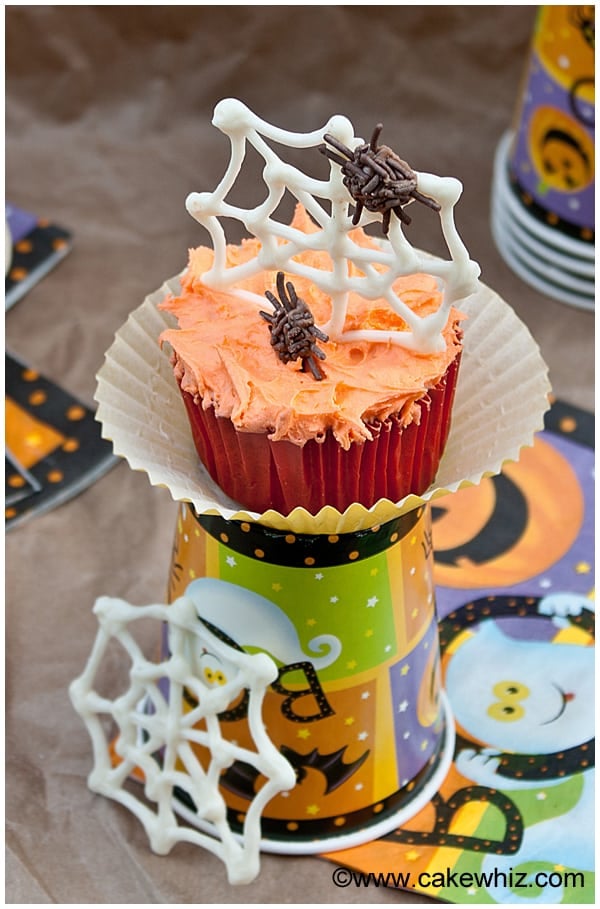 I have seen countless VARIATIONS of chocolate spider webs and this was my take on them.
They are also very EASY to make.
NO need for fondant or fancy tools.
All you need is melted chocolate and sprinkles!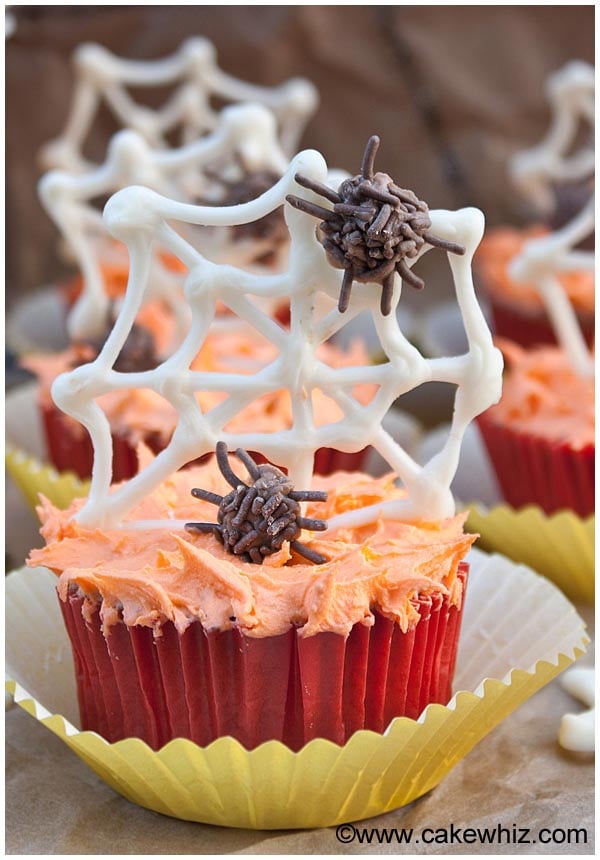 To make these spider web pumpkin cupcakes , you will need the following ingredients and supplies:
Pumpkin cupcakes
Orange colored buttercream icing
Squeeze bottles
Melted white chocolate
Melted dark chocolate
Chocolate sprinkles (the long ones)
Wax paper
Spatula
Note:
I used my pumpkin cake recipe to make pumpkin cupcakes. Just pour the batter into cupcake liners and bake for 20- 23 minutes or until an inserted toothpick comes out clean. You can easily get 24 cupcakes from this recipe.
And here are the steps:
Step 1:
Melt some white chocolate and pour into a squeeze bottle.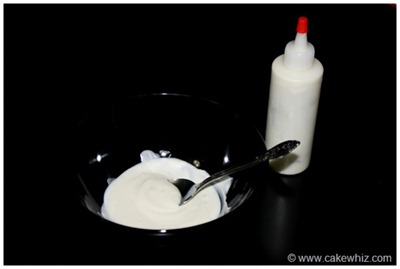 Step 2:
Line a cookie tray with wax paper and draw an "x" with your squeeze bottle.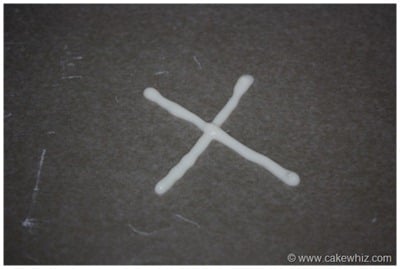 Step 3:
Then, make a "plus" sign.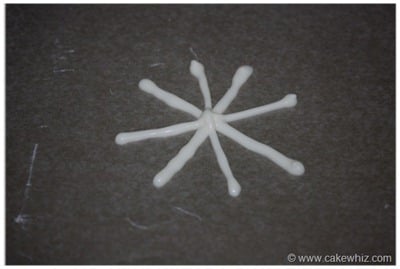 Step 4:
Now, connect the lines.
Start on the inside and work your way outside.
Make sure the lines you are drawing are thick coz if not, the web will not be strong.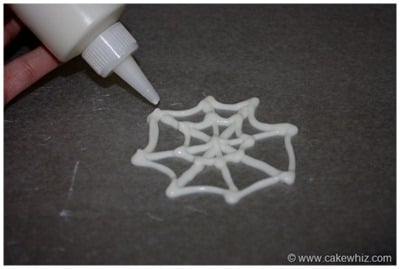 Step 5:
Follow steps for 1-4 as many times as you want.
Then, place your tray in the freezer for 5 minutes.
When you take it out, the chocolate spider webs will be hard.
Gently, use a spatula to remove the spider webs from the wax paper.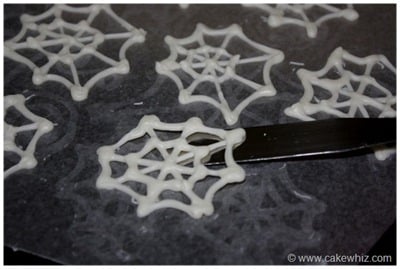 Step 6:
And you will end up with lots of chocolate webs!
It's always a good idea to make more than what you need coz some webs always break when you are removing them from the wax paper.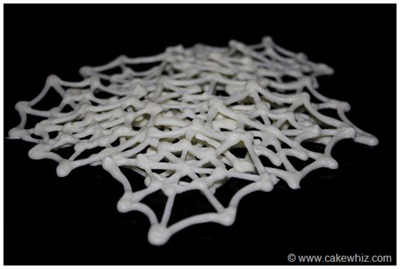 Step 7:
To make the chocolate spiders, melt some dark chocolate or milk chocolate and pour into a squeeze bottle.
Line a cookie tray with parchment paper.
Pour a "dot" of chocolate on the wax paper. This will be the body of the spider.
The  diameter of my "dot" was about 1 inch.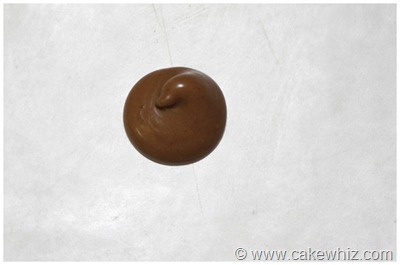 Step 8:
Before your "dot" hardens, attach some chocolate vermicelli sprinkles to the sides.
These will be the legs of your spider.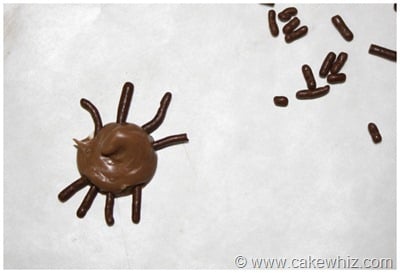 Step 9:
Also stick some small sprinkles to the top of the "dot."
Pop your tray in the freezer for 5 minutes and carefully, peel away the parchment paper.
And your spider is ready.
Follow steps 1-3 as many times as you want and don't forget to make extras 🙂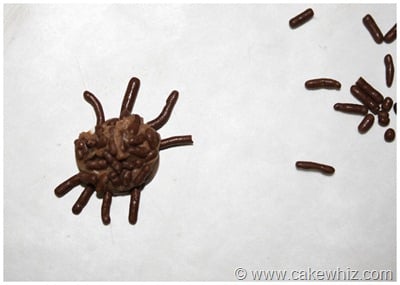 Step 10:
Since your your webs and spiders are ready now, all you need to do is  put everything together.
Prepare the pumpkin cupcakes and orange colored buttercream icing.
Use a spatula to ice your cupcakes.
Don't be neat…Give it a slight roughness.
I did this by placing my spatula flat on my iced cupcake and then just lifting it up randomly and those tiny peaks formed.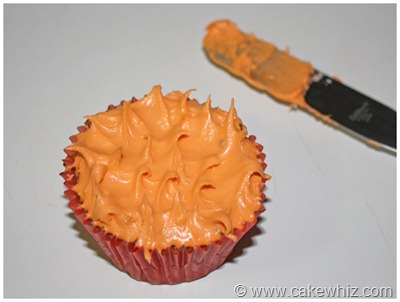 Step 11:
Stick your web into the center of the cupcake and use a bit of melted chocolate to attach a spider to the web or you can just place it on the cupcake…Entirely up to you 🙂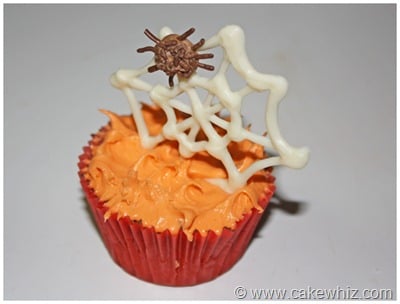 And you are done!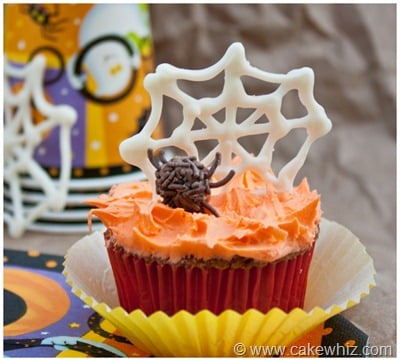 Well, that's all for today.
If you liked this post, you may also like some of these other Halloween treats…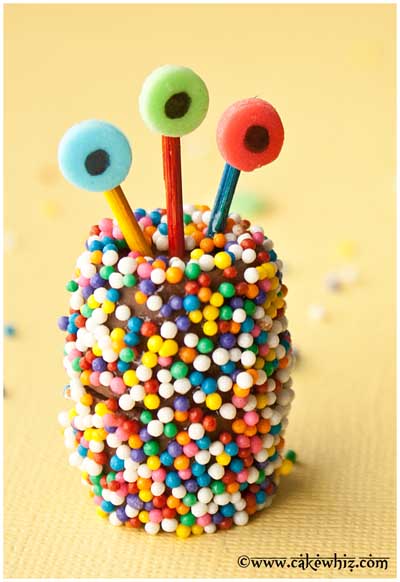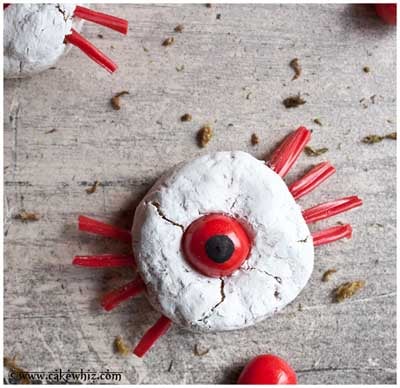 Until next time, tata my lovelies 🙂