Making a cake for someone always makes me so happy. I love the look on people's faces when they see it for the first time. It fills me with joy, knowing that I have made someone's day special

This was a peacock cake I made for my cousin last year. The only thing she said to me was that she loves the color purple. She left the design and cake flavor up to me.
I simply LOVE to make cakes where I have complete creative freedom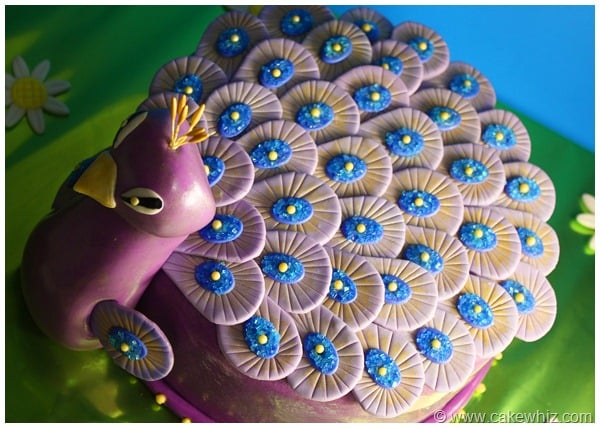 My cousin is the sweetest person ever and I love her dearly. So, this cake had to be better than anything I had ever made.
When she said she loved purple, everything just clicked and the opportunity to make a peacock cake had arrived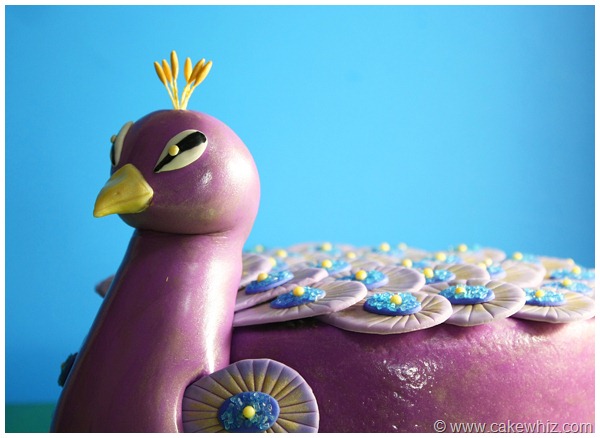 I know peacocks are beautiful animals but when I was looking at their pictures, I noticed their face is actually a little scary, especially the eyes


MY OTHER RECIPES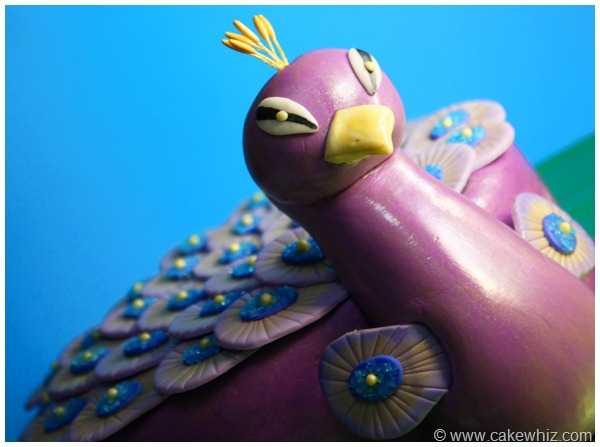 Wanna know my favorite feature of this cake????
All the gorgeous feathers!!!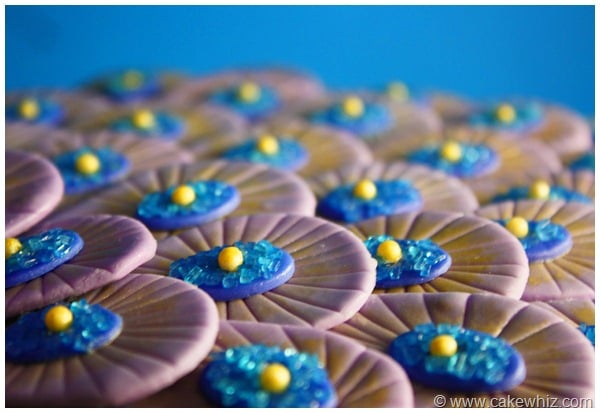 I thought they were the highlight of this cake and made it so special…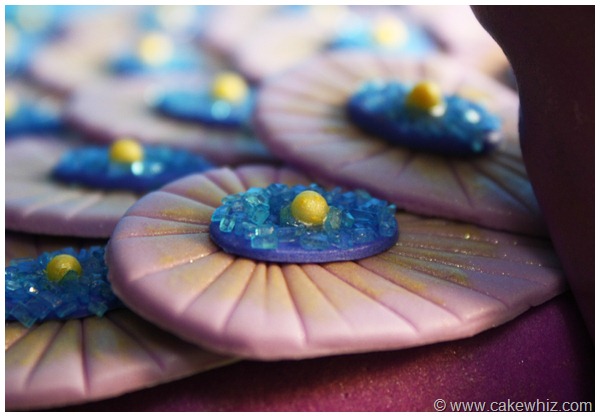 Since this was a birthday cake, I had to write "happy birthday."
But, I have a confession to make… I can't pipe letters to save myself! I SUCK at it! lol
So, after many failed attempts, I decided to use letter shaped candy molds.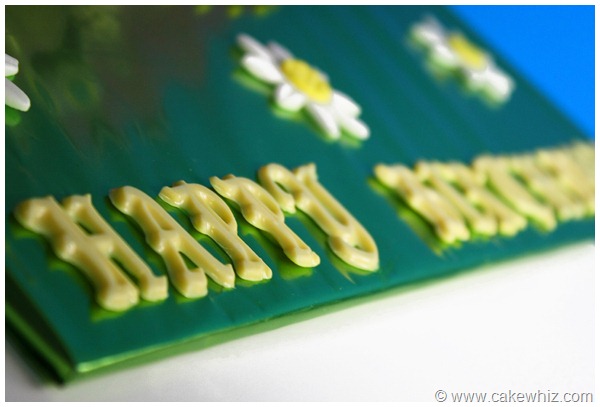 And thank god for that coz I think the letters turned out stunning… the molds were so easy to use and I was able to stick the letters onto the cake board using some melted chocolate!
Easiest thing ever!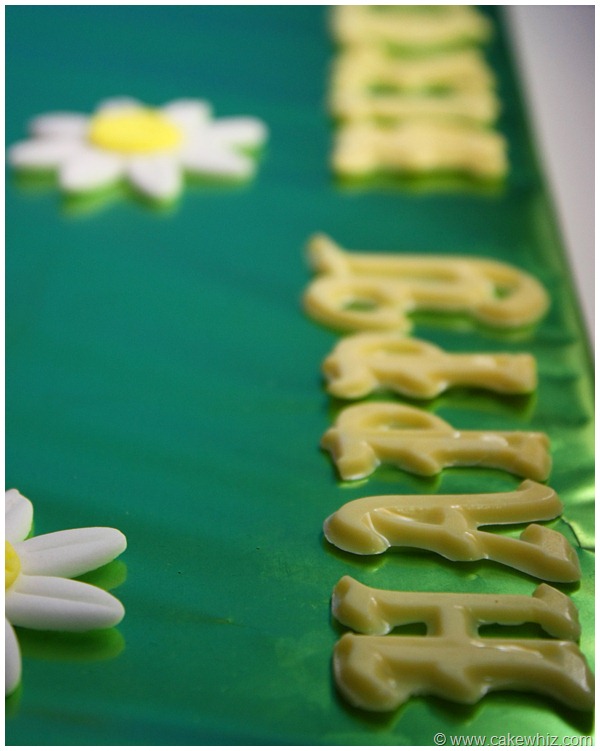 After placing the peacock on the cake board, there was a lot of empty space and to fill it up,  I made some fondant daisies and used melted chocolate to stick them on the board as well.
I have already done a tutorial on making these flowers. Check it out HERE.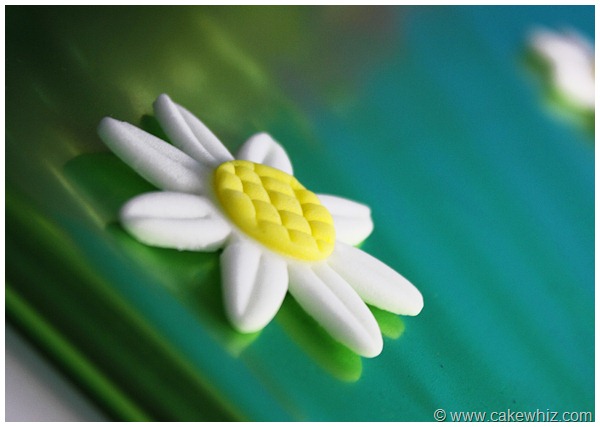 I had some leftover fondant feathers and didn't want to throw them out. What better way to use them than to stick them on top of cupcakes… eh?

The cupcakes were chocolate flavored and I used my favorite recipe (you can use this recipe to make cakes or cupcakes. Check it out HERE). Then, I piped a rose design (using the tutorial HERE)  and stuck 2 feathers on top of each cupcake.
Easy peezy!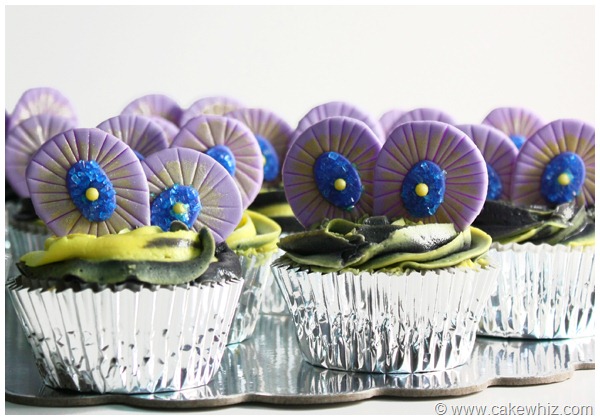 These cupcakes complimented the peacock cake so well. Don't you agree?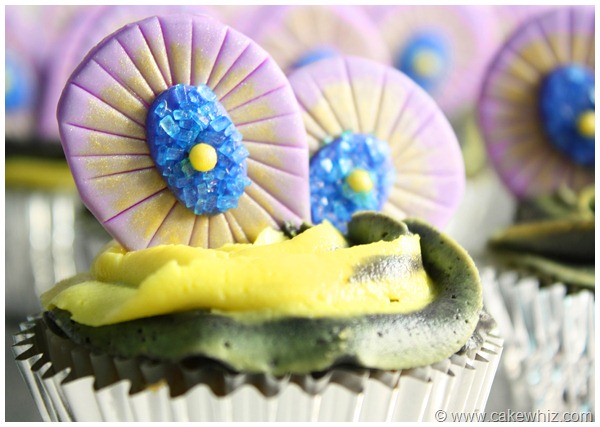 As for the actual cake flavor, I made her a delicious coffee cake and covered it in chocolate frosting. This cake is dense so it's able to withstand the weight of all the fondant and icing.
To make this cake, you will need to make cake batter and cake filling.
Cake batter:
3 cups all purpose flour
1/8 tsp salt
1 3/4 cups sugar (If you like a sweeter cake, you can add 2 cups sugar)
3/4 cup butter
3 tbsp vanilla extract
3 large eggs
1/2 cup milk
1 1/2 cups sour cream
1/2 tsp coffee dissolved in 3 tbsp boiling water
1 1/2 tsp baking powder
1 1/2 tsp baking soda
Cake filling:
3/4 cups brown sugar
2 tbsp chopped almonds
2 tbsp chopped cashews
1/2 tsp cinnamon
1/4 tsp coffee granules
And here are the steps:
Step 1:
Add sugar, eggs and butter in a deep bowl and mix until everything is well-blended.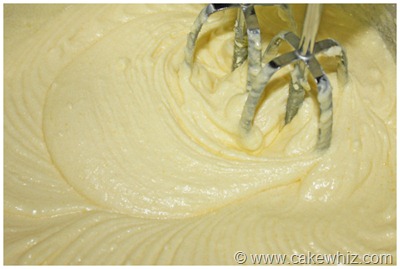 Step 2:
Now, add vanilla extract, flour, diluted coffee, milk, baking powder, baking soda, salt and sour cream. Mix everything once again.
This batter will be pretty thick.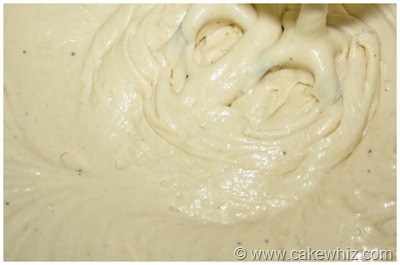 Step 3:
Pour some of this batter in a cake pan (cake pan should be filled up one third).
In a separate bowl, add brown sugar, almonds, cashews, cinnamon and coffee granules. Mix everything with a spoon.
Sprinkle some of this filling on top of the batter.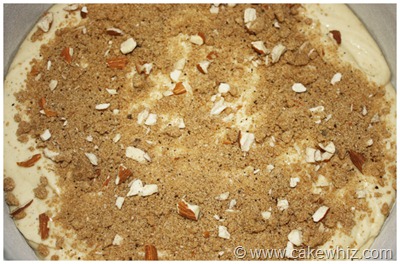 Step 4:
Then, pour some more cake batter.
Do the same thing again with the remaining batter and filling.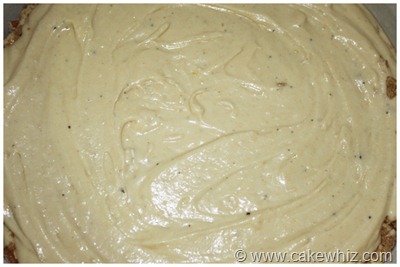 Step 5:
Bake this cake at 350 degrees for about 1 hour or until an inserted toothpick comes out clean.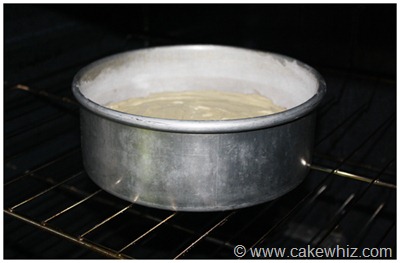 Time to decorate and transform this yummy coffee cake into a peacock!
Just follow these steps:
Step 1:
Allow this cake to cool and then level off the dome so it's flat from the top. Then, frost it in buttercream icing and cover it in purple marshmallow fondant using my recipe HERE.
Tip: Before applying fondant, it's always good to place your cake in the refrigerator so the icing is not as sticky and this makes applying fondant easier.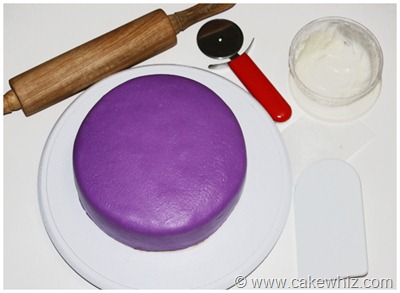 Step 2:
Roll out purple fondant and cut out hearts using a heart- shaped cookie cutter.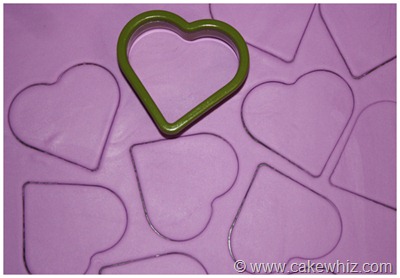 Step 3:
Use a knife to cut this heart in half.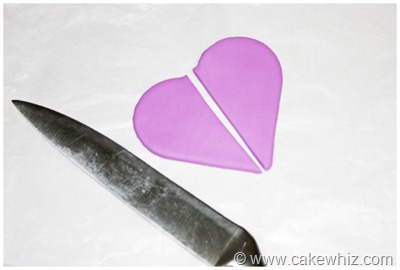 Step 4:
Cut out the jagged ends with a knife.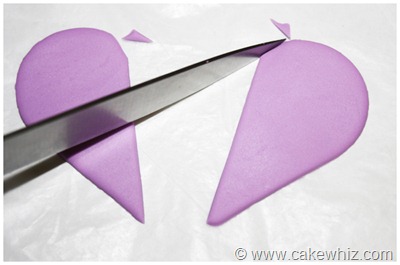 Step 5:
And use the sides of the knife to smooth out the ends. These will be the feathers of your peacock.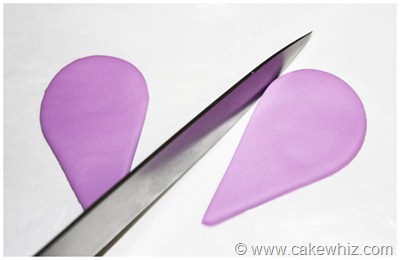 Step 6:
Press the knife gently onto these feathers to create a pattern.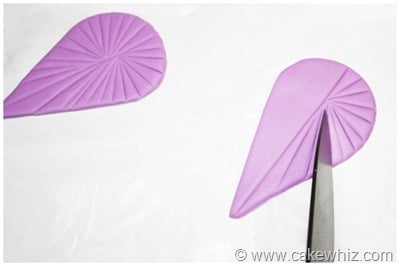 Step 7:
Use a knife to cut off the pointy ends of these feathers.
Step 8:
Now, mix some golden lustre dust with a few drops of vodka (or if you are like me and don't use any alcohol in cooking/ baking, mix it in some water). Use a paintbrush to paint only the centers of these feathers. Start painting in the center and then paint outwards…
Note: If you used water instead of vodka to paint, your painting will take almost a day to dry. If you used vodka, your painting will dry within a few minutes.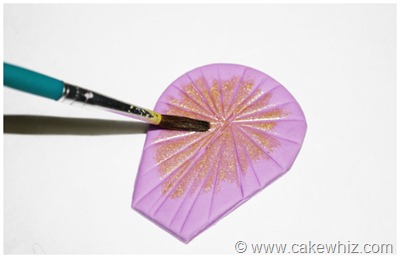 Step 9:
Use a small oval cutter to cut out blue fondant ovals and stick them in the center of the feathers. I used water to stick them. You can use corn syrup or royal icing to stick them too.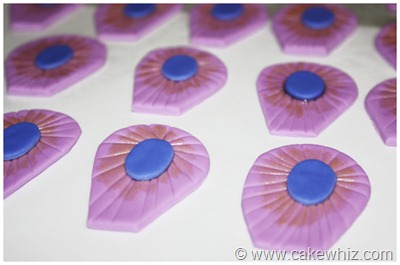 Step 10:
Brush some water on top of the blue ovals and sprinkle some blue sanding sugar. Once the sanding sugar sticks to the blue ovals, brush away all the excess sugar.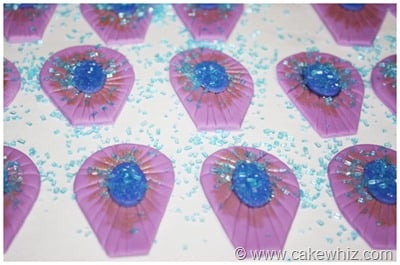 Step 11:
Making the face and body of the peacock was the hardest part for me. I used 50/50 (gumpaste- fondant combination). There is no easy way to do this. You would have to mold it with your hands as if you are playing with play-doh.
Next time, I am going to make the shape out of rice krispie treats and then cover it in fondant… that might be easier or so I think.
Stick two feathers on either sides to create wings.
Stick a cluster of golden stamens on top of the head (peacocks have this odd thing on their head but I don't know what it's called).
Mold some white fondant into a beak and stick it in position.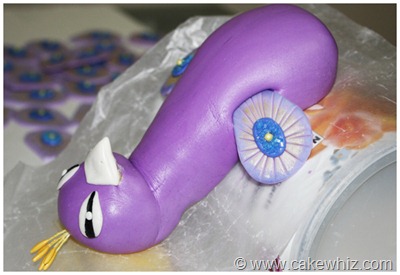 Step 12:
Paint the beak golden.
Allow this body to dry completely. It took for 4 –5 days for me.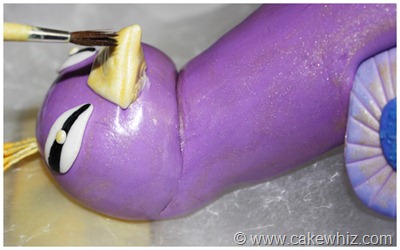 Step 13:
Now, stick the feathers on top of the fondant-covered cake sing really watery royal icing.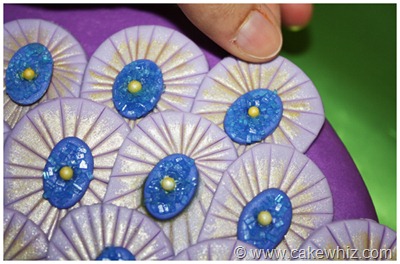 Step 14:
Place the cake on a large cake board.
Stick the body on the side of the cake using royal icing.
Roll out a long purple "snake" and wrap it around the base of the cake to give it a nice, refined look.
Stick some golden edible pearls on the feathers and around the base of the cake.
Prepare some more golden paint and paint lightly along the sides of the cake as well as the body. This gives the entire cake a nice shine.
Stick some daisies randomly on the cake board using melted chocolate.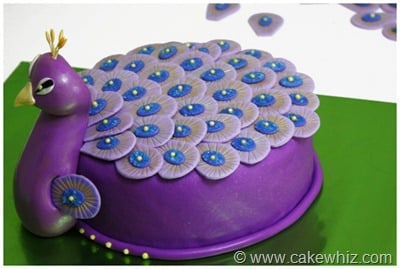 And you are done!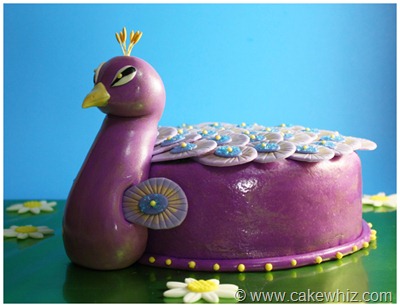 This cake was a lot of work but it was totally worth it once I got to see the look on my cousin's face! She was thrilled!

I can't wait to make her a birthday cake next year… something even grander!
Until next time…take care everyone!