25 Awesome Christmas Treats
This roundup of delicious and awesome Christmas treats has it all… cakes, cupcakes, cookies and much more! All these treats are perfect for holidays!
Over the last few weeks, I have been contacting a few of my FAVORITE bloggers and asking them to share some of their favorite Christmas treats.
And thanks to them, I have a collection of WONDERFUL treats to share with you today 😀
Trust me…this roundup has everything from cakes to cookies and bars and all sorts of other yumminess!
Well, I can't wait any longer 😉
Let's get started with all these AWESOME Christmas treats…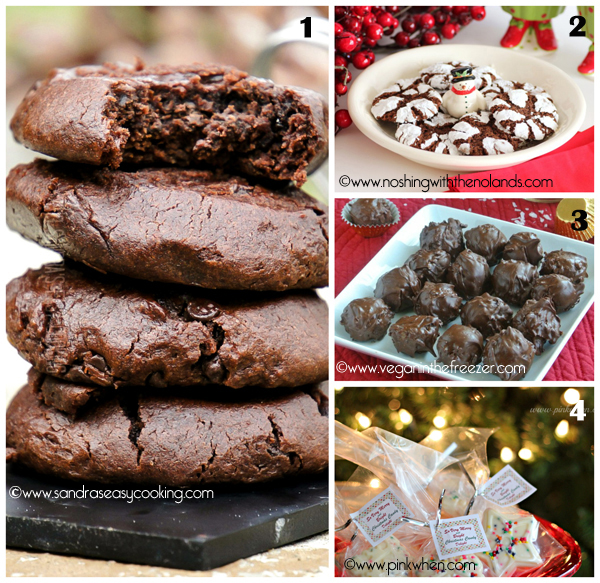 1. Chocolate fudge cookies from Sandra's Easy Cooking
My mouth started watering as soon as I saw these beauties! 
2. Chocolate crinkle cookies from Noshing with the Nolands
Such a classic, especially this time of the year! Christmas just won't be the same without these crinkly, crackly cuties!
3. Chocolate mounds candy from Vegan in the Freezer
These sound delicious and are taste like Almond Joy and Mounds candy bars 😀
These would make a lovely gift and there are even free printable tags to make your life easier!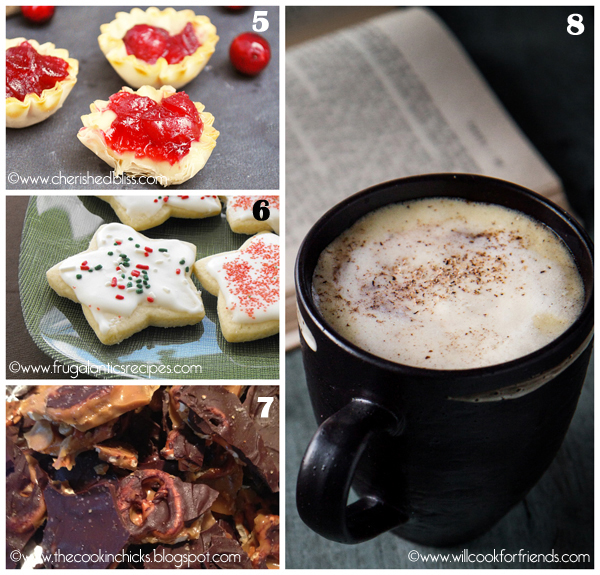 5. Cranberry brie tartlets from Cherished Bliss
Something a little different but utterly delicious and they are bite-sized too! 
6. Christmas cut-out cookies from Frugal Antics of a Harried Homemaker
I can't even imagine Christmas without sugar cookies and this recipe looks PERFECT!
7. Salted caramel pretzel bark from The Cookin Chicks
Omg! Sweet, salty and chocolatey… what more can anyone ask for? 😛 
8. Cardamom and orange spiced white hot chocolate from Will Cook for Friends
The holiday season just got a lot more sweeter with this big mug of hot chocolate 😉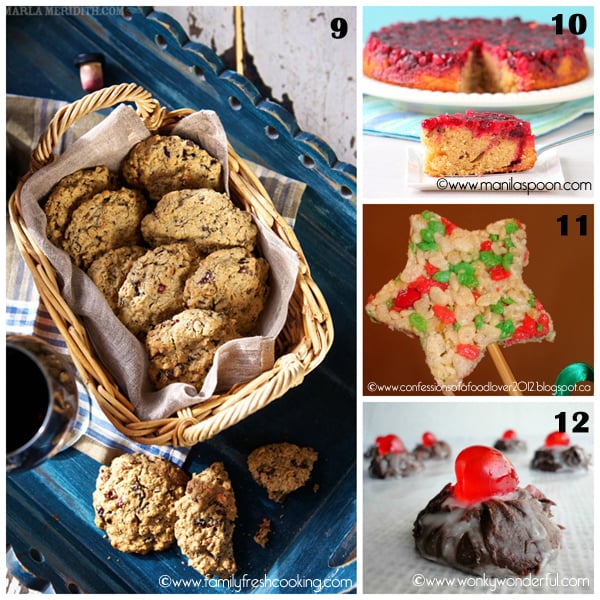 9. Gluten-free oatmeal, chocolate chunk & cranberry pecan cookies from Family Fresh Cooking
This just goes out to show that you can have healthy cookies without losing any flavor…LOVE!
I am sure I will be dreaming of this cake tonight …lol 😉
What an awesome idea and so much fun for kids too! 
Such a cute name! I would be eating these cookies, just for the name alone…heheh 🙂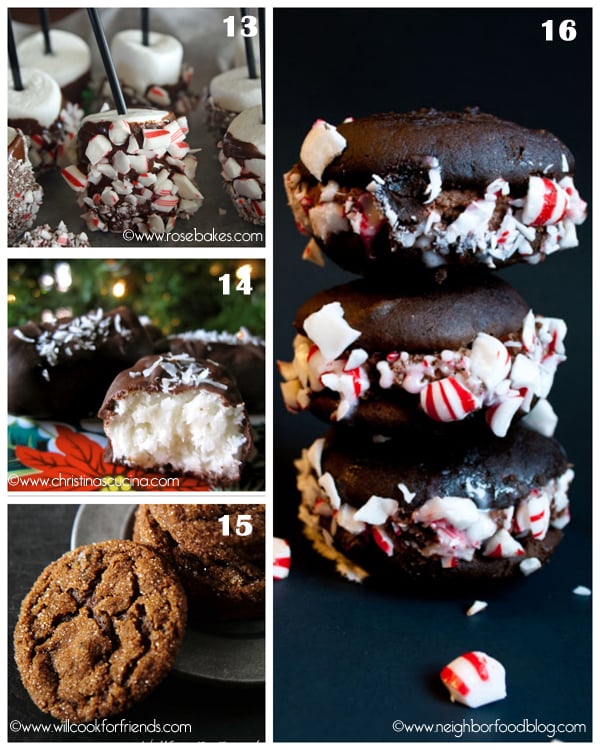 Totally cute! Won't these be fun to dip and swirl in our hot chocolates on Christmas morning? 🙂
I am completely smitten with these bars! 
All I want to do is grab those cookies from my screen and start munching on them asap! hahah
Good Lord! These whoppie pies just scream: "Eat me" hahah 😛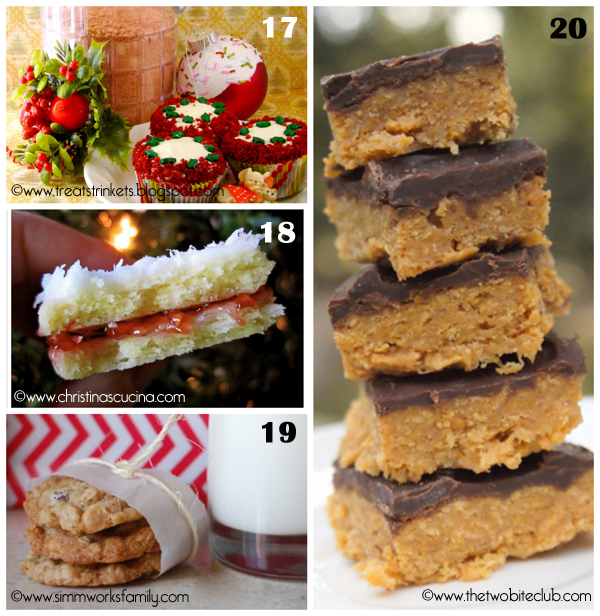 Yup folks….Homemade! That means none of those nasty preservatives and artificial additives. What a fabulous idea and it will make a great gift too!
These cookies were chosen as the winner of LA Times Top 10 Favorite Cookies in the 2012 Bakeoff! That means they must be FANTABULOUS! 😀
19. Oatmeal butterscotch chocolate chip cookies from Simm Works Family
Another classic cookie that should always be made during the Holiday season. And it has oatmeal which means it's healthy or so I would like to believe…lol 😉 
Two words to describe these squares: DROOL ALERT! 😛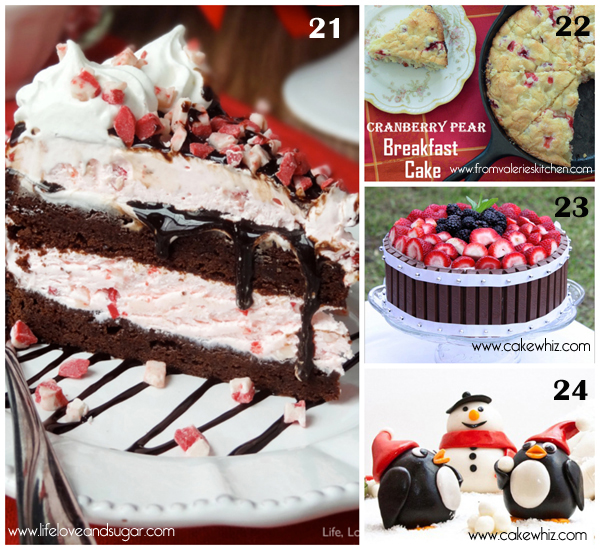 I am seriously IN LOVE with this cake! I want to eat this for breakfast, lunch and dinner…lol 😛
This would be a wonderful cake to have on Christmas morning. It's packed with soooo much flavor…mmmm!
So many possibilities with this cake. Use different different seasonal fruits or other flavors of KitKats and it's bound to be a crowd-pleaser 😉
Those little penguins just melt my heart!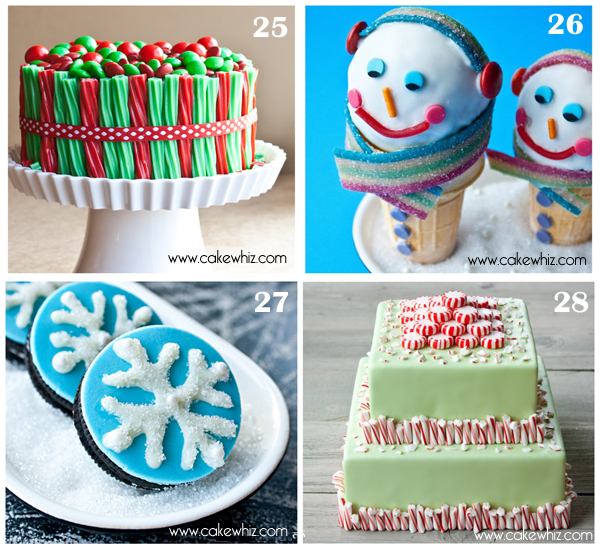 I couldn't resist sharing a few more of my most popular Christmas treats 😉 …
25. Christmas twizzler cake from me.
I shared this cake less than a week ago and it's quickly become one of my most popular cakes!
26. Snowman cones from me.
My son's favorite Chistmas treat! He loves the hidden surprise 🙂
27. Snowflake cookies from me.
This is a fun project to get your kids involved in. They are atcually very easy to make and look so sparkly and pretty 😀
28.Peppermint and candy cane cake from me.
I made this last year so as to use up all those candy canes I had lying around the house 😉
Wasn't that a fabulous roundup?!
I hope it inspired you to make something awesome for your loved ones.
 Obviously, a BIG thanks goes out to all my blogger friends who made today's roundup possible. You guys are the BEST! 😀
Before I head out, I just wanted to share this collage of ALL the Christmas treats you saw today.
Feel free to SHARE it and INSPIRE others this Holiday season 🙂

Well, that's all for today.
Until next time, tata my lovelies!