Sports ball cookies for a game of tic tac toe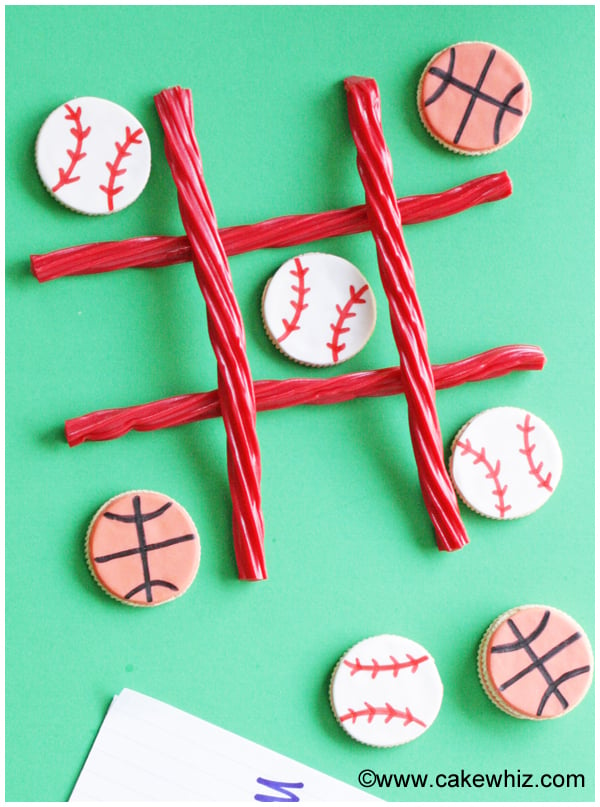 Tomorrow is Father's Day! WOOHOO!
I know that  every day should be celebrated as Father's Day since ours Dads are the BEST but there is something very SWEET about showering ours dad with some extra LOVE on this special day.
So, are you making your dad something SPECIAL?
If you still need a last minute idea, make him these sports ball cookies!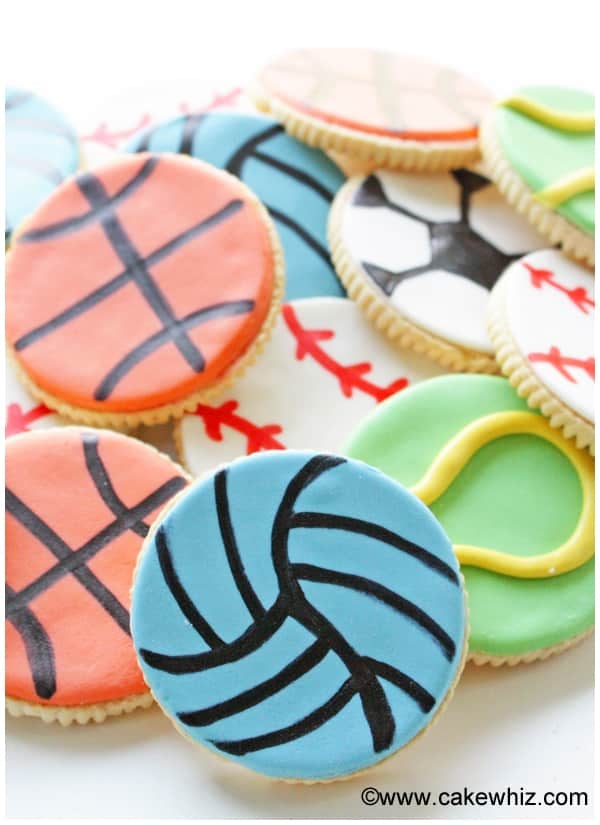 What sport is he into? Volleyball? Basketball? Soccer? Tennis? Baseball? Or ALL of them? 😉 
Most dads LOVE sports and I  am sure they would ENJOY munching on these.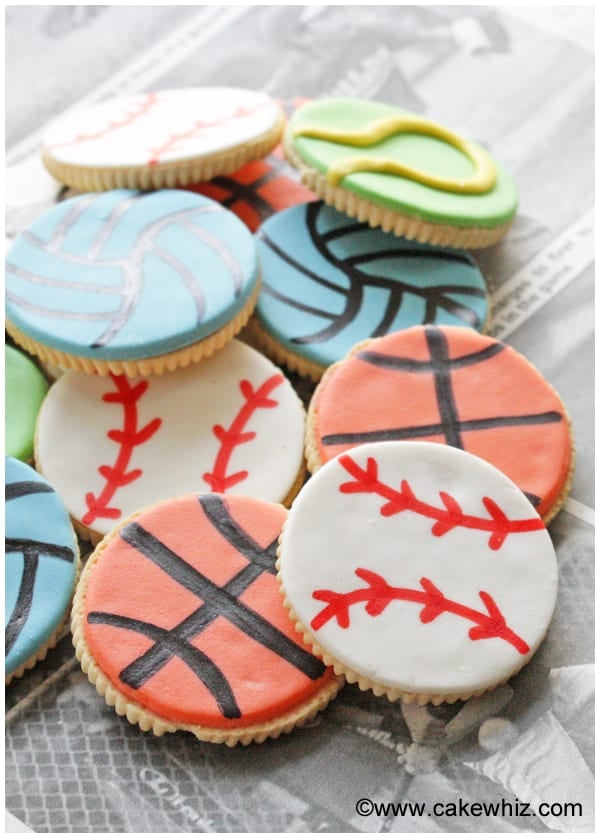 Actually, why not surprise him with these MANLY cookies while he reads the newspaper?
It seems like my Dad has the time of his life reading newspapers.
I, on the other hand, CAN'T even get past the first page… lol.
There is one section I don't mind reading though… COMICS! hahah 😛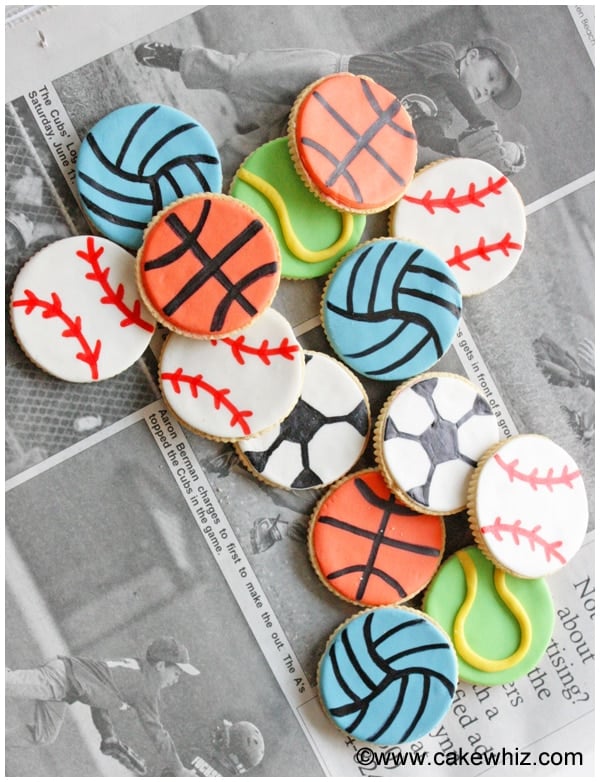 While taking pictures of these cookies, I thought: Why not use these cookies to play a GAME of tic-tic-toe. Won't that be COOL? 
My dad is back in Canada *sighs* or else I would have PLAYED this with him.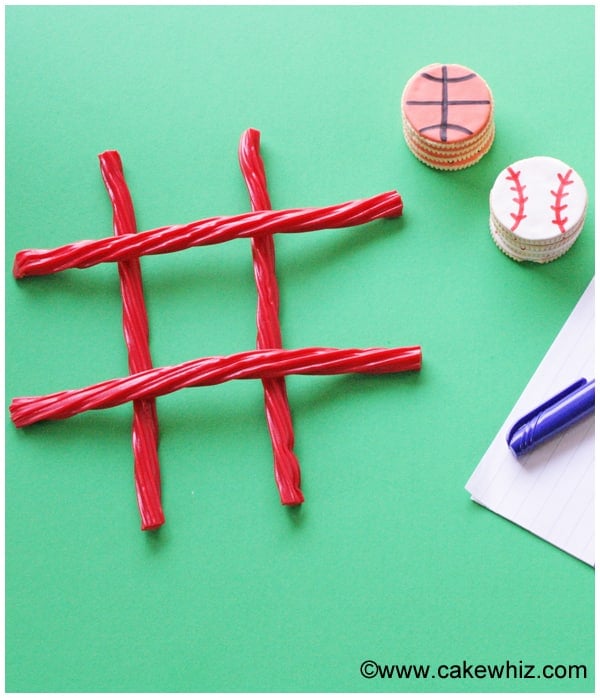 My hubby and I played a game instead.
Well, more like 10 or 20 games actually… lol.
And he was on a ROLL…
Winning one game after another and another and another!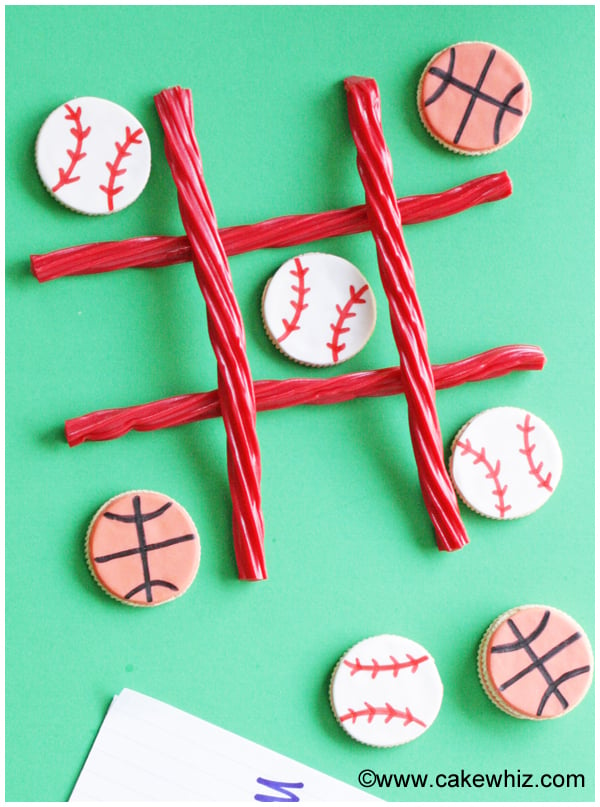 I know I lost but want to know the BEST part?!
Once the game ended, I got to EAT the twizzler tic- tac- toe board and the cookies 😉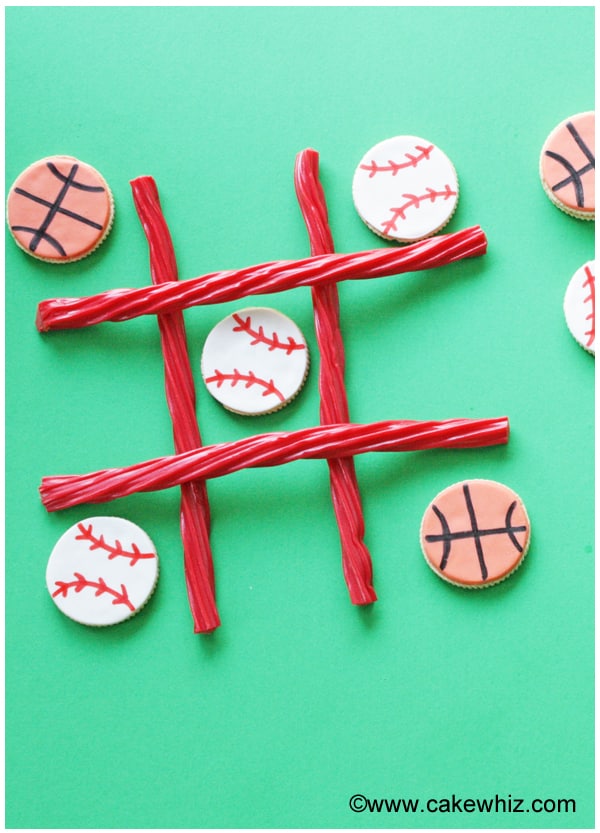 You can also use these cookies as CUPCAKE toppers!
This tennis ball topper was my favorite.
Cute… Right?!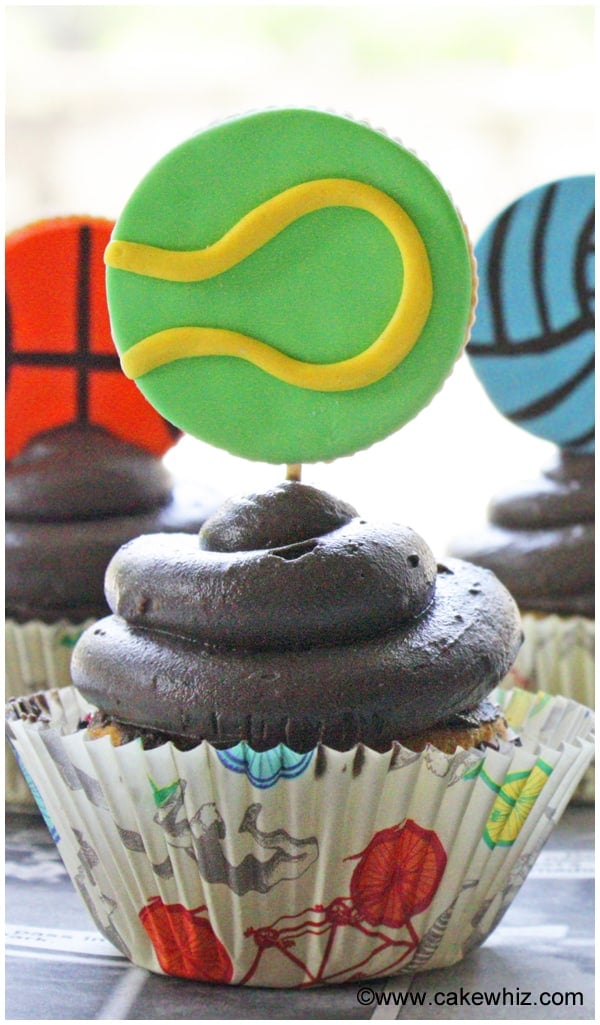 To make these sports ball cookies for a game of tic tac toe, you will need the following ingredients/supplies:
Cream filled cookies (such as Oreos or Newman O's )
Orange fondant
White marshmallow fondant
Blue marshmallow fondant
Green marshmallow fondant
Yellow marshmallow fondant
Royal icing or corn syrup
Knife
Circle cutter
Black edible marker
Red edible marker
Twizzlers
Toothpicks or lollipop sticks
Melted chocolate
Chocolate buttercream icing
Vegan chocolate cupcakes
Notes:

– I scraped off the icing in these cream filled cookies because hubby din't like the taste  (I know… Crazy!). You don't have to do this and just use the cookie as is.
– You can convert these cookies into cupcake toppers. This way, your dad gets a double treat… a cupcake and a cookie! Just follow Steps 12 and 13.
And here are the steps:
Step 1:
Get some cream filled cookies from the store and separate them.
You don't have to steps 1-3 if you don't want to!
Step 2:
Use a butter knife to scrape the cream from the cookies.

Step 3:
Stop scraping when the surface of the cookie becomes smooth.
Don't scrape with too much pressure as cookies can break easily.

Step 4:
Cut out fondant circles which are about the size of your cookies.
Use different colors of fondant for different types of sports balls.
For example: use orange colored fondant for a basketball.
Step 5:
Brush some royal icing or jam or corn syrup (whatever you prefer)  on your cookie.
Step 6:
Place the round fondant piece on this cookie and press until it holds in place.
Let the cookies dry for about an hour before proceeding to the next step since I think  markers work better on fondant when it's slightly dry.
Step 7:
Use a black edible marker and draw out the details on your cookie.
And you are done making a basketball cookie.
Step 8:
To make baseball cookies, use white fondant as a base and red edible marker to draw details.
Step 9:
For volleyballs, use light blue fondant as a base and black edible marker to draw details.
Step 10:
For soccer balls, use white fondant as a base and black edible marker to draw details.
Step 11:
For a tennis ball, use green fondant as a base and and rolled yellow fondant for the details.
And you are done!
To transform these cookies into cupcake toppers, keep reading…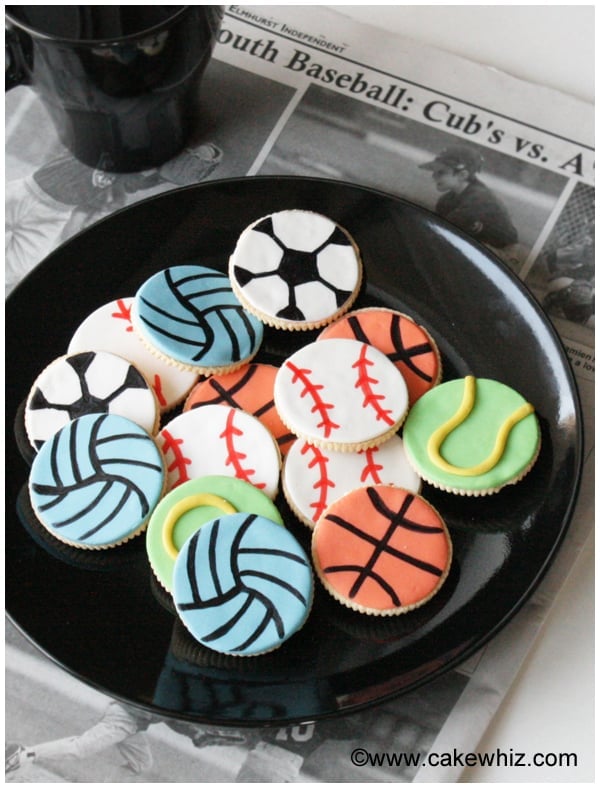 Step 12:
Stick toothpicks to the back of the cookies with melted chocolate.
Step 13:
When your chocolate dries and  those toothpicks are securely attached, pipe chocolate buttercream icing on your cupcakes and push these toppers in.
And you are done!
Easy peesy!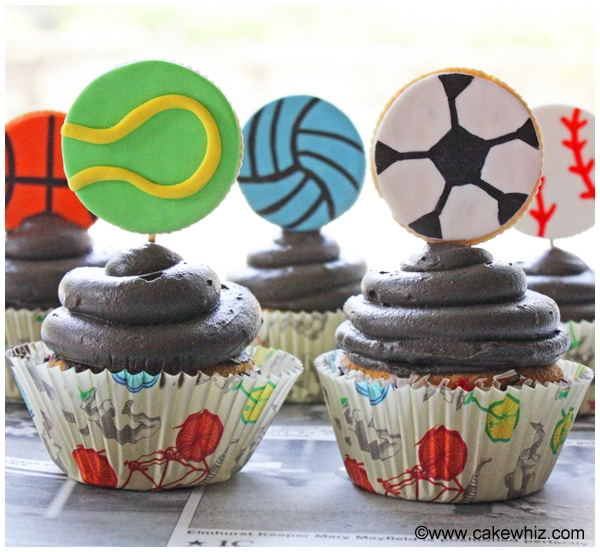 Well, that's all for today.
If you liked these sports ball cookies, you may also like some of these other Father's day ideas: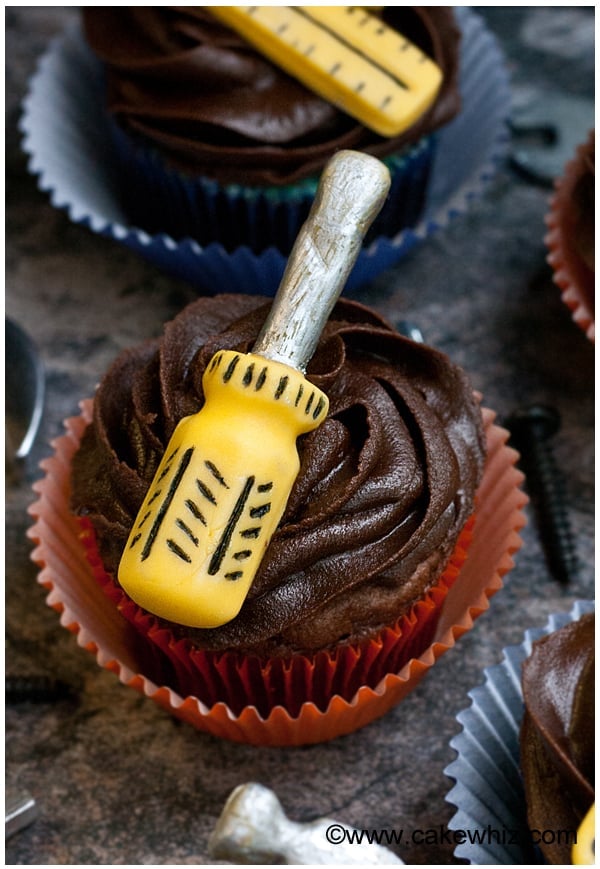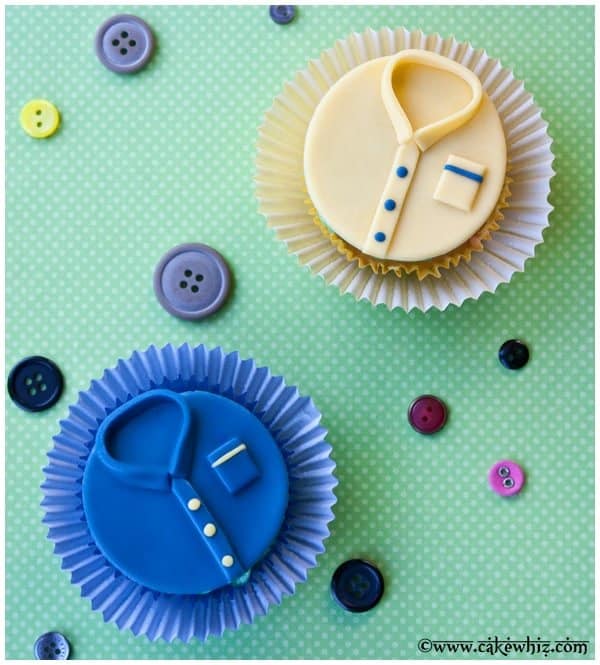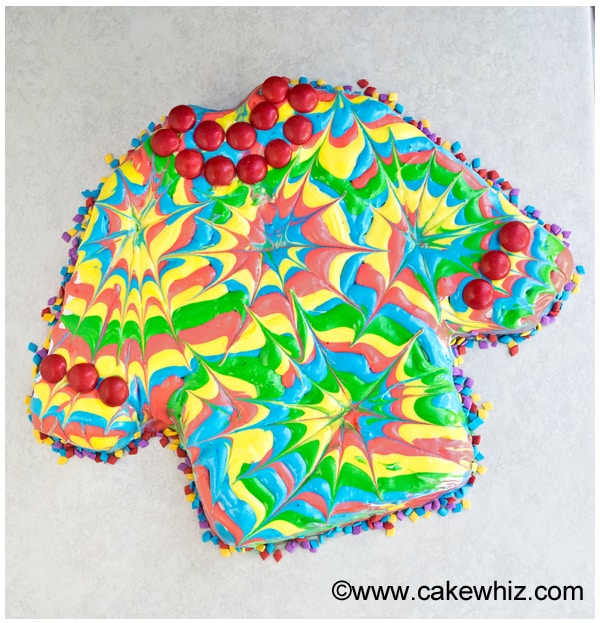 Until next time, tata my lovelies