This easy no bake rocky road fudge recipe is made with a few simple ingredients. It's rich and packed with chocolate, roasted nuts and marshmallows.
The holiday season always pushes me to develop NEW candy recipes like this rocky road fudge from scratch.
I can't believe I didn't make this sooner because it's so creamy and decadent and I really can't stop eating it…lol.
I have always ENJOYED the rocky road flavor in milkshakes and ice creams but I think it tastes even better in fudge form.
It also makes a LOVELY and thoughtful homemade gift during the Christmas holidays.
I already told my family in Canada to expect a box of this fudge at their doorsteps next week…hahah.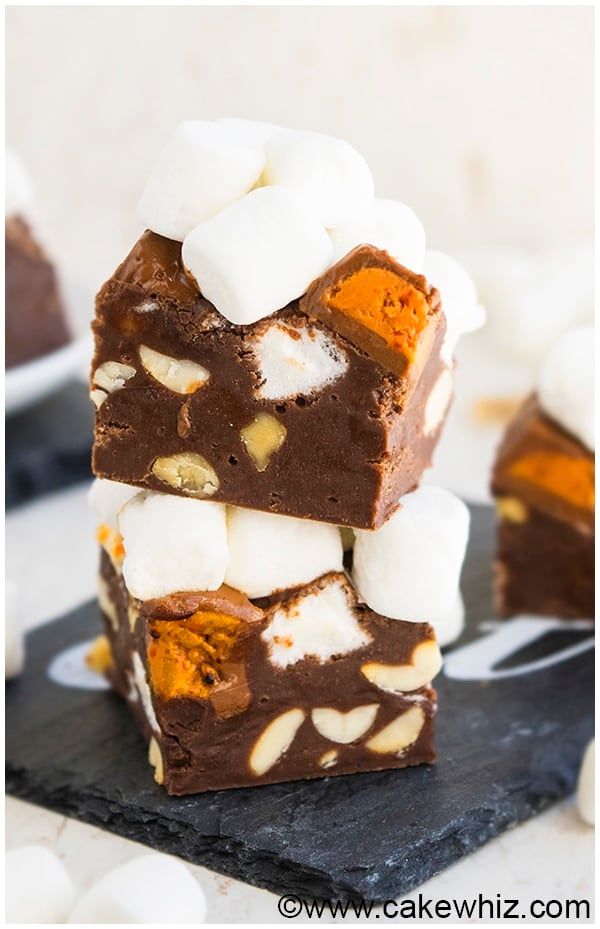 But anyways, exactly what's in rocky road fudge? How to make easy rocky road fudge?
I did some research and came across a number of variations: rocky road fudge with peanut butter, marshmallow creme and even cocoa powder. However, I believe that classic rocky road fudge is made with roasted nuts and mini marshmallows, melted chocolate and condensed milk. You mix all those ingredients together and spread in a pan and chill it for a few hours. Once the fudge sets, use a sharp knife to cut rocky road fudge bars or square pieces.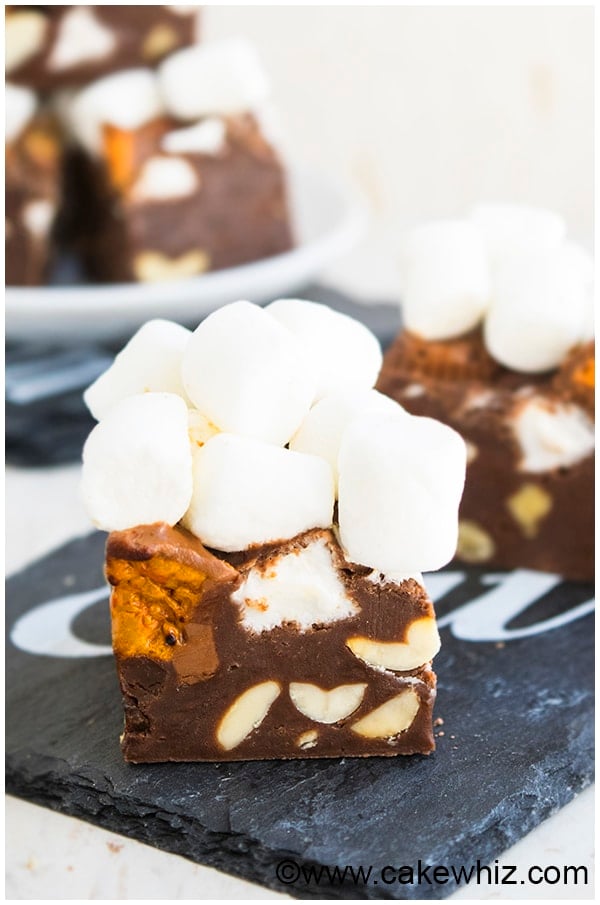 For today's recipe, I used TOLL HOUSE® Morsels and NESTLÉ® Chocolate Fun Size Bags NESTLÉ® (Butterfinger peanut butter cups).
I have been using Nestle products in my desserts for as long as I can remember. They are high quality and always give consistent results and I highly recommend them.
Also, I picked up all my ingredients at Dollar General because I found these great coupons and saved some money… Yay!
So, be sure to use those coupons too because every penny and every saving counts, especially during the holiday season 😉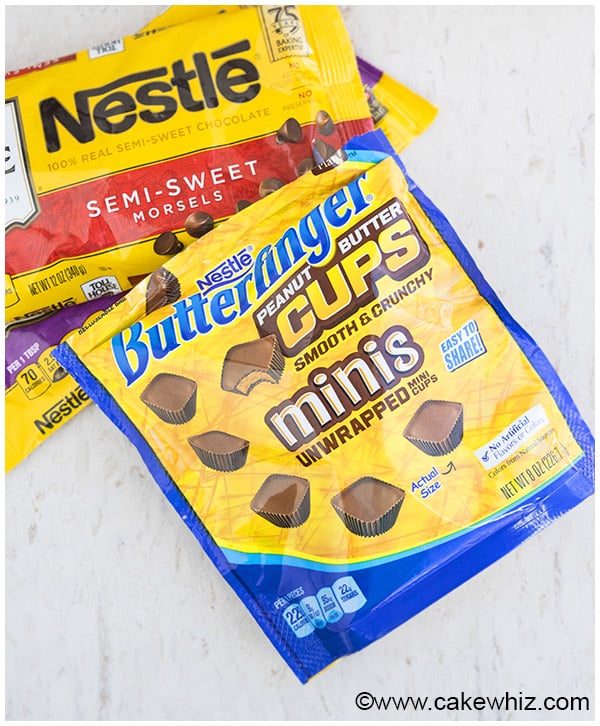 Here are some TIPS for making PERFECT rocky road fudge:
This easy fudge recipe requires sweetened condensed milk. Do not replace it with evaporated milk. Evaporated milk is thinner than condensed milk and it will affect the consistency of this fudge.
You can use a combination of different types of chocolates in this fudge. I used half semisweet chocolate and half milk chocolate. Do not use white chocolate since that will change the flavor.
Use roasted nuts since roasting enhances the "nutty" flavor.
You can use salted or unsalted nuts but if you prefer a sweet and salty flavor combination, salted nuts would be a better choice.
Rocky road fudge can include a variety of nuts like peanuts, almonds, walnuts and pecans. You can use a combination of these nuts or just one type of nut.
If you let your chilled fudge sit at room temperature for 15 minutes, it becomes easier to cut pieces.
How to store ricky road fudge? It's simple. Store in a sealed container in the fridge for up to 1 week.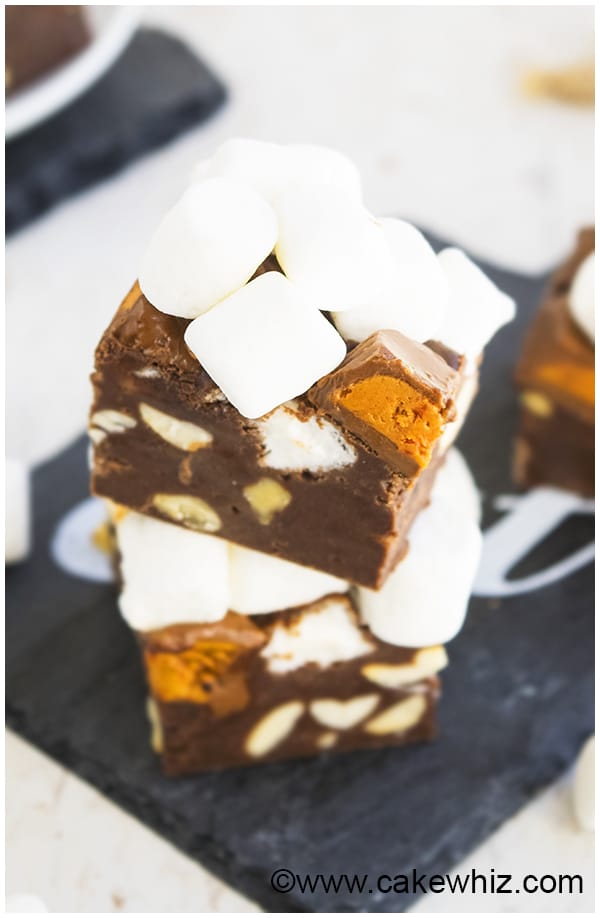 If you liked this rocky road candy, check out some of these other candy recipes:
White chocolate fudge (2 ingredients)
Healthy chocolate chip cookie dough bars
Chocolate peanut butter cracker bark

Rocky Road Fudge
Author: CakeWhiz
Recipe type: Dessert
Prep time:
Cook time:
Total time:
Serves: 16 pieces
This easy no bake rocky road fudge recipe is made with a few simple ingredients. It's rich and packed with chocolate, roasted nuts and marshmallows.
Ingredients
3 cups chocolate chips (I used a combination of semisweet and milk chocolate)
1 cup sweetened condensed milk
¾ cup roasted nuts (walnuts, pecans, peanuts, almonds)
1 cup mini marshmallows
¼ cup additional marshmallows (for topping)
1 cup mini Butterfinger peanut butter cups (for topping)
Instructions
In a deep bowl, add chocolate chips and melt in the microwave. Make sure to stir every 30 seconds to prevent the chocolate from burning.
Heat condensed milk in the microwave until it's warm but not boiling hot. Mix this into the melted chocolate.
Stir in chopped nuts.
Then, stir in the marshmallows.
Spread this mixture in a square cake pan (Dimensions: 6x6), lined with wax paper.
Top it off with additional marshmallows and some mini Butterfinger peanut butter cups. Push them into the fudge slightly with your fingers.
Chill in the refrigerator overnight or at least 6 hours.
Use a sharp knife to cut small square pieces and enjoy!
Notes
- Read all my tips above.
- Store leftovers in an sealed container in the fridge for up to 1 week.
Well, that's all for today.
Until next time, tata my lovelies!
*Thank you Nestle for sponsoring today's post. As always, all opinions are mine.