Most of the cakes I make are decorated with fondant but for today's posting, I decided to make mini chocolate cakes and decorated them with jelly candies.
There are so many varieties of candies these days but the jelly ones are my favorite to work with.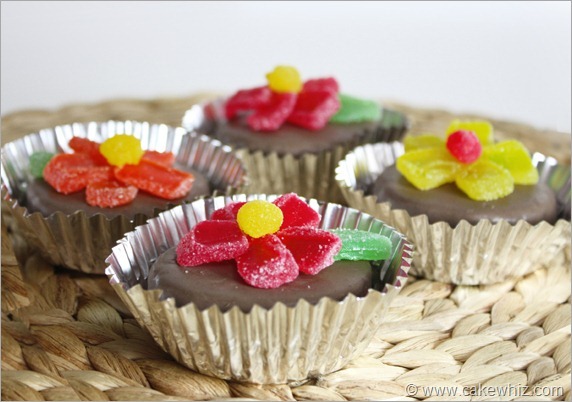 Making these flowers is….
Simple…
Easy…
And fun! 😀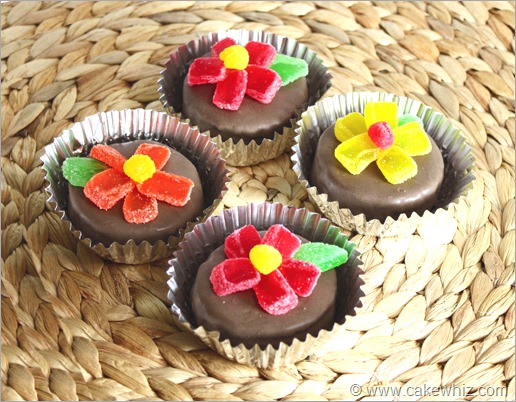 Don't you just love all the colors?
They are so bright and make me feel all happy and cheery! 🙂

To make these chocolate bites/ candy flowers, you will need the following supplies:
Jelly candies
Chocolate cake
Melted chocolate
Scissors
Circle cutters
Wax paper
Small cookie rack
And here are the steps:
Step 1:
Once your cake has baked and cooled, use a circle cookie cutter to cut out circular cakes.
TIP:
Refrigerate your cake for an hour and this will allow you to make circles more easily with less crumbs to deal with.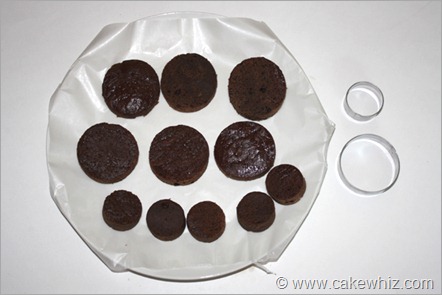 Step 2:
Melt chocolate chips or chocolate bark in the microwave. It tends to be thick and I usually add 1 or 2 tablespoons of oil to thin it a little.
Now, take a plate and line it with wax paper. Place a cookie rack on top of this and then place your mini cakes on this rack.
Use an ice cream scooper or any other deep spoon and start pouring spoonfuls of melted chocolate over each circular cake.
Once they are covered, place this entire plate in the refrigerator for 5-10 minutes. The chocolate should be settled when you take it out and you can easily remove these tiny cakes from the rack.
TIP:
Don't throw out all that chocolate that poured on the wax paper.
Scoop it with a spoon and re-use it or save it for some other project.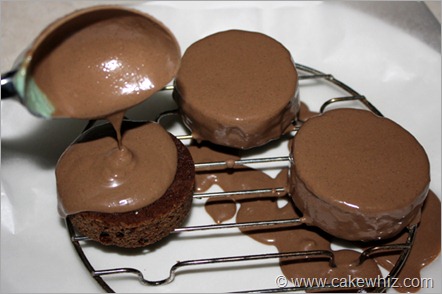 Step 3:
Take out your jelly candies. Use a scissor to cut them in rectangles for the flower petals. Roll a few into a small ball for the flower center. Cut a few triangle shaped green ones for the leaf.
Just arrange these pieces on top of your mini cakes and press gently and they will stick to the surface.
You can serve them in a plate but I placed each in an individual cupcake liners. I think they looked nicer this way.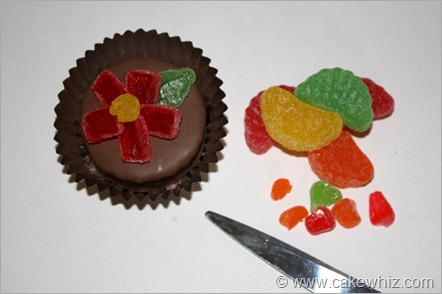 So, what are you waiting for?
Grab a bag of jelly candies and make your own!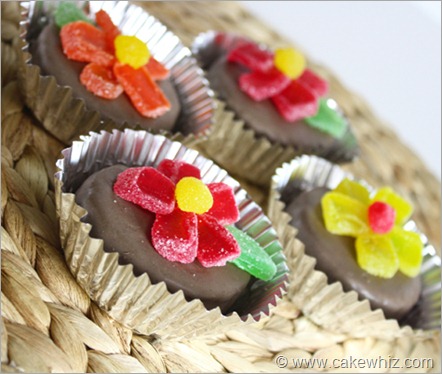 They taste just as good as they look!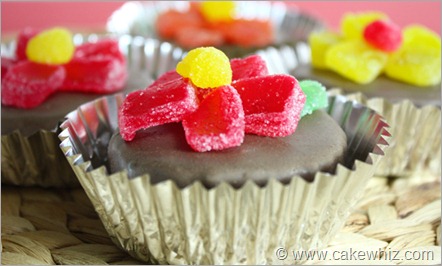 Well, that's all for today.
Until next time, tata my lovelies 🙂