Mini boston cream pies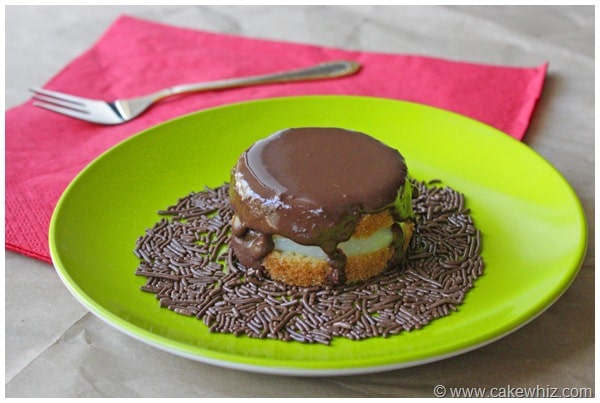 I am not really sure why a Boston cream pie is referred to as a "pie" coz clearly, it's a cake!
More specifically… it's a delicious vanilla cake with a creamy filling, covered in chocolate ganache! 
There is no pie crust at all. Yet… it's called a pie! How misleading… sheesh! :S
Regardless of the reason behind its unusual name, one cannot deny the fact that it tastes DIVINE!
If I was given a choice between a Boston cream pie and a chocolate cake, I would actually be confused and that doesn't happen much, especially when it comes to chocolate… lol

Instead of making a single Boston cream pie, I decided to do something different and made mini versions. They are cuter and I could serve them individually in colorful, little plates… heheh.
I have a major obsession with colorful plates!!!!! They are so pretty and the bright colors cheer me up and make me happy…lol
Lately, I have been hunting for polka dot plates but sighsssssss… no luck so far

I wanted to "beautify" these cakes but not do anything fancy. So, I used some chocolate sprinkles. It added a subtle crunch in each bite and I liked that.
I know what you are thinking… sprinkles are meant to go on TOP of the cakes!
And yes! You are absolutely right. But you see… hubby doesn't like sprinkles (*gasp gasp gasp*).  So , I sprinkled them around the cake and he was easily able to throw them out while I gave him dirty looks…lol
Anyways, let's get started…
To make the vanilla cake, you need the following ingredients:
1 cup fat free milk
1 cup sugar
1 tbsp vanilla extract
1 jumbo egg or 2 small eggs
1/3 cup light olive oil
1 1/2 tsp baking powder
1/2 tsp baking soda
1 1/2 cups flour
And here are the steps:
Step 1:
In a deep bowl, add all the dry ingredients and mix with a wooden spoon.
Step 2:
Now, add the wet ingredients and mix…
…Until everything is well-blended.
Step 3:
Pour this batter into cupcake liners. Fill about halfway.
Tip: If you pour this batter into a pitcher or a jug, it's easier to pour batter into cupcakes. Less spilling and less mess!
Step 4:
Bake these cupcakes at 350 degrees for about 20 minutes or until an inserted toothpick come out clean.
And you are done. Not only does this recipe make excellent cupcakes but it also makes excellent cakes.
If you use this recipe to make a cake, then you will have to bake at 350 degrees for about 45 minutes or until an inserted toothpick come out clean.
Let's keep moving…we still need to make pudding.
Normally, custard is used as a filling but I like home made pudding more. My pudding recipe is very simple and uses no eggs. You are free to use whatever recipe you like.
To make vanilla pudding, you will need the following ingredients:
2 cups fat free milk
4 tbsp cornstarch
1/4 cup sugar (or if you want it sweeter, you can use 1/3 cup sugar)
1tbsp unsalted butter
1 tbsp clear vanilla extract
1/8 tsp almond extract
And here are the steps:
Step 1:
Place a saucepan on medium heat. Add milk and allow it to heat it until you start to see steam.
Step 2:
When that happens, mix cornstarch in some water (just enough water that the cornstarch dissolves).
Then, pour this cornstarch liquid into the milk. Keep stirring with a spoon or else you will get lumps and no one likes lumpy pudding :S
Step 3:
You will notice that your pudding has gotten thicker. Keep stirring until you are satisfied with the consistency.
Then, add vanilla and almond extracts. Mix.
Step 4:
Remove from heat.
Add butter and mix.
And that's it! You know your pudding is done when it starts sticking to your spoon.
Now that you have prepared your cupcakes and pudding, let's assemble these mini Boston cream pies
Just follow these steps:
Step 1:
Once your cupcakes have cooled down, cut them in half using a sharp knife.
Pour a spoonful of vanilla pudding on each cupcake slice.
Step 2:
Then, place the other half of the cupcake on top of the pudding.
Step 3:
Pour some ganache over each cupcake set. I don't have actual measurements  for making ganache. All I do is melt some chocolate and mix some heavy cream until I am satisfied with the consistency.
And your boston cream pies are finally done!
It has many components and is time-consuming but it tastes sooooo good that I don't care how long it takes to make these beauties! lol
NOW….why in the world are you still sitting here? Come on now…. get moving and get baking!

You are gonna fall in love with these beauties on your first bite

Until next time, take care my lovelies