Mango oatmeal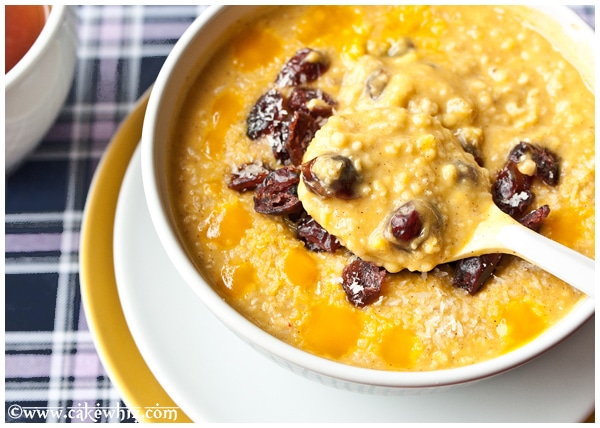 I recently received some samples from Quaker. I was very excited coz let's face it… who doesn't like FREEBIES? 
Plus, I am a BIG Quaker fan. I have been enjoying their stuff since I was a kid. GOD! I feel OLD saying that…lol.
In my package, I got oatmeal cookies, granola bars, cinnamon oatmeal and LOTS of coupons for other Quaker goodies that I am happily SHARING with everyone. If YOU want some, let me know and I will MAIL them out to you as well 
These are my honest opinions after trying out everything:
Chocolate chip oatmeal cookies: Among everything I got from Quaker, these were my absolute FAVORITE! They were LOW in calories, had NO trans fat with 10g of whole grains per serving. That's a huge deal for me coz I have been on a high fibre, whole grain diet to REDUCE my cholesterol. Now, I can snack on these without worrying about my health
.
These cookies came in a packet of 4, making them EASY to share and very easy to carry in my purse. Unlike most oatmeal cookies, these are not soft and chewy. They are a little hard and crispy. I LOVED that coz this way, I could dunk them in milk easily…hehe. However, my husband didn't care for them. He thought they were "too crispy" but then again, he likes his cookies VERY soft. He said the flavor was NOT to his liking either.
Big chewy chocolate chip oatmeal bars: They came 5 in a box and are 60% bigger in size than before. I thought they were very chewy and bursting with flavor and chocolate chips…YUM! I have had these before and always liked them. Now that they are BIGGER, I felt I was full for longer…YAYYY!
Perfect portions-Cinnamon flavored oatmeal: Among the 3 things I got from Quaker, this was my LEAST favorite. First, the pros=>The directions were clear and this was easy and quick to prepare. There was NO added sugar and you can add as much or as little as you want. I also liked the packaging since it had a RESEALABLE tab. The cinnamon flavor was strong but not over-bearing. Now, for the cons=>The flavor was very BLAND and the texture was unusual (very soupy). Their regular oatmeal has a much better texture. I also did not like this oatmeal when it was prepared using water. It tasted like a bland, flavorless, chunky soup…EEKS! 

Using milk in the preparation made it only slightly better. 
However, I played around with a few ingredients and made a DELICIOUS mango oatmeal with dried cranberries and coconut.
These TROPICAL ingredients really took this bland cinnamon oatmeal to a whole new level! 
Even if you are not an oatmeal fan, I bet you will like this!
It's almost like having dessert for breakfast…lol 
To make this, you will need the following ingredients:
1/2 cup Quaker's cinnamon oatmeal 
1/2 cup mango puree (I bought my mango puree from an Indian store. They are naturally sweeter and more flavorful than the other brands I have tried)
1/2 cup almond milk
1/2 cup water
1 tbsp dried cranberries
1 tsp brown sugar (more or less depending on your preference)
1 tsp desiccated coconut
And here are the steps:
Step 1:
In a non-stick saucepan, add milk, water, oatmeal, mango puree and brown sugar.

Step 2:
Mix everything with a wooden spoon and let it all cook on medium heat.

Step 3:
After about 5-10 minutes, the mixture will get thick. Give it one last stir to mix everything.
Step 4:
Pour this oatmeal into a bowl.
Sprinkle some dried cranberries and desiccated coconut. If you like, you can also add a few more drops of mango puree.
And you are done!
Enjoy 
Anyways, that's all for today. I am sorry I have been a little missing in action from the blogosphere and Facebook. But, I am busy planning my son's 1st birthday party and let's just say I have gone crazy overboard! hahah…
I will share all the details later. Tata for now 
---
Craving for more? 
Then, Subscribe to my blog posts and be sure to follow me on Facebook, Pinterest and Twitter for updates…