How to make mini fondant ribbon roses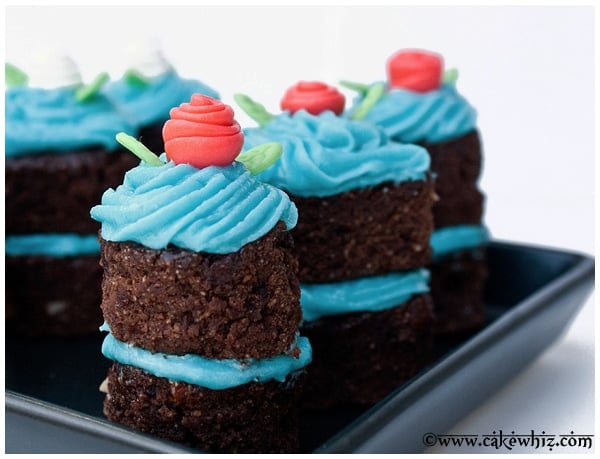 About 2 years ago when I first started this blog, I did a tutorial on fondant ribbon roses.
To this day, it's one of my most POPULAR posts.
Since you guys liked those roses so much, I know you are gonna LOVE today's post coz I will show you how to make MINI ribbon roses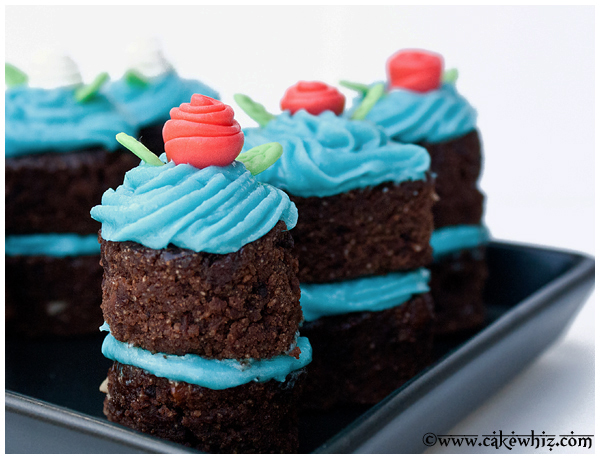 They are even EASIER than the big ribbon roses coz you need NO tools, whatsoever!
NOT even a rolling pin!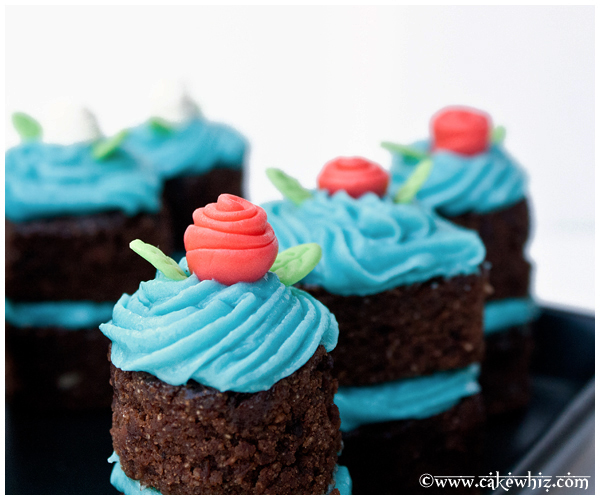 I tend to make a BUNCH of these roses while watching T.V in many colors.
Then, I allow them to dry for 24 hours and STORE them in a Ziploc bag or tight plastic container and keep it in the cabinet. 
This way, if I ever need to make a pretty cake or cupcake quickly, I ALWAYS have flowers that I can use

That's exactly what I did last weekend…
A few friends dropped by for coffee…
Instead of serving a BORING pan of brownies, I served these ELEGANT brownie bites, topped off with my favorite buttercream icing and ribbon roses.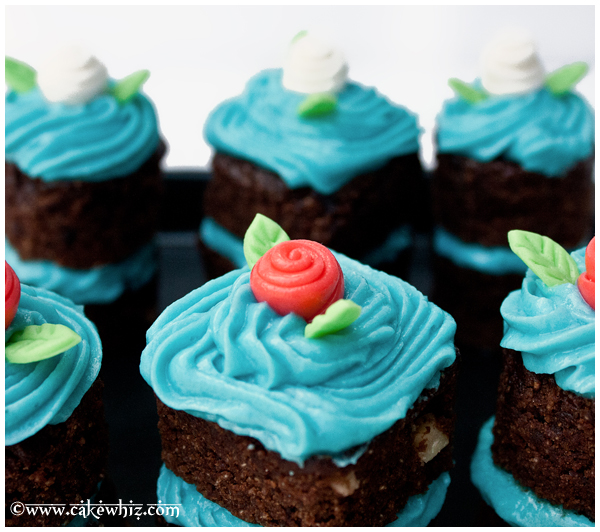 All of a sudden, something as BASIC as a pan of brownies was TRANSFORMED into a thing of BEAUTY and it took ONLY 15 minutes 😀
That's coz I ALREADY had a pan of brownies and buttercream icing in the fridge and ribbon roses in the cabinet…YAY!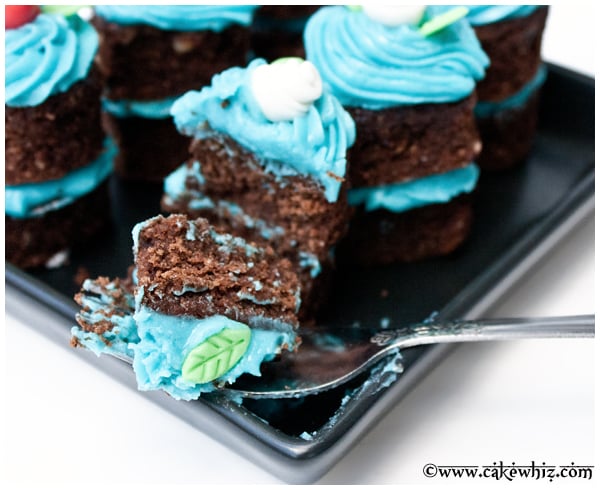 If you want to learn how to make another EASY PEEZY fondant flower, check out this tutorial HERE. You can store these flowers for months as well and use them whenever you like. 
But for now, let's LEARN how to make mini ribbon roses. 
Here are the steps. 
Step 1:
Roll out a ball of fondant.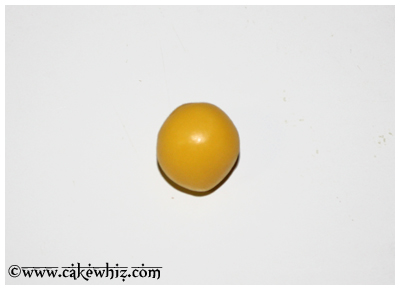 Step 2:
Use your fingers to roll it into a "snake" shape.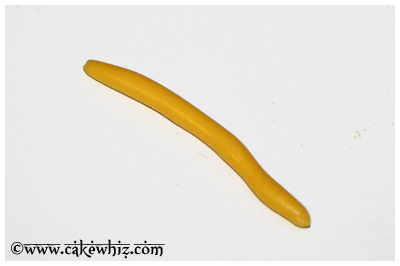 Step 3:
Flatten it with your index finger.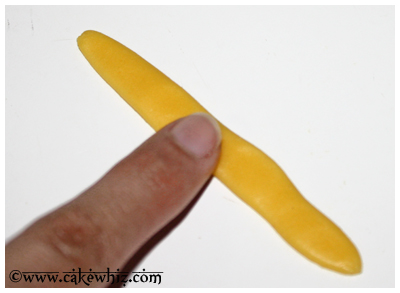 Step 4:
Start rolling it from one end to the other end.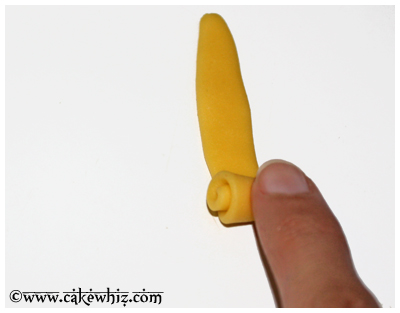 Step 5:
Gently press the ends so that the flower holds its shape and you are done!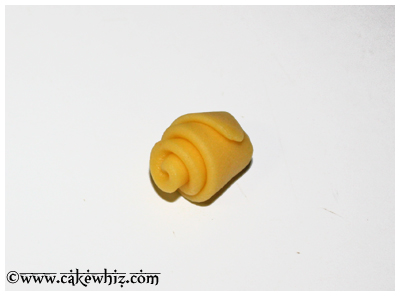 I took a few pictures when I assembled the brownies bites.
There are many brownie recipes on my site. You can make whichever you like:
My favorite brownies
Juicy brownies
Carrot brownies
Vegan brownies
Black bean brownies
Mocha brownies (Make these in a pan instead of cupcake liners)
Here are the steps:
Step 1:
Use a circle and square shaped cookie cutter to cut out brownie pieces. 
TIP:
It's easier to cut brownies when they are cold. So, pop your pan in the fridge for an hour and you will have less crumbs and less mess.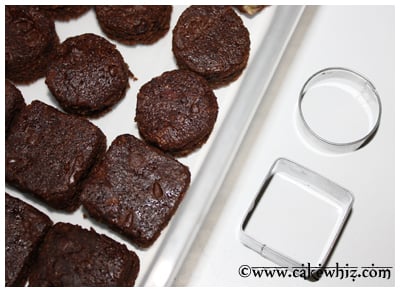 Step 2:
Fill a piping bag with buttercream icing. I colored it turquoise.
Attach Tip# 21 to the piping bag and make a swirl on top of one brownie piece.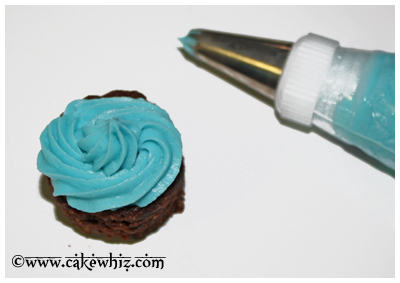 Step 3:
Place another brownie piece on top of the icing.
And make another swirl on the top.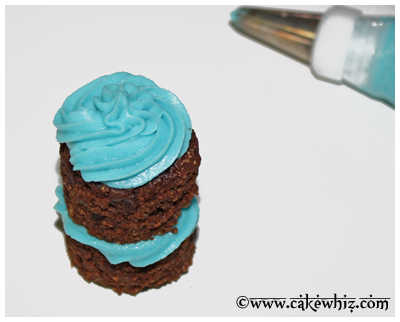 Place a ribbon rose and a couple of leaves in the center and you are done!
Store these brownie bites in the fridge until you are ready to serve.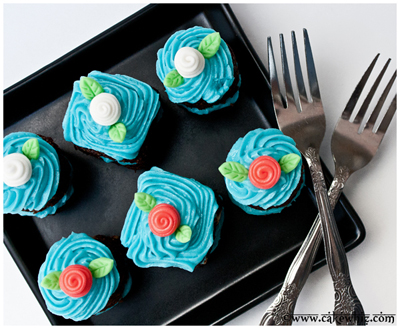 I hope you enjoyed this tutorial.
Until next time, tata my lovelies