Dear Mother Nature,
In case you didn't get the memo, I am here to remind you that it's officially "Spring."
So, I would like to see warmer temperatures as soon as possible. Thanks!
From,
A gal who really wants to pack away her winter jacket.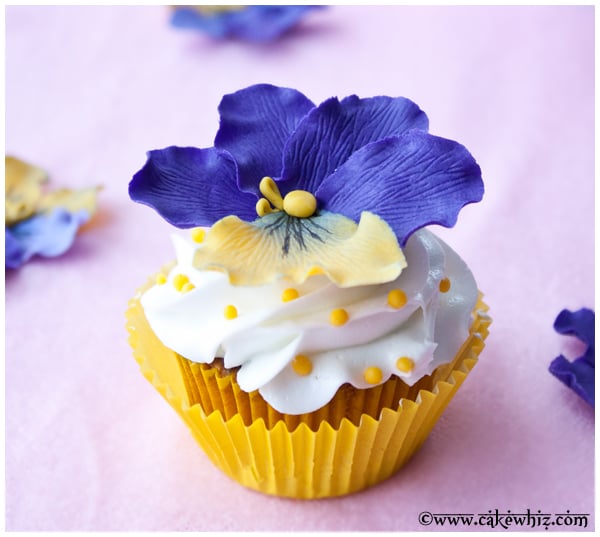 Yes! That's how I am feeling at the moment.
I want to see flowers BLOOMING, feel the cool spring BREEZE against my face, sit in the balcony with my little one and hear birds CHIRPING…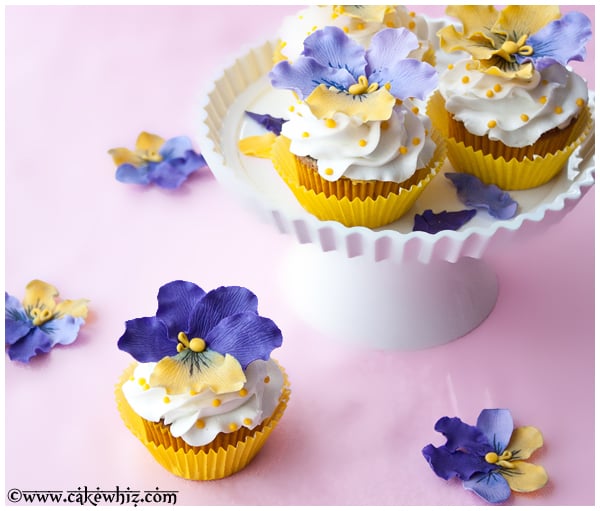 Since mother nature is not on my side…I have decided to get YOU and MYSELF in the mood for Spring by making these edible PANSIES 😀
I know there are many pansy cutters in the market. 
But why spend money on them when you can make pansies using BASIC cutters? 😉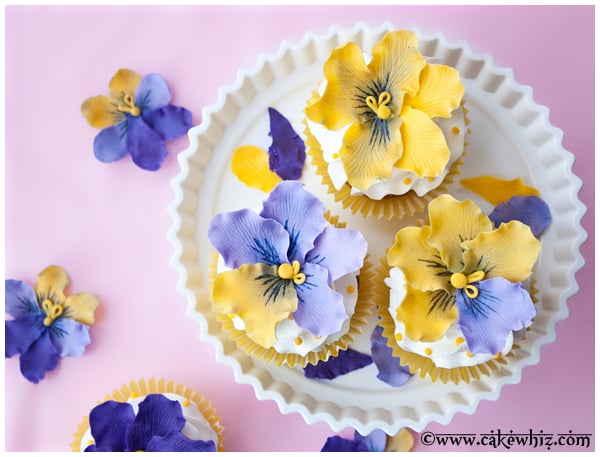 The tutorial for these fondant pansies is still available at Cake Journal but you can check out the instructions below as well…
I used them as cupcake toppers on my favorite vanilla cupcakes, topped off with buttercream swirls!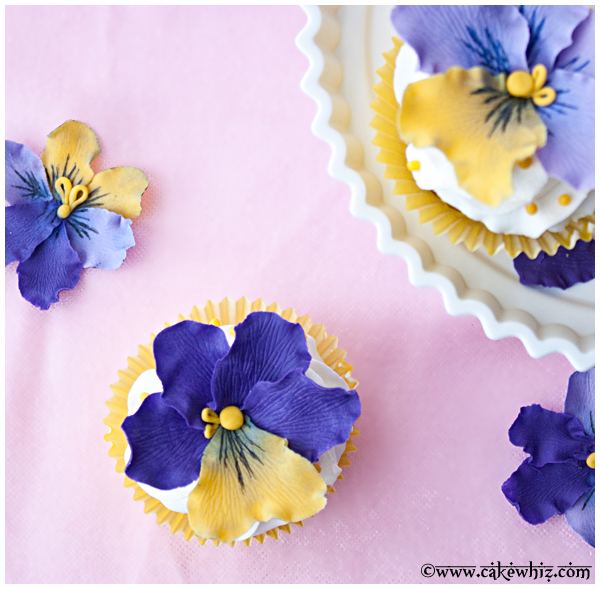 To make these fondant pansies, you will need the following supplies:
Yellow fondant or gum paste
Dark purple fondant or gum paste
Light purple fondant or gum paste
Corn syrup
Oval cutter
Heart cutter
Leaf veiner
Balling fondant tool
Flower forming cups
Foam pad
Black edible marker
Paintbrush
Blue petal dust
Note:
I highly recommend using gum paste since you can roll it really thin without causing any tears. Also, gum paste dries faster than fondant.
And here are the steps:
Step 1:
Roll out yellow gum paste.
Use an oval cutter to cut out 4 yellow pieces.
Use a heart cutter to cut out 1 heart piece.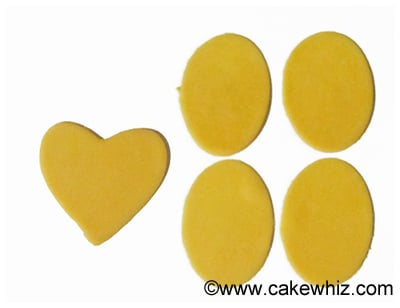 Step 2:
Place the oval pieces on a foam pad.
Press the leaf veiner on top of each piece until the leaf pattern transfers over.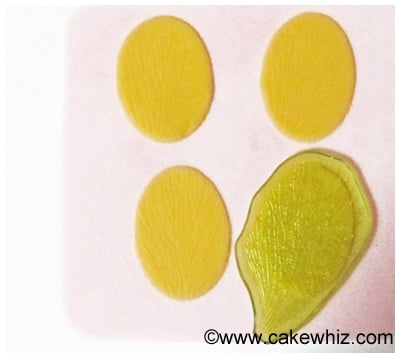 Step 3:
Place the heart piece on the foam pad.
Press the leaf veiner on top of it until the leaf pattern transfers over.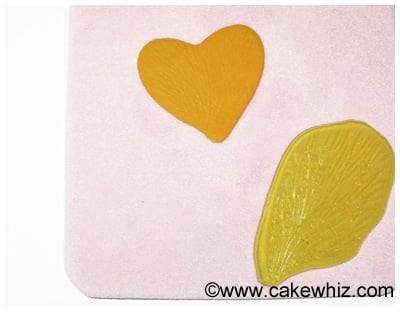 Step 4:
Use the balling tool to thin out the edges of the heart piece until it looks a little ruffled.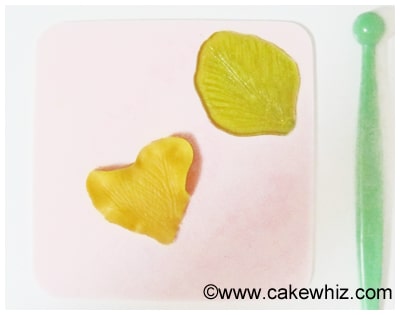 Step 5:
Use the balling tool again to thin out the edges of all the oval pieces.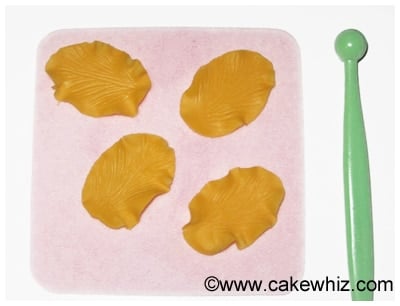 Step 6:
Brush blue petal dust on the bottoms of 2 oval pieces and 1 heart piece.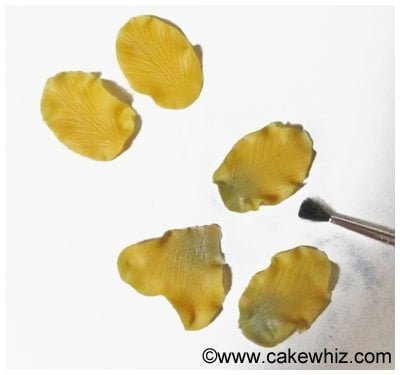 Step 7:
On the pieces that you just brushed with petal dust, use a black edible marker to draw lines only halfway.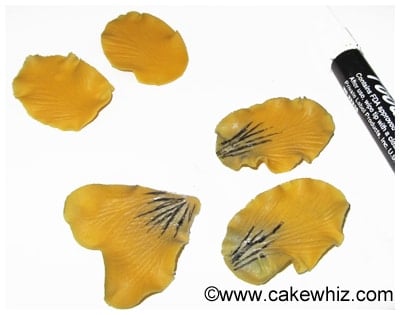 Step 8:
It's time to assemble all the pieces now…
Arrange the petals similar to the way I did in this picture.
Stick the piece together by brushing some corn syrup in the center.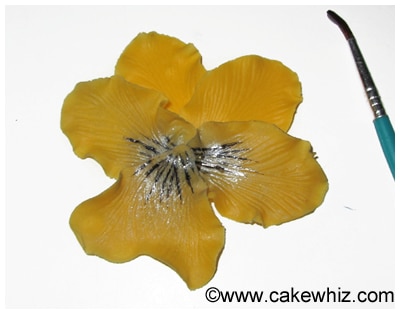 Step 9:
Roll out a small ball of yellow gum paste and stick it in the center of the flower.
Also, make 2 small yellow gum paste loops and stick them around the center of the flower.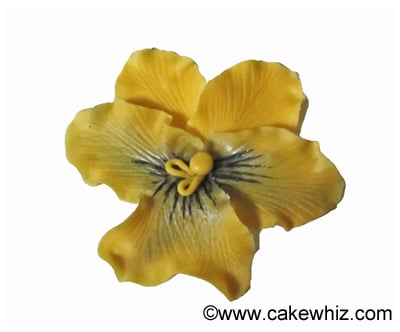 Now, place this flower on a flower forming cup and let it dry overnight or until hardens.
You can also follow the same instructions to make different colored pansies such as the classic purple and yellow ones.
And that's it… You are done!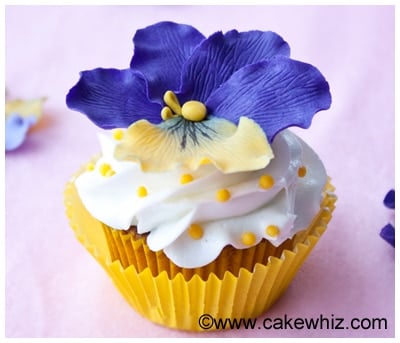 Well, that's all for today.
If you liked these pansy cupcakes, you may also like some of these other flower cakes/cupcakes…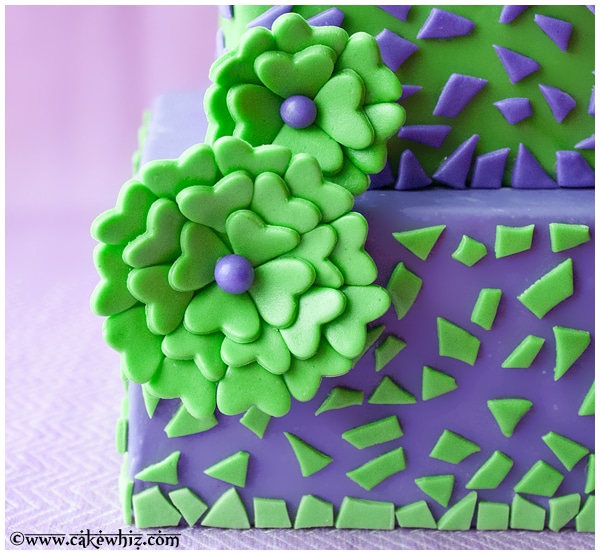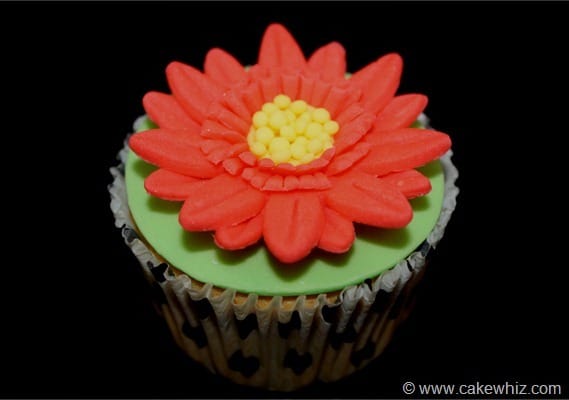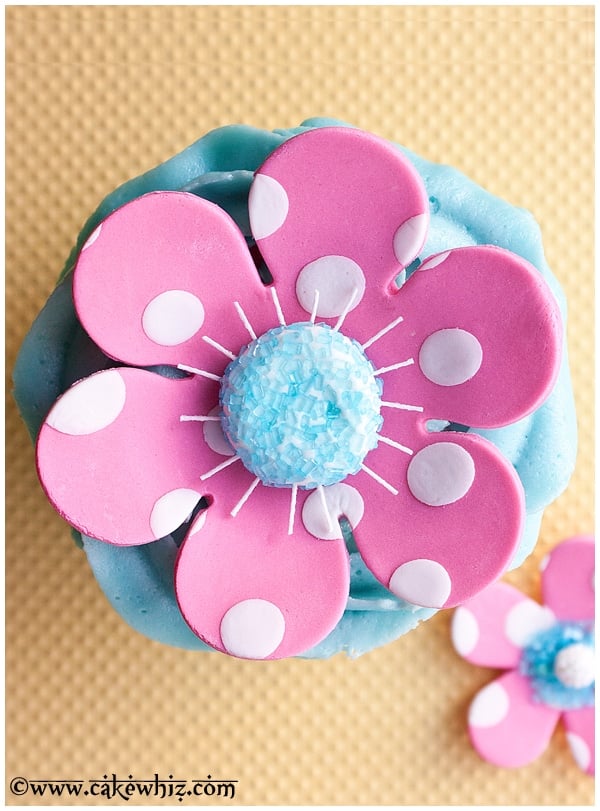 Until next time, tata my lovelies 🙂