How to make fondant fantasy flowers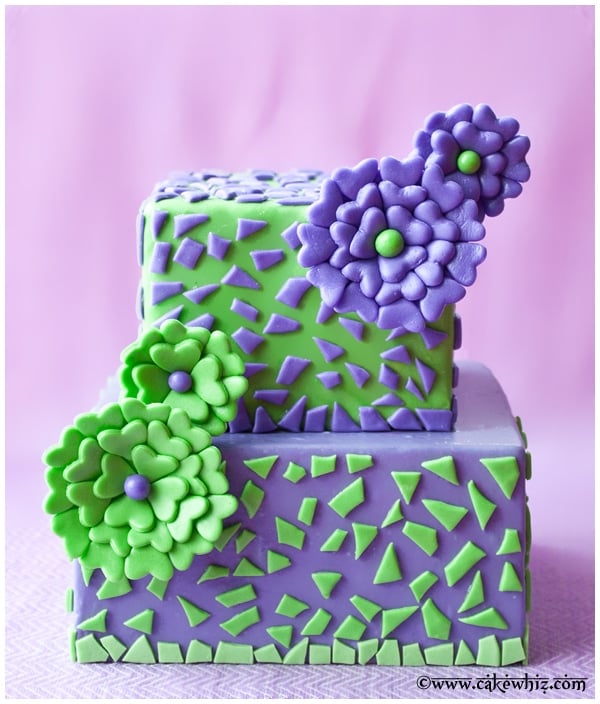 How many of you follow me on Facebook? Come on… you surely must follow me 😉
I LOVE Facebook and share lots of fun stuff from my blog and other people's blogs too! PLUS, that is usually the first place where I make important announcements!
Speaking of announcements, did you hear the exciting news I shared last week? 
You didn't? Eh? *gasps*
Well, allow me to share the news again coz I still can't believe THIS has happened…
As of this month, I will be one of the co-writers for THE BEST cake decorating site ever a.k.a CAKE JOURNAL! I am SOOOO excited to be working with a great team. We will be sharing tutorials and recipes for great treats. 
But don't worry… I am NOT abandoning my blog. I will NEVER EVER do that coz I love you all so much.
All this means is you will get to see even MORE tutorials from me!
Are you excited? Coz i am SUPER- PUMPED!!!! 😀
I shared my first tutorial for an elegant cake with fantasy flowers on Cake Journal yesterday.
My tutorial is still available on their site but I have also shared it below…
To make these easy fondant fantasy flowers, you will need the following supplies:
Purple marshmallow fondant
Green marshmallow fondant
Small heart cutter
Big circle cutter
Small circle cutter
Paintbrush
Water
Flower forming cups
And here are the steps:
Step 1:
Roll out purple fondant.
Cut out 1 big and 1 small circular piece.
Also, cut out many small heart pieces.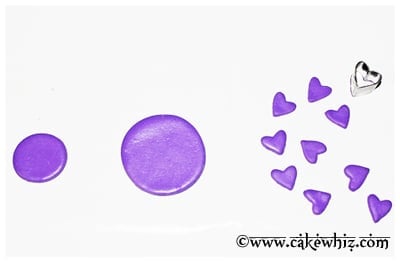 Step 2:
Brush water on the outer edge of the circle pieces.
Stick the heart pieces in a circular formation until you have a row of hearts.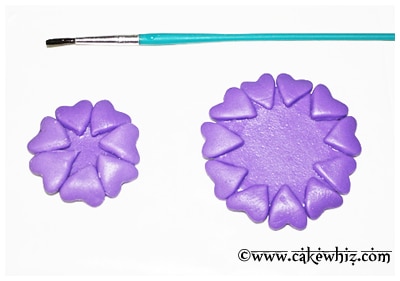 Step 3:
Brush some water on the inside of the circle.
Stick more heart pieces here, until you have another row of hearts.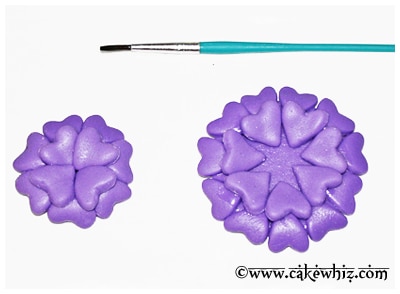 Step 4:
Brush water on the inside of the circle again.
Stick more heart pieces here, until you have another row of hearts.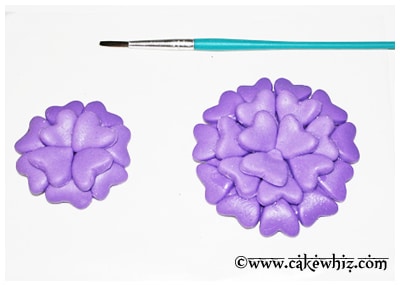 Step 5:
Make 2 little balls of green fondant.
Stick them in the center of each flower with some water.
Place these fantasy flowers in flower forming cups.
Let them dry overnight or until they harden.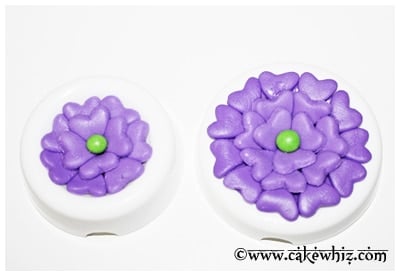 Then, use them to decorate your cakes and cupcakes.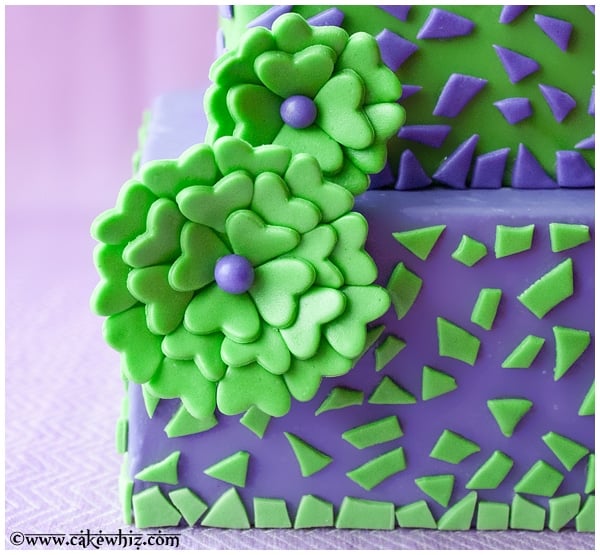 Btw, if your fondant covered cake is driving you crazy with UGLY bubbles, bumps and tears. Then, do this little trick => Cut out some weird and irregular shapes of fondant. Start sticking them on to your cake randomly by brushing some water or corn syrup and voila… all flaws get covered up!
Well, that's all for today.
Until next time, tata my lovelies