Easter chick cupcakes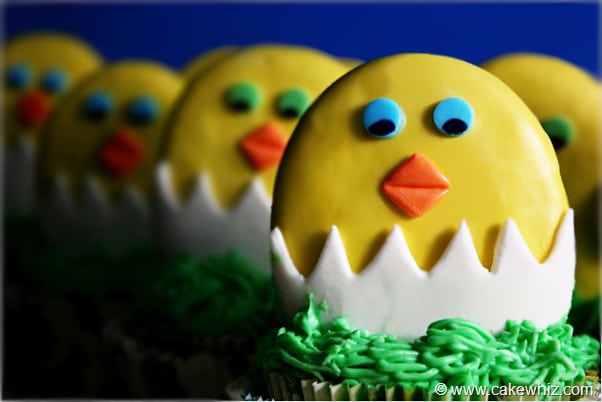 Easter is only a week away and I really wish I could have started my Easter baking sooner but I have been so busy making cakes for family and friends that I couldn't get a chance.
I can't wait to share pictures and tutorials of those cakes with you lovely folks but that will have to wait for another posting….
For now, allow me to share my Easter cookies. I was thinking of making bunnies but quite frankly, I find chicks cuter…lol.
I made two types of chicks…. hatching ones and baby ones. 
Which do you like more? My husband and I  like the hatching ones.
They make me smile anytime I look at them….heheh
To make these cuties, you will need the following supplies:
Chocolate cupcakes
Chocolate sugar cookies
Marshmallow fondant (yellow, white)
Buttercream icing (green)
Royal icing or glace icing or corn syrup
Powdered sugar
Lollipop sticks
Rolling pin
Sharp knife
Paintbrush
Big oval cutter
Small oval cutter
Big circle cutter
Confetti sprinkles
Black edible marker
Yellow sparkling sugar 
And here are the steps:

Step 1:
Roll out yellow fondant on a surface covered in powdered sugar.
Powdered sugar prevents fondant from sticking to the counter top.
Step 2:
Bring out your chocolate cookie pops.
Brush some glace icing or royal icing or even some corn syrup on top of your cookie pops.
Make sure it's a thin coating.
Step 3:
Place this sticky side on top of the fondant and hold it in place.
Use a knife to cut around the cookie.
Step 4:
Fold fondant inward and smooth out the sides with your hands.

Step 5:
Dab your finger in some shortening and run it on  top of your fondant covered cookie to clean off all that powdered sugar.
This will be your chick's body.
Step 6:
To make wings, cut out oval shapes using the smallest cutter from Wilton's oval cutter set.
Step 7:
Brush some water on the sides and stick these ovals there.
Step 8:
Bring out green and blue confetti sprinkles.
With a dab of water or icing stick them where you want the eyes to be. 
Use black edible marker to draw black eye balls.
These chicks looked so darn FREAKY without eye balls :S lol
Step 9:
For the beak, cut out small orange colored diamond shape and stick it below the eyes, using some water or icing.
Gently press the back of your knife at the center of this diamond to refine the beak.
Step 10:
Brush some water on the wings and sprinkle yellow sparkling sugar.
And you are done with your baby chick.
Step 11:
If you want to make hatching chicks, cut out a circle using the medium circle cutter from the Wilton set and then cut this circle in half using a knife.
This will be the egg shell.
Step 12:
Use a knife to cut out jagged edges near the top of this egg shell.
Step 13:
Stick this egg shell near the bottom of the cookie using some water or icing. 
Step 14:
Smooth out the sides using your finger.
Step 15:
Now, make eyes just like you did before using confetti sprinkles and a black edible marker.
Step 16:
Make the beak same way as well.
And you are done with your hatching chick 😀
Step 17:
You can enjoy these cookie pops as is.
But if you want to to do what I did, then push your chick cookie pop into a cupcake.
The lollipop stick prevents this cute chick from toppling over.
If your lollipop stick are too long, cut them off slightly with sharp scissors.  
Step 18:
Fill a piping bag with green icing and attach the "grass" tip or the "star" tip.
And pipe grass on top of the cupcake.
You can use Wilton's tip 18  to make this "starry" grass
Or you can use Wilton's tip 233 to make this "stringy" grass
Though initially my plan was to just make cookie pops that look like chicks,  I think it's cool to use them as cookie toppers.
This way, you get to enjoy a cupcake and a cookie 😀
Plus, I think think these cookie toppers beat paper toppers 😛
Hope you make these for your Easter party!
Have a great weekend everyone