It's time for another feature of What's baking Mom & Dad, where my parents share their own recipes and pictures! 
And they have brought over the perfect treat for this Holiday season 😀
So, sit back, relax and enjoy my parent's recipe… 
---
Hi again everyone!
It has been more than a month since we did our last post but we have been very busy preparing for Abeer's brother's wedding.
And sadly, that doesn't leave too much time for baking and photographing.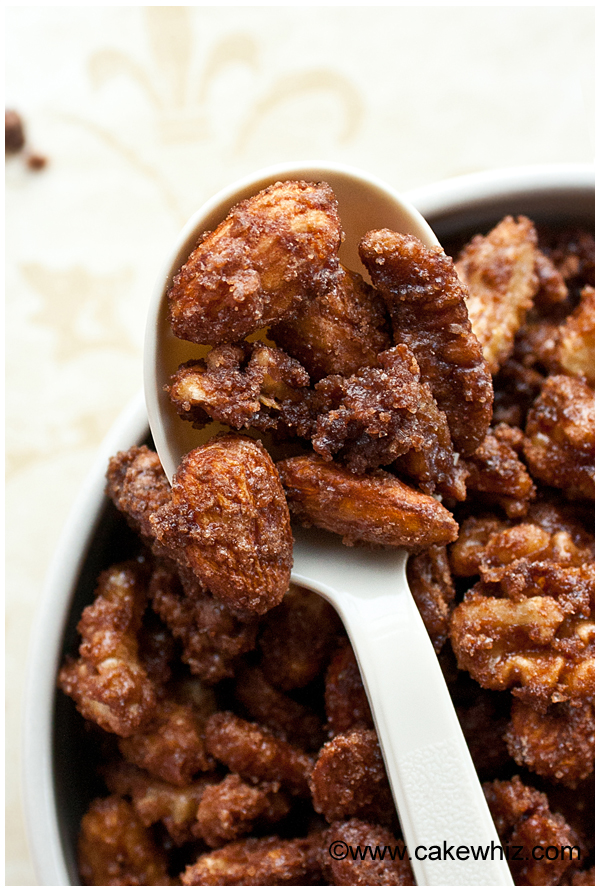 But we did take some time out to make these candied nuts.
We make these every year during the holiday season and it gets us all in the holiday spirit 🙂
Nothing can be as wonderful as the sweet and spicy aroma of these nuts filling the house.
It's intoxicating!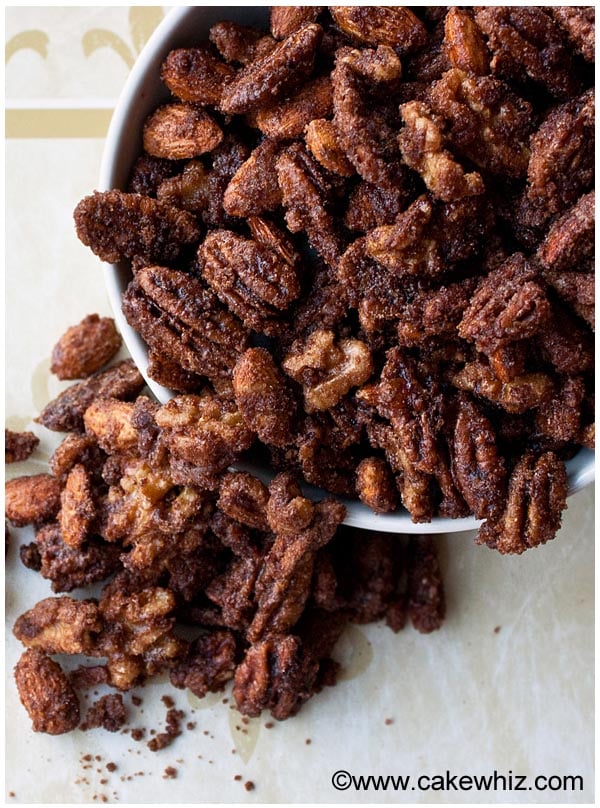 Since Abeer likes to do themed posts and Christmas is coming up, we thought we would share our family recipe for candied nuts. 
We have even given these as gifts to our family, friends and neighbors and they all love them.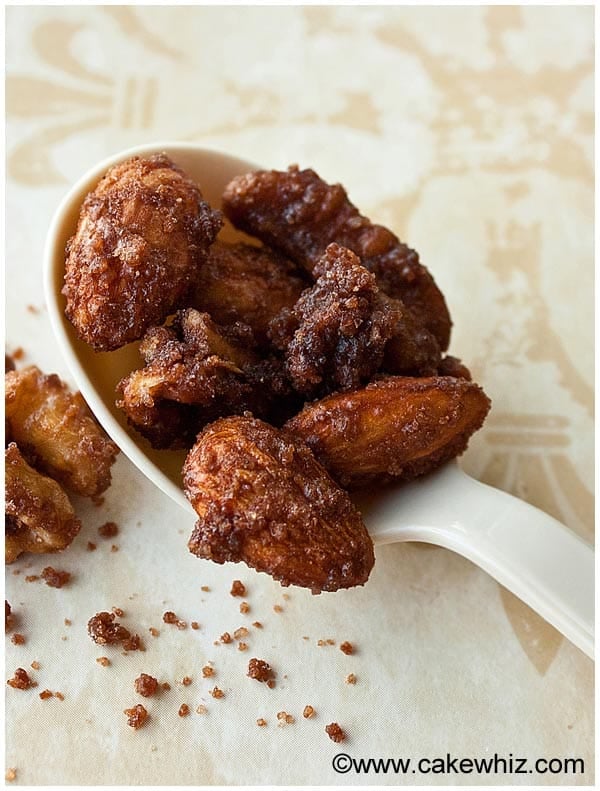 To make the best candied nuts ever, you will need the following ingredients:

1 cup pecans
1/2 cup + 2 tbsp almonds
1/2 cup +2 tbsp walnuts
1 cup brown sugar
1 tbsp vanilla extract (You can add more if you like)
2 tbsp water
1/2 tsp cinnamon powder
1 tbsp cocoa powder

Variations:
– Give it a hint of coffee flavor by using coffee extract instead of vanilla extract and using 1 tbsp espresso powder instead of cocoa powder. You can use both espresso powder and cocoa powder to really enhance the flavor.

-Give it a bit more chewiness and a hint of coconut flavor by using coconut extract instead of vanilla extract and using 1 tbsp shredded coconut. Omit cocoa powder if you like.
– Make a very aromatic and spiced version by omitting cocoa powder and vanilla extract. But, add 1 tsp cinnamon powder, 1/4 tsp nutmeg, 1/4 tsp allspice and 1/4 tsp cardamom powder. 
And here are the steps: 
Step 1:
Add all the ingredients in a bowl and mix everything with a spoon.
Make sure all the nuts are nicely coated.
Step 2:
Spread the nuts on a cookie tray lined with parchment paper or wax paper.

Step 3:
Bake at 350 degrees for about 7 minutes.

Step 4:
Then, take out the tray from the oven and use a spoon to mix the the nuts around.
There will be lots of bubbles around your nuts and the color will be much darker…That's perfectly fine.
Step 5:
Place your tray back in the oven and bake for about 8 more minutes.    
Note:
Watch your nuts closely to make sure they don't get burnt. 
Step 6:
Finally, take the tray out of the oven.
Give everything a quick mix and then dump the nuts onto a new cookie tray lined with parchment paper.
Make sure to separate all the nuts with a toothpick or a spoon so that they don't all clump together.
Let the nuts cool down and come down to room temperature. 
And you are done! 
Store them in an airtight jar at room temperature.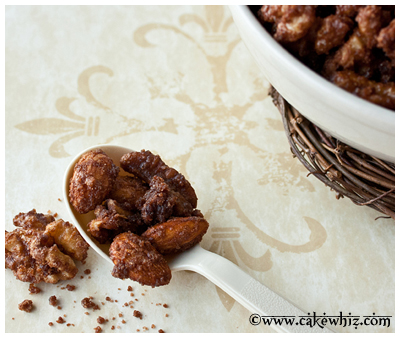 Well, that's all for today.
If you liked this post, you may also like some of these other recipes…
Cranberry, coconut and candied nuts cake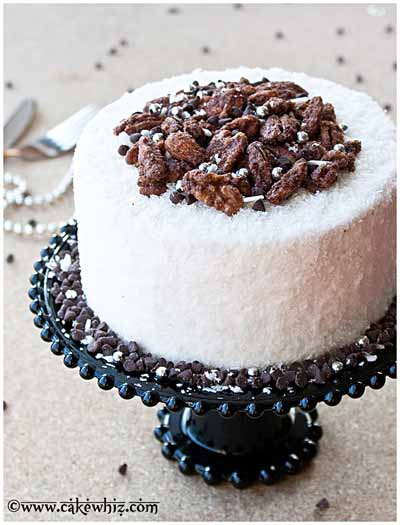 Chocolate peanut butter cranberry balls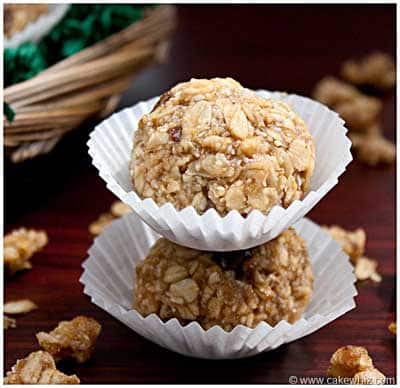 Peanut butter and jelly thumbprint cookies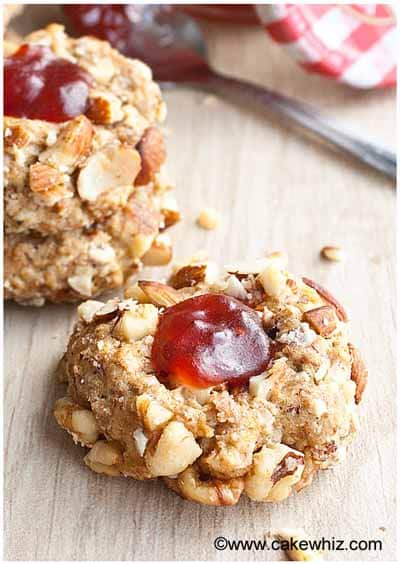 Until next time, tata my lovelies 🙂